---
Written By:
Lindsay Sanderson
, Customer Relations ManagerMay 24, 2012
Over the past couple weeks I have been working on an exciting project – building our new careers site. With a lot of help from our awesome design team, we finally have a shiny new careers site for you to see what is happening at Flaman.
One of the biggest challenges I faced was creating a page that exhibited and explained the Flaman Group of Companies' culture. Flaman is a diverse company with many locations and divisions. Each location and division does things a little bit differently, so writing about the Flaman culture in a way that would be true to everyone was difficult. Flaman is like no place I have ever worked (or for that matter like any of the places my friends have worked). Explaining our "secret sauce" or what makes us tick was hard because there aren't really words to describe it. It's more of a feeling, an unsaid way of doing things that guides us all in the same direction.
I finally got the idea that Flaman is different after about 100 tries (sometimes it takes me a while). I realized that the Flaman culture can't be explained or summed up. It's something you have to experience. So I decided to be a little different. I pulled all the words that I kept hearing in my conversations with our team (words like supportive, growth, family, caring) and put them into a cloud. This is what creates the word cloud you see today on the Flaman Culture page.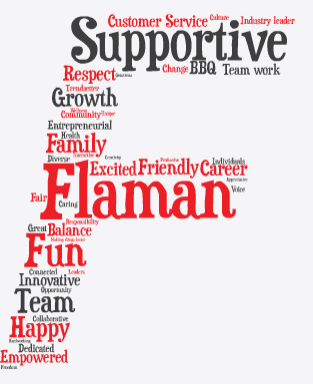 Then someone else gave me an awesome idea of using a picture of our Saskatoon team dressed up for the Rider game. I think the picture says it all. We are a crazy, quirky bunch who love to have a good time. So please, if you have a couple minutes, check out
www.flaman.com/careers
and tell me how we did.
Thanks!
Lindsay
Posted in Uncategorized | Tagged with careers career job employment jobs culture flaman fun friendly team | More articles by Lindsay Sanderson
---
Written By:
Lindsay Sanderson
, Customer Relations ManagerApr 13, 2012
Hi! I wanted to take a minute (or 2) and introduce myself and tell you a little bit about what is happening in the world of customer service at Flaman. My name is Lindsay Sanderson. My official title is Customer Relations Manager but you can just call me Lindsay or the girl who calls you and talks really fast. My job was added not too long ago. Mostly I call customers (like you) to see how your experience here was. While I have been calling people I have learned that customer service can happen in 2 minutes or less (sometimes more but usually less).
Just about every day I go into my computer and I pull out a list of customers who have visited one of our locations and call as many as I can. Most of the time these calls are very short, under 2 minutes, although some are a bit longer. Usually the longer conversations come from when we have fallen down and screwed up. These conversation are not always fun but they are interesting and challenging. And I love a good challenge. Hearing about our weaknesses and failures is not the bright point of my day, but we have learned some very important lessons (those are for future blog posts).
More often than not I do get to hear really great stories about our people and our customers. When this happens I love having a great excuse to get out of my office, head down to the sales floor, shop or parts counter and say – "Hey I just heard the greatest story about you!" That is a pretty great part of my job.
These phone calls are customer service to me. They are about trying to learn what is happening from our customers' perspective. If we haven't talked yet I look forward to talking with you! When I call you, I don't have a formal survey that I am trying to fill out. I want to hear what you have to say, what you are thinking and what you would like to see. Like I said before, I talk really fast so 2 minutes is usually all it takes but if you want to talk slow or long I am good with that too!
If you have something that you really want to talk about (but I will warn you I am not very well versed on the finer points of hockey and football) please give me a call anytime at 1-888-435-2626.
Lindsay
Posted in Uncategorized | Tagged with customer service flaman phone call survey story | More articles by Lindsay Sanderson