---
Written By:
Parrish Kondra
, Territory Rental ManagerJan 09, 2013
Cuba… oh boy where do I start? It was a fun filled week mixed with both business and a little pleasure. I was rather excited about this trip, as this was my first full dealer get together. I was rather nervous and not sure what to expect, especially with 100 of us crazy Canadians down in Cuba.
As we finally arrived in Cuba I was blown away by the friendliness and welcome the entire group gave me. What an amazing dealer network we have here at Flaman Rentals. Not only that, but we even had our founder Frank Flaman join us. Many dealers enjoyed Frank's presence in Cuba. The speeches he gave were very informative and it was nice to see dealers interacting with Frank throughout the week.
As this was my first visit to Cuba, it was a surprise to see the culture and way of life Cubans have. Everything from the vehicles to the pace of life is such a shock from what we are accustomed to here in North America.
After all our groups from Saskatchewan, Manitoba and Alberta arrived it was right to business with a meeting first thing Tuesday morning. The week was filled with all sorts of activities and tours. I had the pleasure of organizing the golf tournament, and we had a very good turnout despite the rain. We were only able to finish 13 holes but nobody complained as the course was absolutely beautiful right along the ocean. Thanks to my pro golf partner Wayne Beckett we were able to embarrass our Alberta team of Rocky Amson and Ken Barlott in a little game of best ball. Despite the rain we made the best of it and everyone had a blast.
During the golf tournament, a group organized by Tammy Weightman visited a local school and donated school supplies and small items Cubans just do not have. They also spent a lot of time with the children and the locals were all really appreciative for what our group did. Thanks again to all the dealers and staff that participated.
Other activities we had planned included a full day tour of Havana and a Catamaran trip. Most dealers really enjoyed the Havana tour as it was very informative and nice to see the Cuban culture. A few of us ventured out on our own to local towns such as Varadero, which was very interesting to see. I remember seeing part of the beach that was hit by Hurricane Sandy and it was a shock to see the beach completely washed out and trees wiped out, something we are not used to seeing in Canada.
Throughout the week you could really see friendships and memories being made. It was nice to see this type of bonding happening and I was proud to be part of this team. Although it was tough trying to spend time with all 100 or so people, each day would bring new conversations and opportunities.
As the week wound down, Saturday night we hosted our awards night. This gave everyone a chance to dress up a little and was a perfect night to end off the trip. Prior to this awards night, myself and Barrett Prokopie decided it would be fun to jump out of a helicopter at 13,000 ft over the ocean! Wow, what an unplanned amazing experience! I think I almost had a heart attack that night at the awards banquet. All in all, it was an amazing day I will never forget.
So that in a nutshell was our week in Cuba. Thanks for the knowledge, memories and friendships made. It was our most successful year ever with Flaman Rentals. We have a great group of people both at the corporate level and with our dealer network. I look forward to seeing everyone again next year. 'Till then take care and all the best in 2013!
Congratulations to the following dealers who won awards:
Most Improved Dealer Sask/Man
Triple D&P Farms LTD – Birsay, SK
Most Improved Dealer AB
Wetaskiwin Bulk Sales
Top Retail Sales Dealer Sask/MB
Horizon Fertilizers – Humboldt, SK
Top Retail Sales Dealer AB
Smoky River Equipment Sales & Rentals
Top 5 Dealers Sask/MB
5 Mardee Enterprises – Brandon, MB
4 B&D Rentals – Cut Knife, SK
3 B&A Petroleum – Swift Current, SK
2 Windthorst Rental Centre – Windthorst, SK
1 Brendonn Holdings – Russell, MB
Top 5 Dealers AB
5 Koch Fuels – Carstairs, AB
4 Wills Welding – Ponoka, AB
3 Ray Agro & Petroleum – Barrhead, AB
2 Wetaskiwin Bulk Sales – Wetaskiwin, AB
1 Keddie's Rentals – Grand Prairie, AB
Posted in Uncategorized | Tagged with Flaman Rentals rental dealers rental meeting awards | More articles by Parrish Kondra
---
Written By:
Parrish Kondra
, Territory Rental ManagerJul 17, 2012
As the new territory rental manager I had the chance to personally hand deliver a $10,000 donation cheque on behalf of the Frank Flaman Foundation to Ike Friesen of Morden, MB. Ike is one of Flaman's all-time longest rental dealers, and has been part of the Flaman team for over 10 years now. He is also chairman for SHARE (Sharing Hope and Agriculture Resources of the Earth).
The SHARE project already has 425 acres of farmland planted this year with all proceeds donated to the Canadian Foodgrains Bank. Community growing projects are a unique way for people to contribute grain and other agricultural commodities to help people who are hungry around the world.

A typical project involves a group of people working together to farm a common plot of land. After harvest, the production is donated through the Canadian Foodgrains Bank for overseas food ais and agricultural development projects.
Flaman's donation will be used towards crop input costs. Frank Flaman likes to donate money that's going to go right to the people. I was honoured to present this cheque to SHARE as it made me feel part of something that is a good cause and helping to fight hunger in our world.
For more information on the Canadian Foodgrains Bank please visit
www.foodgrainsbank.ca/growing_projects.aspx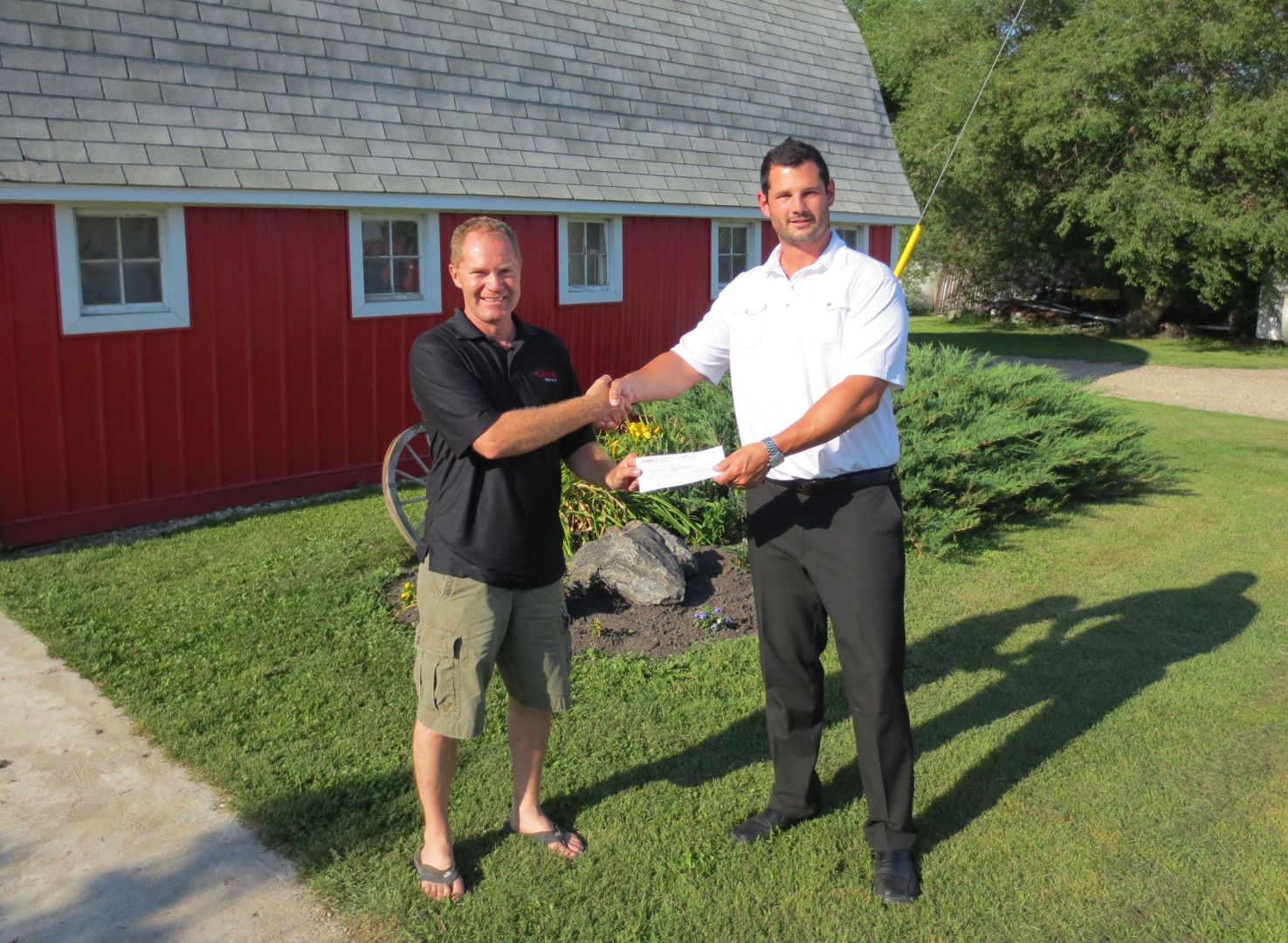 Ike Friesen and Parrish Kondra
Posted in Uncategorized | Tagged with rentals donation SHARE food bank Flaman Foundation charity | More articles by Parrish Kondra