---
Written By:
Lindsay Sanderson
, Customer Relations ManagerMay 24, 2012
Over the past couple weeks I have been working on an exciting project – building our new careers site. With a lot of help from our awesome design team, we finally have a shiny new careers site for you to see what is happening at Flaman.
One of the biggest challenges I faced was creating a page that exhibited and explained the Flaman Group of Companies' culture. Flaman is a diverse company with many locations and divisions. Each location and division does things a little bit differently, so writing about the Flaman culture in a way that would be true to everyone was difficult. Flaman is like no place I have ever worked (or for that matter like any of the places my friends have worked). Explaining our "secret sauce" or what makes us tick was hard because there aren't really words to describe it. It's more of a feeling, an unsaid way of doing things that guides us all in the same direction.
I finally got the idea that Flaman is different after about 100 tries (sometimes it takes me a while). I realized that the Flaman culture can't be explained or summed up. It's something you have to experience. So I decided to be a little different. I pulled all the words that I kept hearing in my conversations with our team (words like supportive, growth, family, caring) and put them into a cloud. This is what creates the word cloud you see today on the Flaman Culture page.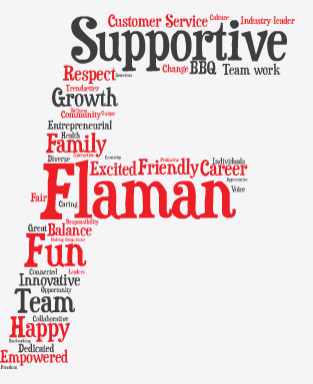 Then someone else gave me an awesome idea of using a picture of our Saskatoon team dressed up for the Rider game. I think the picture says it all. We are a crazy, quirky bunch who love to have a good time. So please, if you have a couple minutes, check out www.flaman.com/careers and tell me how we did.
Thanks!
Lindsay
Posted in Uncategorized | Tagged with careers career job employment jobs culture flaman fun friendly team | More articles by Lindsay Sanderson