News
Giving back to the community: Foundation Fundraiser Dinner 2012
This annual event is the main fundraiser for the Frank Flaman Foundation, the charity created by Flaman Group of Company's founder and owner Frank. The Foundation is funded by Frank's share of the profits from the Flaman Group, and by private donations. Along with being a savvy businessman, Frank has always been a respected philanthropist, and his foundation gives millions of dollars to local and international charities each year.
The gala is a fun and elegant evening, featuring a delicious supper, a silent auction with a large variety of items and an exciting live auction.
But this event is not just about raising money, it's also about showing attendees and supporters how their contributions are making a difference. Representatives from a number of charities are on hand to receive their donations from Frank himself. As well, charitable groups are showcased for everyone to learn about the great work that they do.
The charities that the Foundation supports are too many to list, but some examples are: Operation Eyesight, the Salvation Army, Oxfam, Room to Read, Global Neighbours, E4C's School Lunch Program and many other local and international charities that help women and children in need. To Frank, a needy person is a needy person, whether they live just down the street or thousands of miles away.
This year the fundraiser is on March 30, 2012 at the Shawn Conference Centre in Edmonton. Cocktails start at 6:30 pm, with dinner at 7:30 pm. Tickets are $100 or $900 for a table of 10. For tickets or more information, please contact Syndy Bisson at (780) 955-3400.
Donation by the Frank Flaman Foundation to Haiti earthquake relief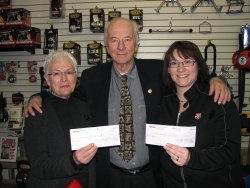 Frank Flaman presenting cheques to Salvation Army and Oxfam for the Haiti earthquake relief
One year after a devastating earthquake struck the capital of Haiti, Frank Flaman has once again generously given half a million dollars to support the relief effort.
In a simple presentation on Jan. 12 at Flaman Sales in Nisku, Flaman donated $250,000 to the Salvation Army and $250,000 to Oxfam. These funds are in addition to the $500,000 he donated to the same charities shortly after the earthquake hit in 2010 through the Frank Flaman Foundation.
"These charities do a lot of good work," says Flaman. "And there's a real need in Haiti. There's still so much suffering there – people are living in tents with no clean water."
Around 230,000 people died and 1.5 million were left homeless after a magnitude seven earthquake struck the Haitian capital of Port-au-Prince last year. Billions of dollars in international aid have been donated toward relief work, but money is still needed to reconstruct the devastated city.
"This donation is a symbol of the generosity Canadians continue to demonstrate as Haitians struggle to rebuild their country," says Robert Fox, executive director of Oxfam Canada. "It's a tremendous display of support at a time when it's needed most."
Since the earthquake, Oxfam has provided clean drinking water and sanitation facilities to more than 400,000 displaced people, provided 98,000 people with emergency shelter, distributed hygiene kits containing personal-care items like soap, shampoo and towels to 120,000 people and assisted 175,000 people in reopening businesses and removing rubble through cash-for-work programs. Among other programs, the organization has spent $19.5 million on water, sanitation and hygiene and $11 million towards emergency food security and livelihoods programs.
The Salvation Army currently operates 49 primary schools throughout Haiti, along with several children's homes and secondary schools. The Army's medical work includes maternity programs, dispensaries, tuberculosis clinics, primary health care centres and a nutrition centre.
"I would like to express our sincere gratitude for the support Frank Flaman has provided for our work in Haiti," says Karen Diaper, The Salvation Army's assistant public relations director. "This donation will help many people on their road to recovery and redevelopment. Without such community minded, generous people as Frank Flaman, The Salvation Army wouldn't be able to provide such assistance, in Haiti and around the world."
Along with its support for Haiti, the Frank Flaman Foundation has funded and helped countless global charities provide their valuable services, both locally and around the globe. For more about the foundation visit www.flaman.com/foundation