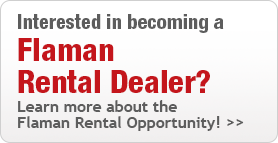 It Just Makes Sense to Rent
With the cost of equipment constantly rising, more and more people are realizing the benefits of renting. Consider the advantages for yourself:
renters have access to new, well-maintained equipment
renting requires no capital outlay
rented equipment is a 100% write-off
renters don't have to worry about depreciation
booking equipment is as easy as contacting your nearest dealer
Read All Blog Entries Here
Flaman Rentals Blog
Flaman Rentals introduces new Damage Waiver Fee
Post by: Wayne Beckett
As of May 1, 2013, all Flaman Rentals stores and agriculture rental dealers across the prairies will be introducing a new damage waiver fee for all of our equipment rental customers. This new fee is designed to help our customers offset the high cost of equipment repairs if they accidentally damage any rental equipment while in their possession.
By paying this small fee, our …