Posted by Flaman
Apr 19, 2013
As of May 1, 2013, all Flaman Rentals stores and agriculture rental dealers across the prairies will be introducing a new damage waiver fee for all of our equipment rental customers. This new fee is designed to help our customers offset the high cost of equipment repairs if they accidentally damage any rental equipment while in their possession.
By paying this small fee, our customers can now feel good knowing they have coverage for any accidental damage to tools or equipment they rent from Flaman. This coverage could save them hundreds of dollars in repairs.
It's just one more way Flaman is helping our customers have a positive rental experience, knowing that those expensive pieces of rental equipment are covered while in their possession.
Please stop in or call your nearest Flaman rental store for full details.
Flaman Rentals in Moosomin, Yorkton and Swan River currently offer a similar fee and this will remain unchanged.
Posted in Product Information | Tagged with Flaman Rentals rental renting equipment trailers damage waiver fee protection | More articles by Flaman
Posted by Flaman
Jan 09, 2013
Cuba… oh boy where do I start? It was a fun filled week mixed with both business and a little pleasure. I was rather excited about this trip, as this was my first full dealer get together. I was rather nervous and not sure what to expect, especially with 100 of us crazy Canadians down in Cuba.
As we finally arrived in Cuba I was blown away by the friendliness and welcome the entire group gave me. What an amazing dealer network we have here at Flaman Rentals. Not only that, but we even had our founder Frank Flaman join us. Many dealers enjoyed Frank's presence in Cuba. The speeches he gave were very informative and it was nice to see dealers interacting with Frank throughout the week.
As this was my first visit to Cuba, it was a surprise to see the culture and way of life Cubans have. Everything from the vehicles to the pace of life is such a shock from what we are accustomed to here in North America.
After all our groups from Saskatchewan, Manitoba and Alberta arrived it was right to business with a meeting first thing Tuesday morning. The week was filled with all sorts of activities and tours. I had the pleasure of organizing the golf tournament, and we had a very good turnout despite the rain. We were only able to finish 13 holes but nobody complained as the course was absolutely beautiful right along the ocean. Thanks to my pro golf partner Wayne Beckett we were able to embarrass our Alberta team of Rocky Amson and Ken Barlott in a little game of best ball. Despite the rain we made the best of it and everyone had a blast.
During the golf tournament, a group organized by Tammy Weightman visited a local school and donated school supplies and small items Cubans just do not have. They also spent a lot of time with the children and the locals were all really appreciative for what our group did. Thanks again to all the dealers and staff that participated.
Other activities we had planned included a full day tour of Havana and a Catamaran trip. Most dealers really enjoyed the Havana tour as it was very informative and nice to see the Cuban culture. A few of us ventured out on our own to local towns such as Varadero, which was very interesting to see. I remember seeing part of the beach that was hit by Hurricane Sandy and it was a shock to see the beach completely washed out and trees wiped out, something we are not used to seeing in Canada.
Throughout the week you could really see friendships and memories being made. It was nice to see this type of bonding happening and I was proud to be part of this team. Although it was tough trying to spend time with all 100 or so people, each day would bring new conversations and opportunities.
As the week wound down, Saturday night we hosted our awards night. This gave everyone a chance to dress up a little and was a perfect night to end off the trip. Prior to this awards night, myself and Barrett Prokopie decided it would be fun to jump out of a helicopter at 13,000 ft over the ocean! Wow, what an unplanned amazing experience! I think I almost had a heart attack that night at the awards banquet. All in all, it was an amazing day I will never forget.
So that in a nutshell was our week in Cuba. Thanks for the knowledge, memories and friendships made. It was our most successful year ever with Flaman Rentals. We have a great group of people both at the corporate level and with our dealer network. I look forward to seeing everyone again next year. 'Till then take care and all the best in 2013!
Congratulations to the following dealers who won awards:
Most Improved Dealer Sask/Man
Triple D&P Farms LTD – Birsay, SK
Most Improved Dealer AB
Wetaskiwin Bulk Sales
Top Retail Sales Dealer Sask/MB
Horizon Fertilizers – Humboldt, SK
Top Retail Sales Dealer AB
Smoky River Equipment Sales & Rentals
Top 5 Dealers Sask/MB
5 Mardee Enterprises – Brandon, MB
4 B&D Rentals – Cut Knife, SK
3 B&A Petroleum – Swift Current, SK
2 Windthorst Rental Centre – Windthorst, SK
1 Brendonn Holdings – Russell, MB
Top 5 Dealers AB
5 Koch Fuels – Carstairs, AB
4 Wills Welding – Ponoka, AB
3 Ray Agro & Petroleum – Barrhead, AB
2 Wetaskiwin Bulk Sales – Wetaskiwin, AB
1 Keddie's Rentals – Grand Prairie, AB
Posted in Division News | Tagged with Flaman Rentals rental dealers rental meeting awards | More articles by Flaman
For the third year in a row, Flaman Rentals in Saskatoon has been named a Consumer Choice Award Winner. This division of Flaman rents out enclosed and flat deck trailers, along with agricultural equipment like discs, land rollers or mowers.
I recently attended the Consumer Choice Award ceremony with our marketing VP Steve Whittington at the beautiful Delta Bessborough in Saskatoon. We got to sip champagne and rub elbows with a lot of great business owners in the city, and of course, celebrate our own success!
This award is special because the winners are picked by our customers. It means a lot to us that people recognize our efforts to offer great customer service. We were also very pleased to win a Consumer Choice Award three years in a row. This means our team is consistent taking care of our customers' needs. And we're proud of that!
What's great is that the Consumer Choice Award is becoming a trusted name in the Saskatoon area. Looking at the other winners gathered in the room that night, we knew we were in good company amongst other top businesses in Saskatoon.
A big "thank you!" is due to our rental team in Saskatoon for all their efforts and hard work every day and to our customers for continuing to choose Flaman Rentals.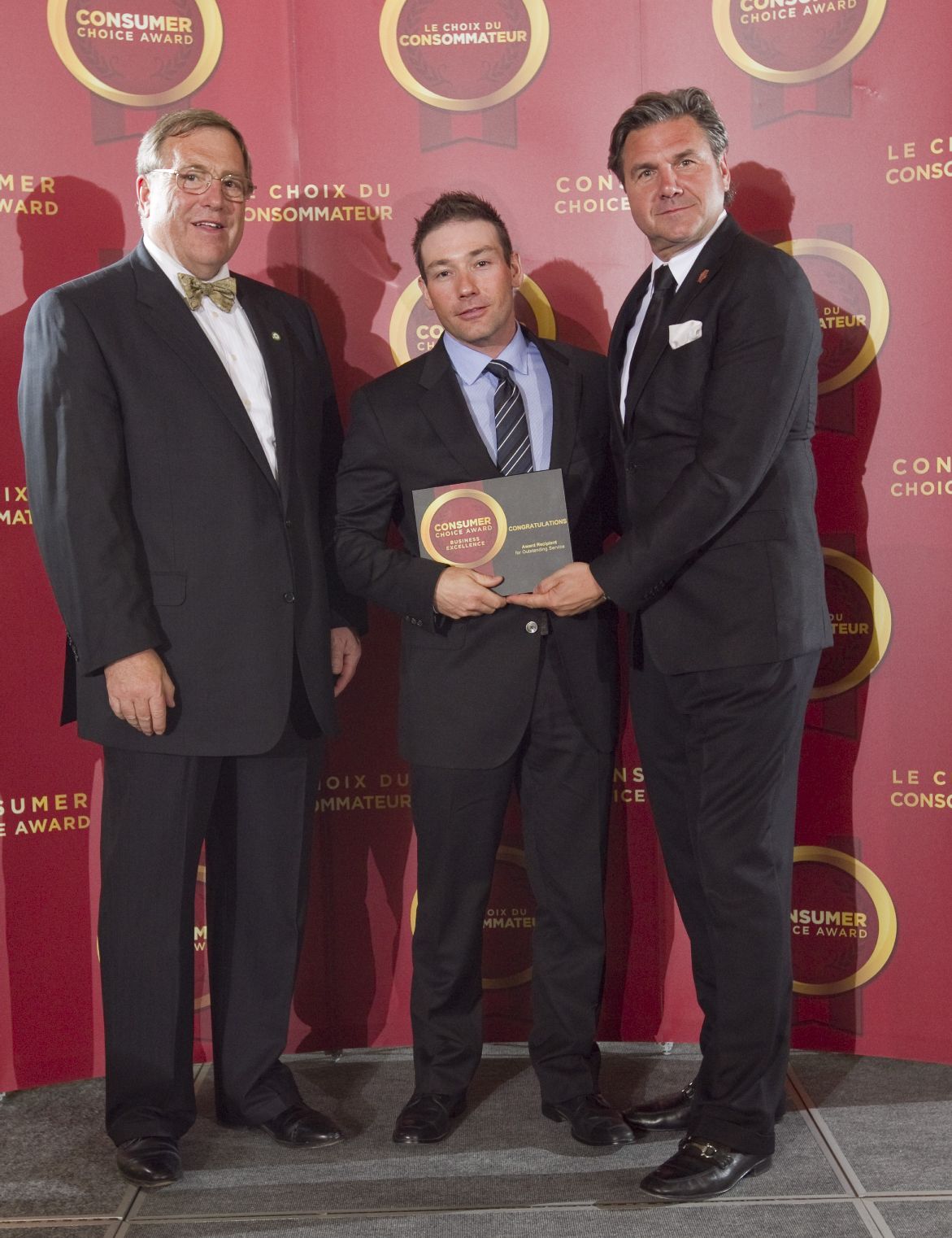 Steve Whittington (middle) receiving our award from Saskatoon Mayor Don Atchison and Consumer Choice Award President Marcel Sbrollini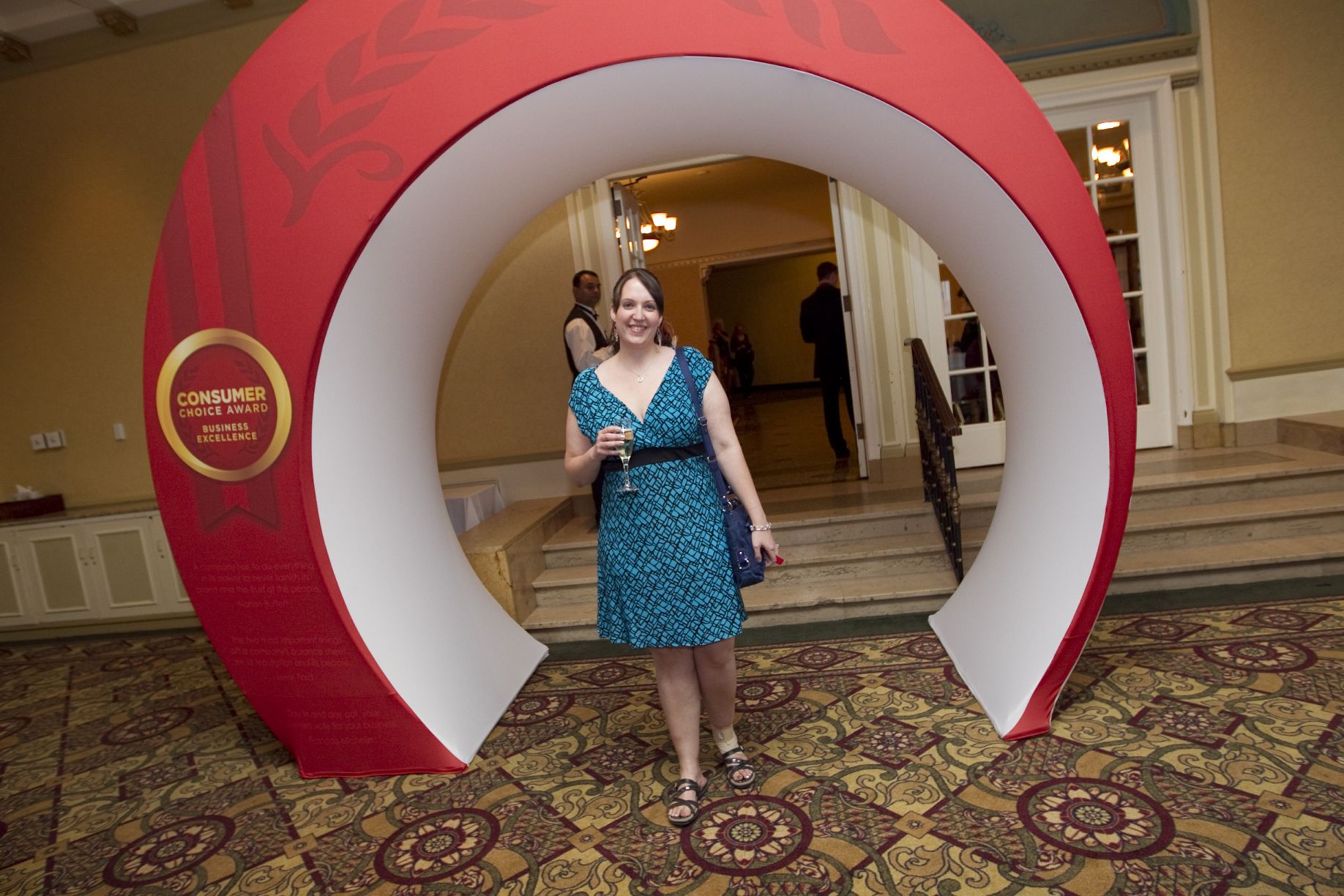 Jennifer Thompson arriving at the awards ceremony.
Posted in Division News | Tagged with Consumer Choice Award Flaman Rentals trailer rentals agricultural equipment rentals customer service Saskatoon | More articles by Jennifer Thompson