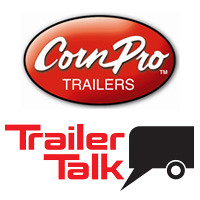 Brian Frette from Corn Pro Trailers talks us through the manufacturing of the product and shares his views on the versatility of their products. (For instance snow machines in a stock trailer?) Have a listen to some great information about this respected brand.
Posted in Podcasts | Tagged with Flaman Brian Frette Steve Whittington Trailers Trailer Talk Stock Trailers Horse Trailers Podcast | More articles by Steve Whittington
I landed in St. Louis at 11:30 pm Wednesday the day before the North American Trailer Dealer Association Tradeshow started. I have been making the pilgrimage to NATDA for that last five years. The event has been improving every year with more vendors exhibiting in the tradeshow and a higher quality speaker line up for the education sessions. As a team we travel to St. Louis to stay on top of industry trends, to learn about new and innovative products and how to improve our business practices. Attending the show refocuses us on the trailer business and provides us with great ideas for what more we can do for our customers.
From Alberta Les Bachinsky and Tim McMullen flew down and from Saskatchewan Darrell Knash and Lee Prefontaine attended the show. Les and I have been going to NATDA since the beginning but for the other three this is a new event. Les and I both feel that it is important for different members of the sales team to get down to NATDA to see how big the industry is and to learn about what is out there. Additionally, I feel bringing new people every year brings new perspectives that see things differently than Les and I do, and I must admit I learn from the team and sometimes re-evaluate previous decisions. Obviously lots of our manufacturers are in attendance and it is great to spend time with them and see what new products they have coming out for the next year.
From this show we decided to work towards adding the following to our line up:
Air-tow trailers: Trailers specifically designed for ground level loading.
www.airtow.com
Jumping Jack Tent Trailer: Easy to use pop tent trailers (with tent insert) that can be pulled out to provide full use of the trailer
www.jumpingjacktrailers.com
Horse and Stock Trailers: there was a time that Flaman Trailers provided horse and stock trailers to our customers. We have not carried horse and stock trailers for over five years and you, our customers, still ask for them. Well, by spring of 2014 we will have aluminum and steel products for you once again. We are evaluating a number of brands but we are committed to providing these products to you.
Fuel Trailers: We are reviewing Canadian regulations on this product line. There are many different types being built in the U.S., however Canadian regulations are far stricter than our American counterparts and at this time we have not found a manufacturer that meets Canadian regulations.
Beyond these product lines there were lots of little ideas: color combination, speciality options, attachments, new parts and accessories. The list goes on and on....we are excited about what we will have to offer in 2014.
Posted in Product Information | Tagged with NATDA new trailers camper trailers fuel trailer horse trailers speciality trailers | More articles by Steve Whittington