Change Location (currently S7K 3J7)
Dump Trailer Rental Rentals in Saskatoon, SK
Flaman Sales and Rentals
Distance:
8 km

Dump Trailer 10ft
Tandem axle dump trailers are built to handle heavy duty loads.
$70.00
/ Half Day
$100.00
/ Day
$500.00
/ Week
$1,400.00
/ Month
Dump Trailer 12ft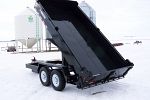 Slide in ramps make these dump trailers ideal for loading and hauling your equipment. The two-way tailgate features a rear double door and spreader gate, allowing for fast, controlled unloading.
$90.00
/ Half Day
$135.00
/ Day
$675.00
/ Week
$1,890.00
/ Month
Our dump trailer rental units are very versatile trailers. These trailers can be used to haul dirt, gravel, debris and skid steers. They are available in lengths of 10'-12'-14' and 16'. They have the capacity of up to 14000lbs. They are equipped with either an electric hydraulic lift and dump system or a gas engine powered lift and dump system. Never shovel again, let our rental dump trailers do the work for you.
* Products vary by dealer and may not be exactly as shown.