Change Location (currently T0A 0E0)
Event Tent Rentals in Atmore, AB
Hwy 63 Equipment Rentals
Distance:
6 km

Marquee Frame Tents 20ft x 20ft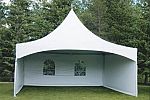 Need a tent for your wedding, reunion or other special event? Flaman has you covered! This 20 foot by 20 foot tent is perfect for your backyard birthday party, trade show, BBQ, wedding and any other outdoor event you need a tent for!
Individual tents can be connected to achieve any size or configuration. Get out of the heat or the rain. Available with window walls or solid walls.
Flaman is your source for special event rentals, party rentals and wedding rentals.
* Products vary by dealer and may not be exactly as shown.