Change Location (currently V1G 4A8)
Land Roller Rentals in Dawson Creek, BC
Agroworks Services Inc.
Distance:
4 km

Land Roller 40ft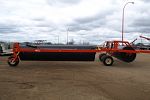 Land rollers efficiently press rocks into the ground and leave a smooth surface. This helps increase germination and promotes even maturity by ensuring every seed has good contact with the soil.
* Products vary by dealer and may not be exactly as shown.