Change Location (currently R0L 1Z0)
Office Trailer Rental Rentals in Swan River, MB
Flaman Sales and Rentals
Distance:
3 km

Office Trailer 10ft x 24ft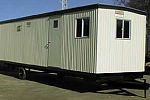 Need a portable office for your job site? Rent an office trailer from your local dealer.
$300.00
/ Week
$945.00
/ Month
Our office trailer rental units are either on wheels or skid mounted. They offer different floor plans inside. Some have two offices on either end with open space in middle, some have one office and open space for lunch room, some have office, open space and storage room and some have office space, open space and washroom. The portable wheeled units range in size from 8'x24' to 10'x 24' and the skid trailers range in size from 10'x24' to 10'x40' . All units have a/c and electric heat . We can also rent tables and chairs for the lunchroom or meeting rooms to along with the office trailer rental.
* Products vary by dealer and may not be exactly as shown.