Change Location (currently S0A 4T0)
Skid Steer Attachment Rentals in Wynyard, SK
K4 Rentals
Distance:
2 km

Skid Steer Pallet Fork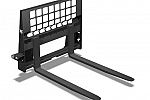 Use your skid steer to lift heavy loads with these pallet forks.
Skid Steers
For small jobs or tight spaces we have you covered. Rent a bobcat or other skid steer excavator here.
* Products vary by dealer and may not be exactly as shown.