Flaman Agriculture Swift Current, SK
Address: 2500 South Service Road West, Swift Current, Saskatchewan, S9H 5J9
Store Hours:
Mon:
8:00-12:00 / 1:00-5:00
Tue:
8:00-12:00 / 1:00-5:00
Wed:
8:00-12:00 / 1:00-5:00
Thu:
8:00-12:00 / 1:00-5:00
Fri:
8:00-12:00 / 1:00-5:00
Products Carried: Agriculture, Trailers, Used Equipment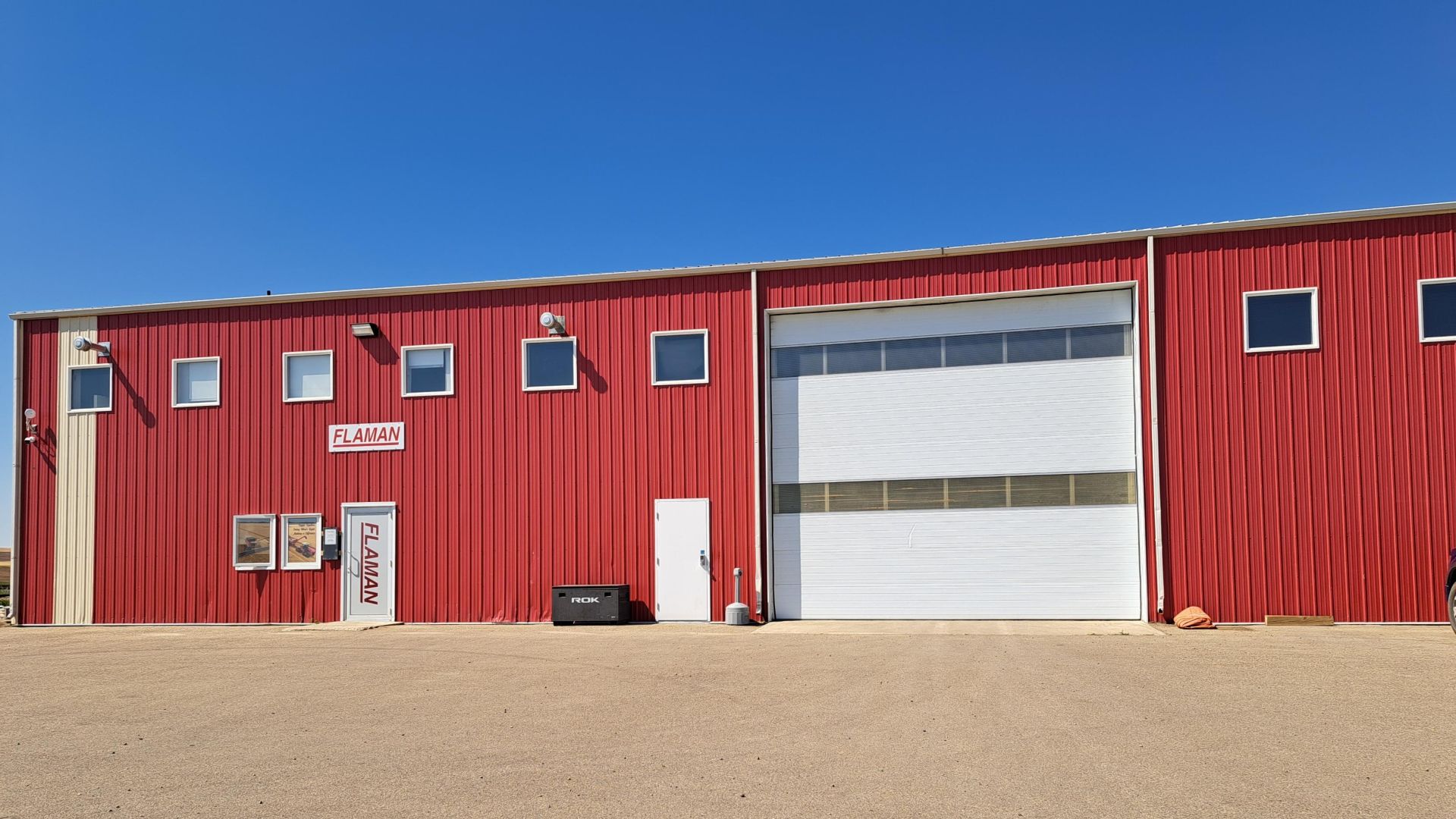 Flaman's Swift Current store may be one of the newest locations, but it's done a lot for its agricultural community in a short time. The store opened in February 2020, after purchasing a location owned by Gatco Manufacturing, one of our valued grain bin solutions suppliers. Its customer service area extended west to the Alberta border, south to the Montana border, east to the Moose Jaw area, and up to the Kyle area north of the South Saskatchewan River.
It's semi-arid country, supporting a mix of ranching and grain farming, plus dry pea, dry bean, and oilseed crops including durum, canola, lentils, peas, and mustard. The dryer conditions have also benefitted vineyards like the Cyprus Hill Winery. But sometimes the conditions can get too dry.
Flaman Swift Current's store opening coincided with an area-wide drought. Yet the store grew from a relatively small product offering to a 7,200 square foot facility occupying one acre on the city's western edge. Its walk-in traffic has also grown. Most of this success comes courtesy of the farming community the store serves.
Inspired by local farmers' resilience, and learning from their experience and expertise, the store quickly built up an inventory of products that would serve them throughout the year.
Storage and mixing tanks, including those of the Polywest Chem Handler line contain and mix the fertilizer and herbicide protection your crops will need for optimum growth.
There are J&M Grain carts to haul seed to your fields, or to bring your crop in at harvest time. You can also temporarily store crops in the field with the help of Pro Grain grain baggers. Flaman Swift Current offers Twister flat-bottom bins and Meridian smoothwall bins to store your grain, plus AGI Wheatheart augers and Batco Conveyors to fill them.
Flaman Swift current also serves area ranchers with IGA Wheatheart post pounders and Brillion grass seeders, plus wire rollers, stock trailers, manure spreaders, cattle supplies, feed bins, and haying equipment.
All farmers have to deal with too much or too little moisture, so our store carries water pumps from Honda and BE, plus Warthog floating pumps and Schulte Snow Blowers. You'll also find a selection of vertical and horizontal tanks for water as well as chemicals.
If we don't have something in stock, we can order it from our catalogue or do our best to search it out for our customers. That said, farmers often need their supplies immediately, so we endeavor to keep ahead of the need, anticipating seasonal needs and having inventory when we need it. We're well advised by our customers and by employees who are part of that farming community.
Our experienced parts department knows what to order, how much and when. Our aim is to see no customer walk away empty-handed. If there are accessories, attachments, fittings etc. that go with products, staff will help the customer find everything they need.
Flaman Swift Current strives to be a one-stop shopping centre for busy farmers who can't spend extra time looking for what they need. We learned the value of problem solving and proper practices from you. We hope to pay that back by making your satisfaction our priority.