Every year we have Trailer Division training in February and every year we find new products to bring to you our customers. Organizing the event this year I surprised at the logistics required to make this happen.
Five years ago we had three manufacturers to focus on. We now supply fifteen trailer manufacturers to Western Canada eleven of which were at our inside training event. We consumed an entire exhibition hall in Lethbridge to show case the equipment inside from the cold. Ultimately, that is a lot of product choice for you. Now that spring has sprung these trailers are in our lots ready to be viewed.
Many of these fifteen manufactures many are what I consider speciality products: Office Trailers, Concession Trailers, Mobile Restroom trailers, Sprayer Trailers, car dollies, level loading trailers, fuel trailers... the list goes on. But to be fair many are also mainline manufacturers and we have aligned ourselves with the best in the industry to provide our customers pricing and specification choices or simply put their pick of good better or best.
What I was excited about most this year however are products I believe we have be needing to supply for quite some time; Stock and Horse Trailers (which we used to supply), and Semi flat bed trailers. To meet these needs we have aligned ourselves with Corn Pro Trailers for Horse and Stock Trailers and B&B Trailers for Flat Bed Semi Trailers. We have more product information on our website. Both of these brands have been in the industry for a long time and we excited to offer them.
The last new trailer type we had in our training is quite unique. The company Air Tow Trailers are a worldwide industry leader for level loading trailers. When I was first exposed to this trailer I will admit I raised an eyebrow and thought what use are these trailers? The idea is nice but regular trailers can do the job. The fact is they cannot. The bed of these units lowers completely to the ground and when raised for travel the bed self levels depending on weight distribution on the deck. For loading safes, pianos, sky jacks, pallets, etc. this trailer does a job that other units cannot do: painless and safe loading plus smooth transport. So if you have a special moving consideration, this is the trailer. Listen to our podcastto learn more.
Posted in New Products | Tagged with Trailers stock level-load flatbed office concession restroom sprayer car-dolly fuel-pup air tow | More articles by Steve Whittington
At Flaman trailers we have offered concession trailers for some time. With the addition of the Wells Cargo line, we can really offer quality concession trailers from a company that knows the industry requirements. We do receive requests for quotes for a concession trailer and they range from pointed requests such as "How much?" to more detailed inquiries.
The fact of the matter is when it comes to a concession trailer purchase, it should always be a detailed inquiry. However, you need to know what questions you should be asking prior to contacting a Trailer Sales specialist.
Here is a list of things to think about. In fact, you can use it as a check list prior to contacting us!
What is the Application of the trailer?
Size (Select the base box size)
o
Single axle 7 wide 12 or 14 long
o
Tandem axle 7 wide 12 ,14, 16 long
o
Tandem axle 8 wide 12 , 16 ,20, 24, 28, 32 long
Floor
Roof Profile
Hitch
Stabilizer Jacks
Entry Door
Service Windows -Style
o
No (skip next two questions)
Service Windows – Quantity
Lift up Awning – Quantity
Lift up Awning Style
o
Sign type –Aluminum faced
o
Sign type Plexiglas Faced
Awning Supports
o
Self Storing –standard up to 8'0" wide without supports
o
Swing out supports Standard on awnings over 8'0" wide
o
Sliding Awning Supports
Floors
o
One piece standard vinyl linoleum
o
One piece Heavy Duty skid resistant vinyl linoleum
Insulation
Interior Side Walls
o
White vinyl covered plywood (light duty)
o
White embossed FRP plywood (heavy duty)
Interior Ceiling
o
White vinyl covered plywood (light duty)
o
White embossed FRP plywood (heavy duty)
Counter/Cabinets/Shelves
o
Laminated Counter (no cabinet)
o
Exterior Hinged Counter
o
Tip-out Laminated Counter
o
Overhead Plastic Storage trays
Sink Units
o
3 compartment sink – Straight
o
4 compartment sink – Straight
o
4 compartment sink – L -shaped
o
4 compartment sink – Deep
Electrical
o
30 amp service panel (120 Volt only)
o
50 amp service panel (120/240 Volt)
o
100 amp service panel (120/240 Volt)
o
120 Volt Duplex Receptacle(s)
o
120 Volt Duplex GFI receptacle(s)
o
240 Volt Bell Box (Stub Wire)
o
Exterior 120 Volt Duplex GFI Receptacles
And this is just the start! Do you need and air conditioning, heating, lighting or a vent with an exhaust fan? The list goes on, but if you go through the checklist first you will have a good idea about what you need and the product specialist will be better equipped to answer your question: "How Much?"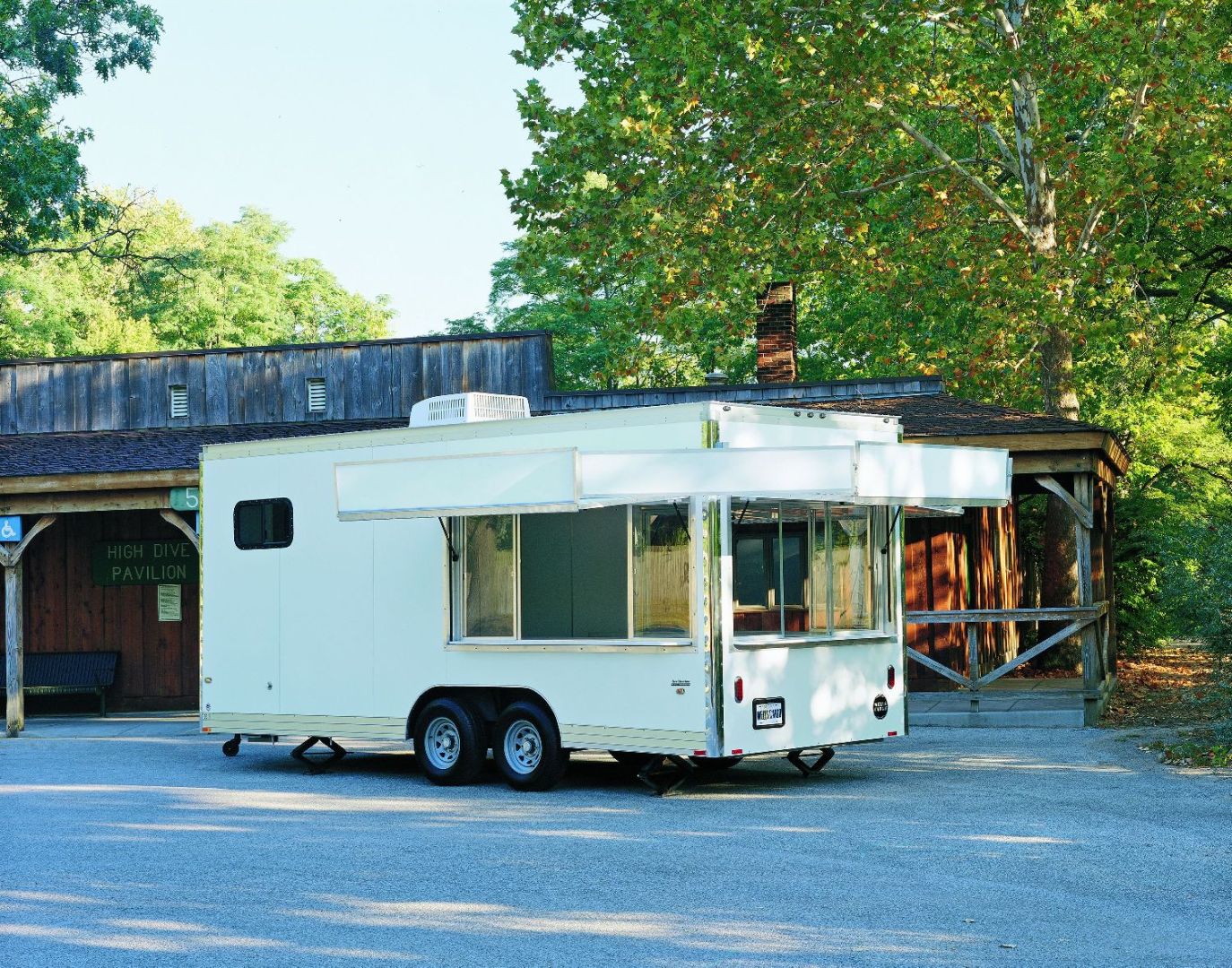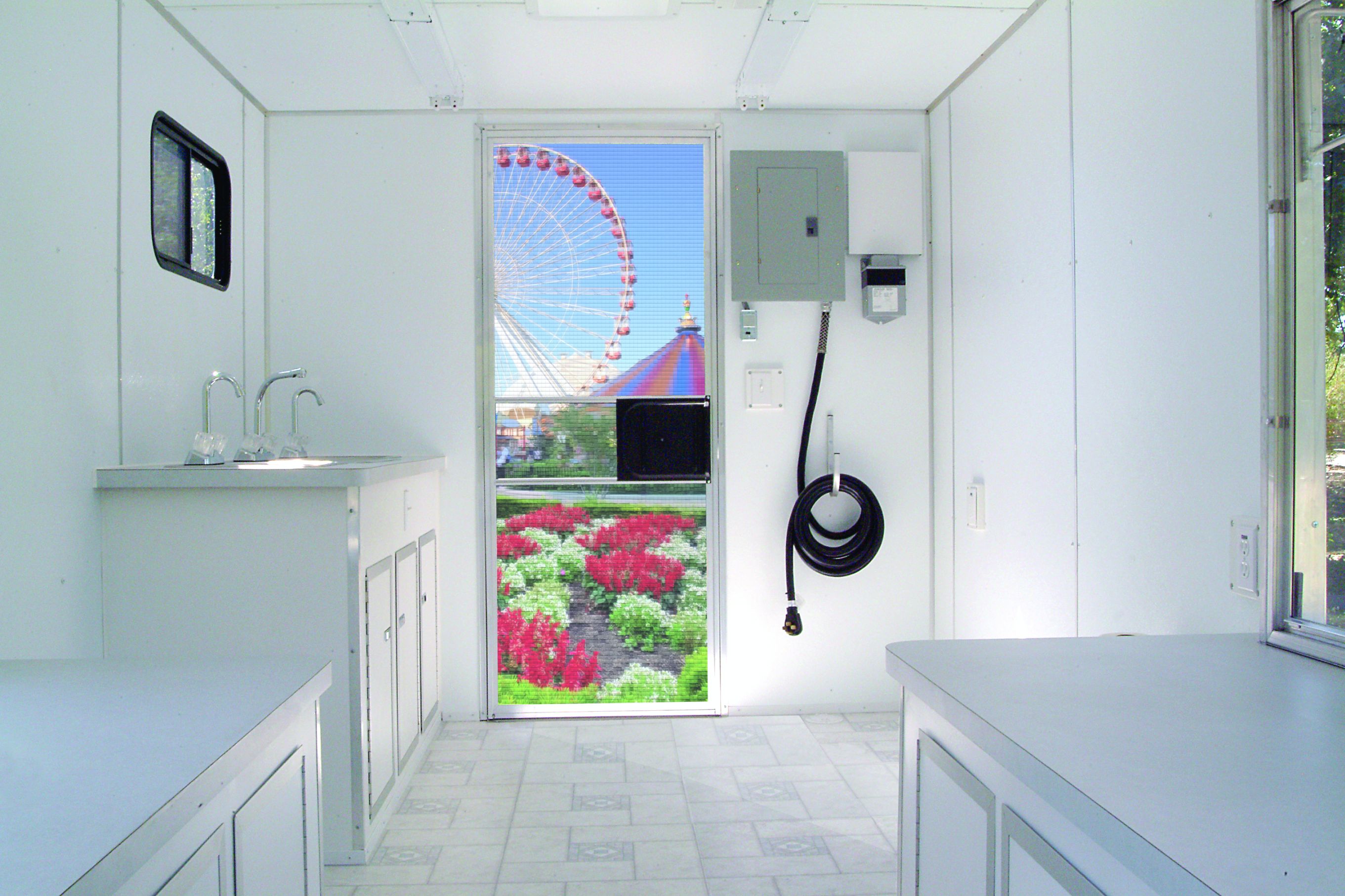 Posted in New Products | Tagged with concession trailer ticket trailer ticket booth food trailer Flaman trailers custom trailer | More articles by Steve Whittington