Posted by Flaman
Dec 10, 2014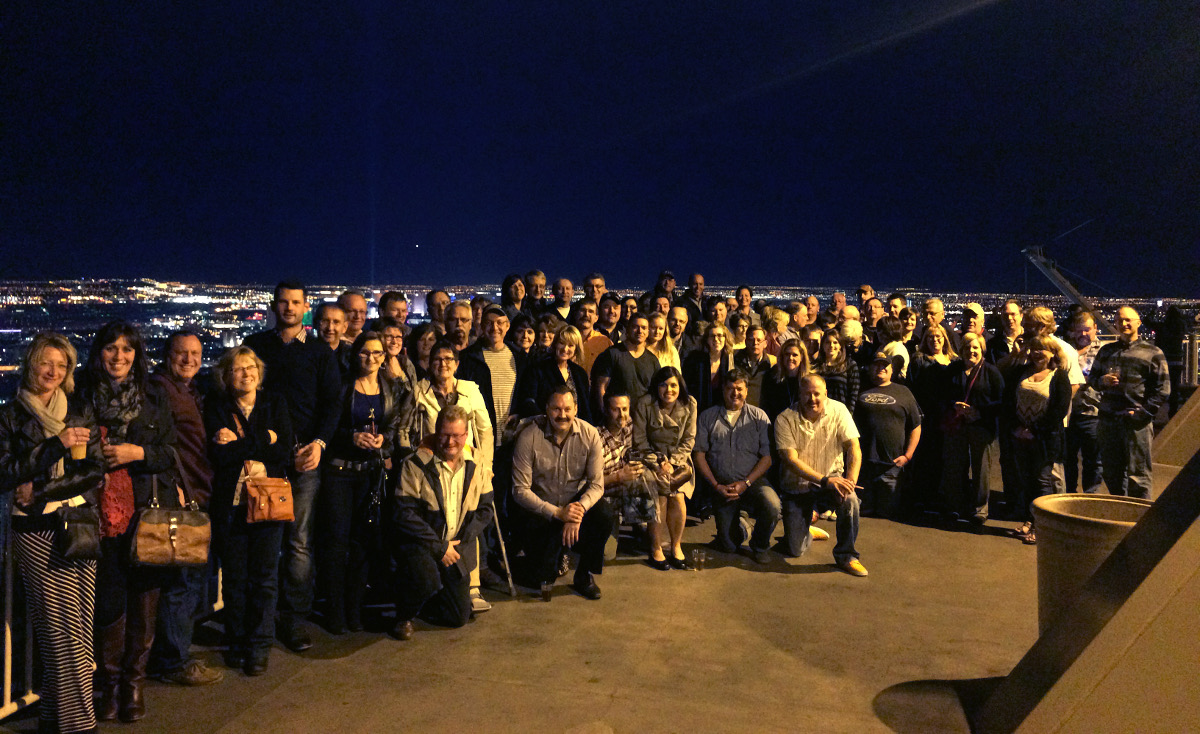 After a strong fall rental season this year, rental dealers and Flaman staff all gathered in fabulous Las Vegas. All in all there were 104 Flaman staff members for this year's annual Flaman Rental dealer meeting trip. I think we all made it back as well!
Some areas this year experienced heavy rains, but most dealers agreed it was another strong, successful year. Revenues were up yet again, contributing factors such as the new K-Line Speedtiller high speed disc made a huge impact on some dealers' overall revenue.
As always, our goals of our annual meetings are to bring new and existing dealers together to mix and mingle and share information to help grow our business together.
Time spent together is person is the best way to build solid business relationships.
Dealers arrived at the Flamingo Hotel throughout the day on Wednesday. Later that evening we hosted a get together on the world's largest observation wheel the "High Roller" which is a 45 minute ride in a pod 550ft in the air!
Thursday was dinner at the Top of the World in the Stratosphere. What a treat dining at over 800ft! Rocky led a group of brave Albertan's to bungee jump off of the Stratosphere. Even the veteran Don Evan's was part of that group. Well done Don!
Then Friday morning was our business meeting at 8am sharp. Topics discussed were: high speed discs, acre meters, damage waivers, booking program updates and new features.
Right after the meeting we all boarded three buses and headed to a boat tour of Lake Mead. I am sure some of you recall a certain bus driver's road rage! Geesh some drivers. And who booked buses with no a/c!!? Come on organizers haha. All in all it was a great cruise of Lake Mead and the Hoover Dam. A lot of mingling was done and everyone seemed to have a good time.
After the tour some people went shopping, some went to see show's while some others went for a ride cruising the strip in a Lamborghini Gallardo! Six dealers got the thrill of a lifetime riding at turns with Kelsey (Southern AB rep) and myself up and down the Las Vegas Strip in a 550HP exotic car.Boy what a feeling! Thanks to Steve Flaman for that. Even one lucky AB dealer who was flying home that evening was personally dropped off at the airport. He was ecstatic.
As Saturday rolled along, some dealers hit the links for a little golf headed by Wayne while others shopped and a few just walked the strip/old strip Freemont Street to take in the sights. The evening was our annual awards gala. Headlined by a wonderful magician (sarcasm) I don't think we paid her nearly enough as I
am sure I could perform better. But it was in good humour and everyone had a gut busting laugh or two.
Sunday came along and it was time to go home (phew finally). We all said our goodbyes, gave hugs and everyone was off. Someone decided to call an afternoon meeting (not mentioning names) for the staff departing later that evening, which was a little rough thanks to the previous night's festivities. Wayne I am still waiting for the meeting's "notes" to be sent.
I would like to thank all rental dealers that attended for your support and hard work. Also the suppliers who attended and helped sponsor part of the trip to keep costs down. A big thanks to Wayne Beckett for organizing the trip along with Ken Barlott, Kelsey Dortman, Kevin Kulak and myself.
Last but not least a huge thanks to Flaman Group of Companies – Steve Flaman, Rocky Amson & Frank Flaman for allowing us to have these meetings for the rental dealers. We all appreciate it.
There were a "few" things left out of this write-up, like they say; what happens in Vegas, stays in Vegas!
Stay tuned for next year's meeting, Merry Christmas and Happy New Year
Headon Rentals - Lloydminster
Keddie's - Grande Prairie
Posted in Division News | Tagged with vegas rental flaman fun | More articles by Flaman
Posted by Flaman
Dec 20, 2013
Rental dealers from all across the prairies including BC and even Montana all gathered at the Arizona Grand Resort in Phoenix, AZ on Nov 27 - Dec 1
There were just over 100 of us for this year's meeting trip. We were also proud to have in attendance some of our top suppliers and business partners such as Riteway Mfg, Schulte, Haukaas, Wheatheart, Calidon Leasing, National Leasing.
Also attending was 3 of our new SK and MB dealers!
The trip was a great escape from our tough winter conditions and the overall experience was very positive. While some areas had slight decreases in revenue this year, everyone agreed that the current economic situation in Western Canada is very favourable and with a lot of hard work and a little luck in the way of weather, we will plan for a very strong year coming up. The goal of our annual meeting is to bring all of our rental dealers together to share information to continue to grow our business. The mingling of dealers, suppliers, and staff allows us to keep moving forward and strengthening the business and personal relationships that are so important and somewhat rare in this digital world. We still believe that face time spent together is the best way to build a successful business and that is what the annual dealer meeting is all about.
Highlights included:
Golf, golf, golf. Many dealers took advantage of the beautiful course and golfed daily while the ladies shopped, shopped, shopped
NHL game sat night with the Blackhawks in town! Was an exciting game and experience
ATV tour - about 15 dealers went on a quad tour in the desert! Was a blast. Someone (Scott from Riteway) got a little carried away and may have injured his tailbone as his quad did a backflip
Steve Whittington, Flaman's VP of Marketing and Communications took us on a detailed journey of his trip up Mount Everest.
Awards night gala presenting top dealers in each territory and top new dealer and community service awards
Meeting topics discussed included:
Introduction of new dealers
New dealer agreements
COOP advertising improvements
Advertising plan for 2014
Tips on increasing rental revenue
Introducing the new corporate stores (Lethbridge, Medicine Hat)
Year in review both corporate level and rental dealers
Flaman Foundation
Booking program introduction for Alberta and improvements
New products and equipment
New rental rates 2014
GPS for tracking acre counts
I would like to thank all rental dealers who attended the meeting for your support and hard work that goes into our business every year. Thank you to the key suppliers that joined our meeting and helped sponsor the cost of the meeting to keep the costs down to dealers who attended. Thanks to the Flaman staff who came and helped keep everyone looked after and entertained. Thanks to Wayne, Ken and Kelsey for helping to organize the meetings and events. A very big thank you to Wayne Beckett who came up with the idea to have the meeting in Phoenix and did most of the work organizing the venue and travel arrangements. And last, but not least, thanks to Rocky Amson and Frank Flaman for allowing us to organize these meetings for rental dealers and to give us the means to keep building this business.
Parrish Kondra
2013 Flaman Rental Dealer Awards
Top New Dealer – Interlake Rentals – Arborg, MB
Community Service Award (Sask/Man) – MarDee Enterprises – Brandon, MB
Community Service Award (Alberta/BC/USA) – Nanton Rentals – Nanton, AB
Top Retail Sales (Sask/Man) – Triple D & P Farms – Birsay, SK
Top Retail Sales (AB/BC/USA) – Smoky River Equipment Sales and Rentals – Falher, AB
Top 5 Dealers (Sask/Man)
#5 – Ike Friesen – Morden, MB
#4 – B & D Rentals – Cutknife, SK
#3 – Brendonn Holdings – Russell, MB
#2 – B & A Petroleum – Swift Current, SK
#1 – Reliant Sales and Rentals – Windthorst, SK
Top 5 (Alberta, BC, USA)
#5 – Wetaskiwin Bulk Sales – Wetaskiwin, AB
#4 – Koch Fuels – Carstairs, AB
#3 – Ray Agro & Petroleum – Barrhead, AB
#2 – Will's Welding – Ponoka, AB
#1 – Keddie's Rentals – Grande Prairie, AB
Posted in Division News | Tagged with rental meeting rental dealer awards top 5 deals phoenix | More articles by Flaman