Posted by Flaman
Dec 10, 2014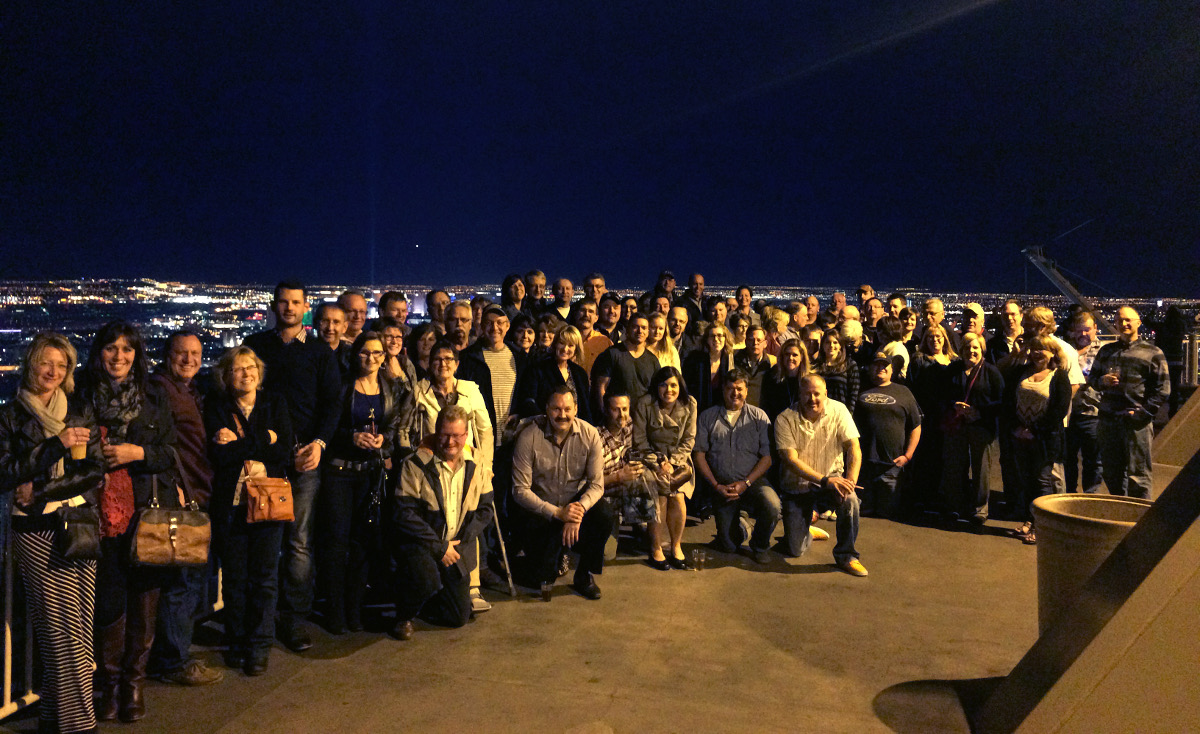 After a strong fall rental season this year, rental dealers and Flaman staff all gathered in fabulous Las Vegas. All in all there were 104 Flaman staff members for this year's annual Flaman Rental dealer meeting trip. I think we all made it back as well!
Some areas this year experienced heavy rains, but most dealers agreed it was another strong, successful year. Revenues were up yet again, contributing factors such as the new K-Line Speedtiller high speed disc made a huge impact on some dealers' overall revenue.
As always, our goals of our annual meetings are to bring new and existing dealers together to mix and mingle and share information to help grow our business together.
Time spent together is person is the best way to build solid business relationships.
Dealers arrived at the Flamingo Hotel throughout the day on Wednesday. Later that evening we hosted a get together on the world's largest observation wheel the "High Roller" which is a 45 minute ride in a pod 550ft in the air!
Thursday was dinner at the Top of the World in the Stratosphere. What a treat dining at over 800ft! Rocky led a group of brave Albertan's to bungee jump off of the Stratosphere. Even the veteran Don Evan's was part of that group. Well done Don!
Then Friday morning was our business meeting at 8am sharp. Topics discussed were: high speed discs, acre meters, damage waivers, booking program updates and new features.
Right after the meeting we all boarded three buses and headed to a boat tour of Lake Mead. I am sure some of you recall a certain bus driver's road rage! Geesh some drivers. And who booked buses with no a/c!!? Come on organizers haha. All in all it was a great cruise of Lake Mead and the Hoover Dam. A lot of mingling was done and everyone seemed to have a good time.
After the tour some people went shopping, some went to see show's while some others went for a ride cruising the strip in a Lamborghini Gallardo! Six dealers got the thrill of a lifetime riding at turns with Kelsey (Southern AB rep) and myself up and down the Las Vegas Strip in a 550HP exotic car.Boy what a feeling! Thanks to Steve Flaman for that. Even one lucky AB dealer who was flying home that evening was personally dropped off at the airport. He was ecstatic.
As Saturday rolled along, some dealers hit the links for a little golf headed by Wayne while others shopped and a few just walked the strip/old strip Freemont Street to take in the sights. The evening was our annual awards gala. Headlined by a wonderful magician (sarcasm) I don't think we paid her nearly enough as I
am sure I could perform better. But it was in good humour and everyone had a gut busting laugh or two.
Sunday came along and it was time to go home (phew finally). We all said our goodbyes, gave hugs and everyone was off. Someone decided to call an afternoon meeting (not mentioning names) for the staff departing later that evening, which was a little rough thanks to the previous night's festivities. Wayne I am still waiting for the meeting's "notes" to be sent.
I would like to thank all rental dealers that attended for your support and hard work. Also the suppliers who attended and helped sponsor part of the trip to keep costs down. A big thanks to Wayne Beckett for organizing the trip along with Ken Barlott, Kelsey Dortman, Kevin Kulak and myself.
Last but not least a huge thanks to Flaman Group of Companies – Steve Flaman, Rocky Amson & Frank Flaman for allowing us to have these meetings for the rental dealers. We all appreciate it.
There were a "few" things left out of this write-up, like they say; what happens in Vegas, stays in Vegas!
Stay tuned for next year's meeting, Merry Christmas and Happy New Year
Headon Rentals - Lloydminster
Keddie's - Grande Prairie
Posted in Division News | Tagged with vegas rental flaman fun | More articles by Flaman
Are you looking for a meaningful way to give back to your community? Then mark your calendar and get your ticket for the 6th annual Frank Flaman Foundation Gala on March 30, 2012.
This annual event is the main fundraiser for the Frank Flaman Foundation, the charity created by Flaman Group of Company's founder and owner Frank. The Foundation is funded by Frank's share of the profits from the Flaman Group, and by private donations. Along with being a savvy businessman, Frank has always been a respected philanthropist, and his foundation gives millions of dollars to local and international charities each year.
The gala is a fun and elegant evening, featuring a delicious supper, a silent auction with a large variety of items and an exciting live auction.
But this event is not just about raising money, it's also about showing attendees and supporters how their contributions are making a difference. Representatives from a number of charities are on hand to receive their donations from Frank himself. As well, charitable groups are showcased for everyone to learn about the great work that they do.
The charities that the Foundation supports are too many to list, but some examples are: Operation Eyesight, the Salvation Army, Oxfam, Room to Read, Global Neighbours, E4C's School Lunch Program and many other local and international charities that help women and children in need. To Frank, a needy person is a needy person, whether they live just down the street or thousands of miles away.
This year the fundraiser is on March 30, 2012 at the Shawn Conference Centre in Edmonton. Cocktails start at 6:30 pm, with dinner at 7:30 pm. Tickets are $100 or $900 for a table of 10. For tickets or more information, please contact Syndy Bisson at (780) 955-3400.
Posted in Division News | Tagged with Flaman Foundation Gala charity Edmonton donations fundraiser auction community | More articles by Jennifer Thompson
Residents in southern and central Saskatchewan could face severe flooding this spring if unfavourable weather conditions continue.
According to a report from the Saskatchewan Watershed Authority, there is potential for above normal spring runoff throughout the southern part of the province, as well as the central area bounded by Kindersley, Saskatoon, Prince Albert and North Battleford and a large portion of the eastern agricultural area. This high runoff is linked to excessive rainfall last year and an above average snowpack.
"Above normal precipitation and/or rapid snow melt will increase the threat of high runoff and risk of flooding," states the report. "Even with average weather conditions between now and runoff, some localized flooding can be anticipated."
To help mitigate the potential damage from yet another year of flooding, the Saskatchewan Watershed Authority and the Ministry of Corrections, Public Safety and Policing have created a $22 million Emergency Flood Damage Reduction Program.
Through this program, communities, rural municipalities and farm and country residences can access funding and assistance to implement flood reduction or prevention measures. The program will cover 100 per cent of engineering costs to design flood protection works and cost share a variety of flood protection such as: construction of dykes or berms, pumping, sandbags, material to fill sandbags and equipment rental to fill sandbags.
In anticipation of the needs of many farmers and rural residents this spring, Flaman Sales went looking for products that could help prevent flooding and financial losses at farmyards and homes.
"Flooding is a big concern this year," says Dave Weightman, Director of Operations for the Flaman Group of Companies. "And being prepared is critical. You can't start planning for a flood when you see the water coming down the road. We're here to help our customers and offer them services that, unfortunately, could be in very high demand again this year."
This year Flaman has a sand bagger to purchase or rent, which easily fills 400 50-lb sandbags in only one hour. The company also carries items like tear-resistant sand bags and water pumps, which can be covered under the funding program.
"I think the Emergency Flood Damage Reduction Program is a great way to offer assistance. With every disaster there is a cost," says Weightman. "Many municipalities may have a flood plan, but a lot of individual people may not have access to those resources because of demand."
Please contact your local watershed authority to learn more about the Emergency Flood Damage Reduction Program and how to apply. You can also call their head office at (306) 694-3900 or visit www.swa.ca.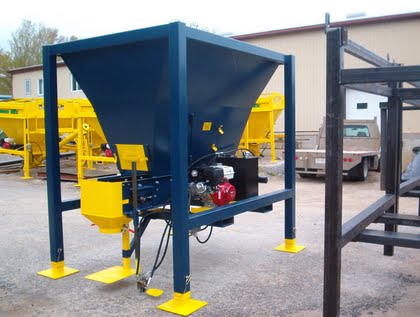 Posted in New Products | Tagged with Flaman flooding agriculture funding government pumps sand bags Saskatchewan | More articles by Jennifer Thompson