Posted by Flaman
Jan 15, 2014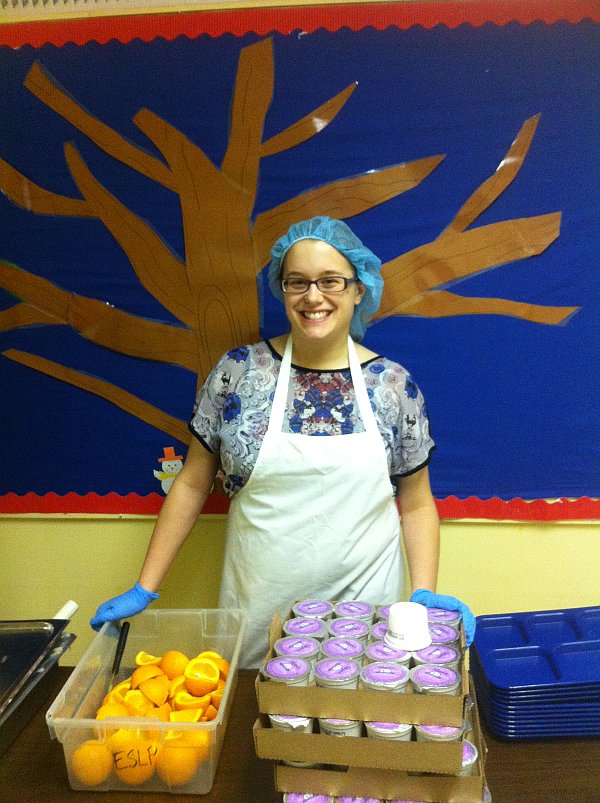 Volunteering often means that you do something without expecting or receiving payment or compensation. Having done a fair bit of volunteering in my life, I believe that this is a false definition of the word. Every time I volunteer, I seem to gain something from the experience, and this time was no exception.
Recently, Flaman employees worked with E4Cs School Lunch Program and helped serve hot lunches to students in inner city schools. I was fortunate enough to get to participate in this, and the feelings of humbleness and pride in what we were helping with was overwhelming. After having gone through school every day as a child with food in my stomach, it was sad to see the faces of children who might just be eating for the first time that day.
My partner Braden and I arrived at the school and helped the staff prepare and serve the meals to the students. That day, the kids each received a scoop of a noodle/chicken dish, some orange slices and a container of milk. I can only speak from my own experience, but I loved talking to the children and seeing them smile. Many of them were quick to ask me who I was, what my nose ring was and why I was wearing a hair net.
According to the staff members of the program, the cost to feed a child in the School Lunch Program is $80/month, but they only ask parents to pay $30 (which most parents can't afford).
The Frank Flaman Foundation contributes funds to this and many other charities locally, and around the world. As an employee, it's great to see the change that our donations can make within the community. I got to sit and eat with the grade one students and the smiles on their faces put things into perspective for me. It makes me proud to work for a company that contributes to worthwhile causes.
Posted in Local News | Tagged with community Frank Flaman Foundation school hot lunch volunteer | More articles by Flaman
Are you looking for a meaningful way to give back to your community? Then mark your calendar and get your ticket for the 6th annual Frank Flaman Foundation Gala on March 30, 2012.
This annual event is the main fundraiser for the Frank Flaman Foundation, the charity created by Flaman Group of Company's founder and owner Frank. The Foundation is funded by Frank's share of the profits from the Flaman Group, and by private donations. Along with being a savvy businessman, Frank has always been a respected philanthropist, and his foundation gives millions of dollars to local and international charities each year.
The gala is a fun and elegant evening, featuring a delicious supper, a silent auction with a large variety of items and an exciting live auction.
But this event is not just about raising money, it's also about showing attendees and supporters how their contributions are making a difference. Representatives from a number of charities are on hand to receive their donations from Frank himself. As well, charitable groups are showcased for everyone to learn about the great work that they do.
The charities that the Foundation supports are too many to list, but some examples are: Operation Eyesight, the Salvation Army, Oxfam, Room to Read, Global Neighbours, E4C's School Lunch Program and many other local and international charities that help women and children in need. To Frank, a needy person is a needy person, whether they live just down the street or thousands of miles away.
This year the fundraiser is on March 30, 2012 at the Shawn Conference Centre in Edmonton. Cocktails start at 6:30 pm, with dinner at 7:30 pm. Tickets are $100 or $900 for a table of 10. For tickets or more information, please contact Syndy Bisson at (780) 955-3400.
Posted in Division News | Tagged with Flaman Foundation Gala charity Edmonton donations fundraiser auction community | More articles by Jennifer Thompson