Posted by Flaman
Jul 17, 2012
As the new territory rental manager I had the chance to personally hand deliver a $10,000 donation cheque on behalf of the Frank Flaman Foundation to Ike Friesen of Morden, MB. Ike is one of Flaman's all-time longest rental dealers, and has been part of the Flaman team for over 10 years now. He is also chairman for SHARE (Sharing Hope and Agriculture Resources of the Earth).
The SHARE project already has 425 acres of farmland planted this year with all proceeds donated to the Canadian Foodgrains Bank. Community growing projects are a unique way for people to contribute grain and other agricultural commodities to help people who are hungry around the world.

A typical project involves a group of people working together to farm a common plot of land. After harvest, the production is donated through the Canadian Foodgrains Bank for overseas food ais and agricultural development projects.
Flaman's donation will be used towards crop input costs. Frank Flaman likes to donate money that's going to go right to the people. I was honoured to present this cheque to SHARE as it made me feel part of something that is a good cause and helping to fight hunger in our world.
For more information on the Canadian Foodgrains Bank please visit
www.foodgrainsbank.ca/growing_projects.aspx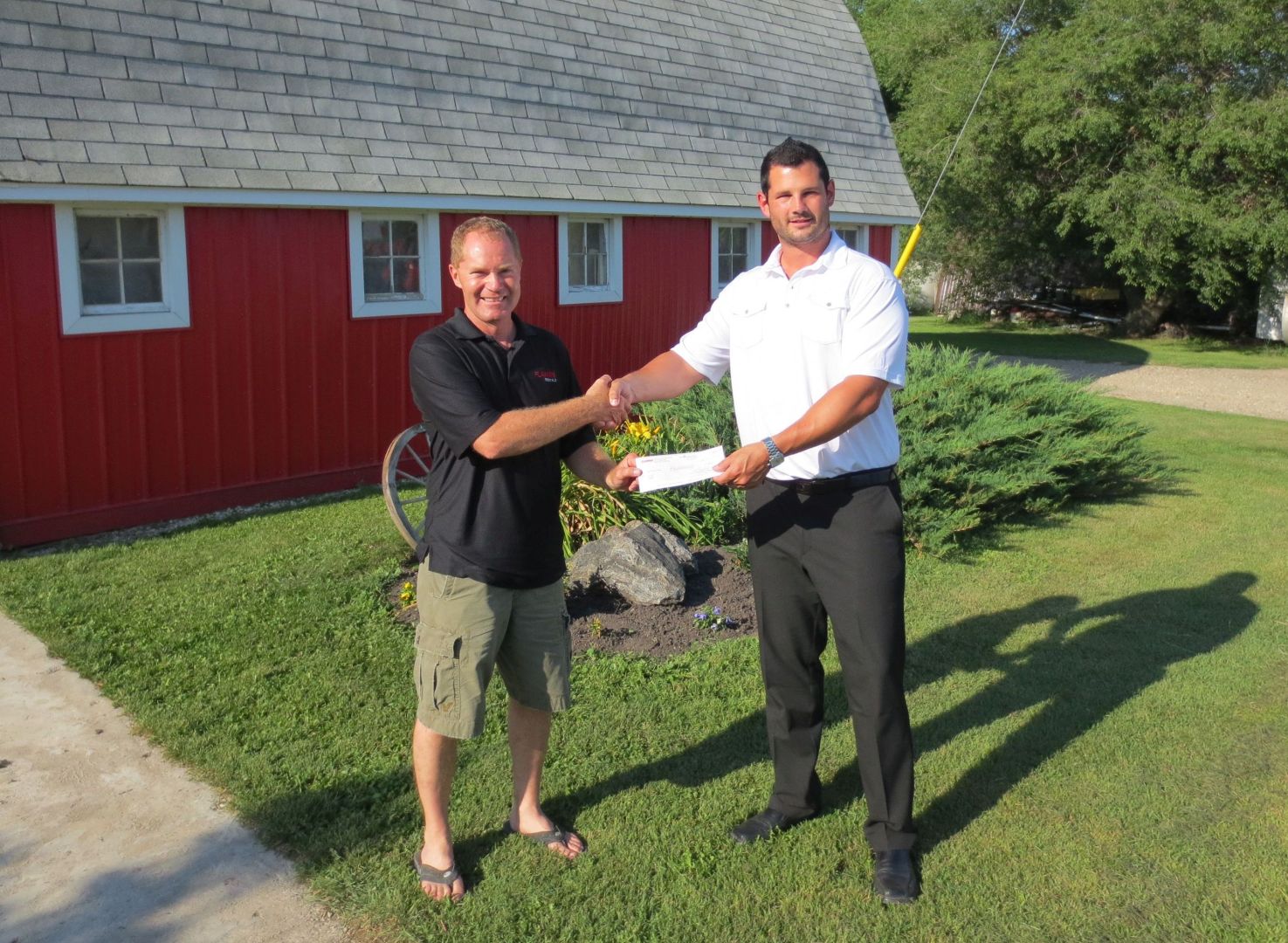 Ike Friesen and Parrish Kondra
Posted in Division News | Tagged with rentals donation SHARE food bank Flaman Foundation charity | More articles by Flaman
Are you looking for a meaningful way to give back to your community? Then mark your calendar and get your ticket for the 6th annual Frank Flaman Foundation Gala on March 30, 2012.
This annual event is the main fundraiser for the Frank Flaman Foundation, the charity created by Flaman Group of Company's founder and owner Frank. The Foundation is funded by Frank's share of the profits from the Flaman Group, and by private donations. Along with being a savvy businessman, Frank has always been a respected philanthropist, and his foundation gives millions of dollars to local and international charities each year.
The gala is a fun and elegant evening, featuring a delicious supper, a silent auction with a large variety of items and an exciting live auction.
But this event is not just about raising money, it's also about showing attendees and supporters how their contributions are making a difference. Representatives from a number of charities are on hand to receive their donations from Frank himself. As well, charitable groups are showcased for everyone to learn about the great work that they do.
The charities that the Foundation supports are too many to list, but some examples are: Operation Eyesight, the Salvation Army, Oxfam, Room to Read, Global Neighbours, E4C's School Lunch Program and many other local and international charities that help women and children in need. To Frank, a needy person is a needy person, whether they live just down the street or thousands of miles away.
This year the fundraiser is on March 30, 2012 at the Shawn Conference Centre in Edmonton. Cocktails start at 6:30 pm, with dinner at 7:30 pm. Tickets are $100 or $900 for a table of 10. For tickets or more information, please contact Syndy Bisson at (780) 955-3400.
Posted in Division News | Tagged with Flaman Foundation Gala charity Edmonton donations fundraiser auction community | More articles by Jennifer Thompson
Are you interested in the next generation of farm processes and grain management? Want to win some prizes?
Then stop by Flaman Sales in Prince Albert on Tuesday June 28 for a day of exciting product demonstrations. You can see the Flaman Pro Grain Bagger and Pro Grain Extractor in action, and learn all about J&M Grain Carts. It will be fun and educational!
This is all part of Flaman Sales' Customer Appreciation Open House, which will be showcasing many other agriculture products such as Opi grain monitoring, bin aeration solutions and a Kioti tractor obstacle course. There will also be raffles and great prizes available to be won, plus burgers and refreshments! All proceeds from food sales will go to the Prince Albert Women's Shelter. A special donation will also be made to the shelter from the Frank Flaman Foundation.
"Flaman Sales wanted to show our customers how much we appreciate them with a day of demos, food and fun," says Barrett Prokopie, Operations Manager at the Prince Albert store. "This is truly a way to showcase our products and spectacular staff, and get the producers out to discuss their wants and needs, and play our part in the community."
Flaman Sales will have suppliers, product specialists and leasing representatives on hand to answer any questions producers may have and to lend a helping hand. So come on down for a good time!
Posted in Local News | Tagged with Flaman agriculture equipment demonstrations prizes charity BBQ grain bagger J&M Carts | More articles by Jennifer Thompson