Rental dealers from all across the prairies including BC and even Montana all gathered at the Arizona Grand Resort in Phoenix, AZ on Nov 27 - Dec 1
There were just over 100 of us for this year's meeting trip. We were also proud to have in attendance some of our top suppliers and business partners such as Riteway Mfg, Schulte, Haukaas, Wheatheart, Calidon Leasing, National Leasing.
Also attending was 3 of our new SK and MB dealers!
The trip was a great escape from our tough winter conditions and the overall experience was very positive. While some areas had slight decreases in revenue this year, everyone agreed that the current economic situation in Western Canada is very favourable and with a lot of hard work and a little luck in the way of weather, we will plan for a very strong year coming up. The goal of our annual meeting is to bring all of our rental dealers together to share information to continue to grow our business. The mingling of dealers, suppliers, and staff allows us to keep moving forward and strengthening the business and personal relationships that are so important and somewhat rare in this digital world. We still believe that face time spent together is the best way to build a successful business and that is what the annual dealer meeting is all about.
Highlights included:
Golf, golf, golf. Many dealers took advantage of the beautiful course and golfed daily while the ladies shopped, shopped, shopped
NHL game sat night with the Blackhawks in town! Was an exciting game and experience
ATV tour - about 15 dealers went on a quad tour in the desert! Was a blast. Someone (Scott from Riteway) got a little carried away and may have injured his tailbone as his quad did a backflip
Steve Whittington, Flaman's VP of Marketing and Communications took us on a detailed journey of his trip up Mount Everest.
Awards night gala presenting top dealers in each territory and top new dealer and community service awards
Meeting topics discussed included:
Introduction of new dealers
New dealer agreements
COOP advertising improvements
Advertising plan for 2014
Tips on increasing rental revenue
Introducing the new corporate stores (Lethbridge, Medicine Hat)
Year in review both corporate level and rental dealers
Flaman Foundation
Booking program introduction for Alberta and improvements
New products and equipment
New rental rates 2014
GPS for tracking acre counts
I would like to thank all rental dealers who attended the meeting for your support and hard work that goes into our business every year. Thank you to the key suppliers that joined our meeting and helped sponsor the cost of the meeting to keep the costs down to dealers who attended. Thanks to the Flaman staff who came and helped keep everyone looked after and entertained. Thanks to Wayne, Ken and Kelsey for helping to organize the meetings and events. A very big thank you to Wayne Beckett who came up with the idea to have the meeting in Phoenix and did most of the work organizing the venue and travel arrangements. And last, but not least, thanks to Rocky Amson and Frank Flaman for allowing us to organize these meetings for rental dealers and to give us the means to keep building this business.
Parrish Kondra
2013 Flaman Rental Dealer Awards
Top New Dealer – Interlake Rentals – Arborg, MB
Community Service Award (Sask/Man) – MarDee Enterprises – Brandon, MB
Community Service Award (Alberta/BC/USA) – Nanton Rentals – Nanton, AB
Top Retail Sales (Sask/Man) – Triple D & P Farms – Birsay, SK
Top Retail Sales (AB/BC/USA) – Smoky River Equipment Sales and Rentals – Falher, AB
Top 5 Dealers (Sask/Man)
#5 – Ike Friesen – Morden, MB
#4 – B & D Rentals – Cutknife, SK
#3 – Brendonn Holdings – Russell, MB
#2 – B & A Petroleum – Swift Current, SK
#1 – Reliant Sales and Rentals – Windthorst, SK
Top 5 (Alberta, BC, USA)
#5 – Wetaskiwin Bulk Sales – Wetaskiwin, AB
#4 – Koch Fuels – Carstairs, AB
#3 – Ray Agro & Petroleum – Barrhead, AB
#2 – Will's Welding – Ponoka, AB
#1 – Keddie's Rentals – Grande Prairie, AB
Posted in Division News | Tagged with rental meeting rental dealer awards top 5 deals phoenix | More articles by Parrish Kondra
Flaman Group of Companies is proud to announce that we have been named #49 on Saskatchewan's Top 100 Companies List for 2013.
This list is published annually in Saskatchewan Business Magazine and looks at a company's overall sales. The final rankings were revealed at a gala on September 4 and the full list is available in the September magazine edition. Saskatchewan Business Magazine is home to the original and official Top 100 Companies List for Saskatchewan. First published in 1984, the list remains the barometer of Saskatchewan's top performing businesses.
"The only reason we made the list is because of our customers," said Don Flaman, president. "Thank you to all our customers for supporting us."
The Top 100 List paints a positive picture for business in Saskatchewan. According to the magazine, revenues are up across the board and Saskatchewan is a "must be" destination for business, boasting major private firms along with the traditional co-ops or Crown corporations.
"Saskatchewan businesses have found their stride, a testament to the quality of owners and managers who have developed a unique skill set, learning to excel in a market best characterized by its sparse population and expansive landmass while roughly two thirds of its output is destined for a buyer outside our borders," writes Paul Martin in the September issue of Saskatchewan Business Magazine.
"This annual listing is as much a celebration of the past – of those who built an environment that attracts players from all corners of the planet – as it is a tribute to the new players who are helping to broaden and deepen our entrepreneurial pool."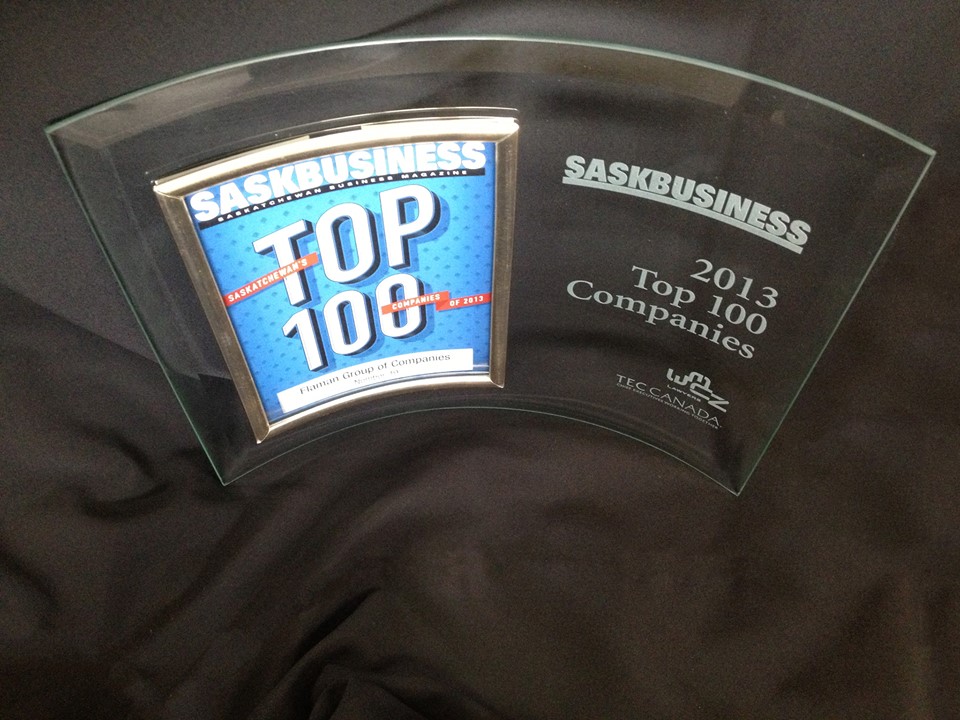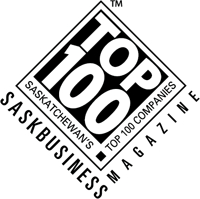 Posted in Division News | Tagged with Flaman top 100 companies customer service awards | More articles by Jennifer Thompson