Change Location (currently S0G 3N0)
Ag Transport Trailer Rentals in Moosomin, SK
Flaman Sales and Rentals
Distance:
4 km

Swather Trailer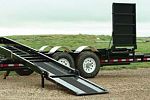 Loading and transporting your straight cut headers and swathers around the farm or from field to field is easy and simple with a swather trailer.
For Farm Equipment Trailer Rental, we rent Bale pickers, Bale transports, Header transports and Swather carriers. The bale trailers can carry from 6 up 10 bales depending which model is chosen. The bale picker will hold 10 x 5' bales 60"- 70". It has a length of 33' and has two hydraulic hose connections. The swather carrier has an electric hydraulic fold down system which enables the customer to drive the whole unit on to carrier. Because of it's width a permit and wide load signs may be required.
* Products vary by dealer and may not be exactly as shown.