Change Location (currently S0K 2A0)
Enclosed Trailer Rentals in Humboldt, SK
Horizon Fertilizer
Distance:
3 km

*Weekend discounts may be available
Call your local dealer for details.
Enclosed Trailer 6ft x 12ft
Need to haul your sled or bike? The 6x12 enclosed trailer with 2900 lb axle will be the perfect fit.
$65
/ Half Day
$95
/ Day
$475
/ Week
$1,330
/ Month
$150
/ Weekend*
Enclosed Trailer 7ft x 16ft
Handle heavier loads with the 7x16 enclosed trailer that typically comes with tandem 3500 lb axles. Great for contractors!
$85
/ Half Day
$125
/ Day
$625
/ Week
$1,750
/ Month
$190
/ Weekend*
Enclosed Trailer 8.5ft x 20ft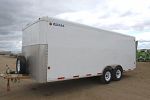 Haul your car easily and safely with the 8.5' x 20' enclosed trailer. Comes with tandem axles for heavier loads.
$100
/ Half Day
$145
/ Day
$725
/ Week
$2,030
/ Month
$225
/ Weekend*
Our enclosed trailer rental units are all equipped with e-tracking on the walls and d-rings on the floor so you have options when securing your loads. Every trailer we rent comes with a mounted spare tire for those emergencies you cannot predict. Most of our trailers come with a 7 pin electrical connection but we can adapt to a 4 pin if that is what is required. We carry two types of ball hitch couplers, 2" and 2 5/16" on our trailers. If required we can rent a coupler to those who don't have right size. We have two types of brake systems on our trailers, electric brakes and surge hydraulic brakes. With the electric brakes the customer requires a brake controller installed in the vehicle. We sell and install these in most of our stores. Cargo trailers vary in sizes from 5' x 8' up to 8' x 26'. Cargo trailers are mainly used for moving furniture, delivery, or anything you think of putting in them. In our cargo trailer rental fleet, we have Toy haulers, Car haulers, Sled trailers and drop down trailers.
Products vary by dealer and may not be exactly as shown.