Change Location (currently T0A 3J0)
Fencing Tool Rentals in Thorhild, AB
Evans Sales and Rentals Inc.
Distance:
2 km

Post Pounder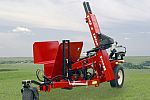 Post pounders make fencing jobs safe, fast and efficient. Drive up to 150 wood or steel posts a day (up to 12" in diameter). The unit is fully self contained and has its own motor for operation.
* Products vary by dealer and may not be exactly as shown.