Change Location (currently S0N 1N0)
Flat Deck Trailer Rentals in Maple Creek, SK
B and A Petroleum
Distance:
2 km

Flatdeck Trailer GN 34ft + 5ft
Multi Deck Flatdeck 18ft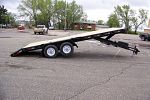 The Multi Deck is a lowboy, highboy and tilt trailer all in one! One trailer to fit all your needs.
Roll Off Flatdeck Attachment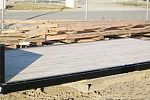 The Roll Off Trailer chassis can be used with a flat deck attachment. Other attachments include a garbage bin and cargo box.
$50.00
/ Half Day
$55.00
/ Day
$275.00
/ Week
$825.00
/ Month
Our flatbed trailer rental units are heavy duty and designed to withstand the toughest of loads and roads. They vary in sizes and capacities from 10' utility trailers to 30' gooseneck trailers. Each type of trailer has different applications. We have tilt flat decks, flat decks with slide in ramps, beavertail flat decks and drop down decks. Our car haulers will be equipped with either two 6000lb axles, two 7000lb axles or three 7000lb axles and vary in length from 16' to 24'. The width between the fender wells will be 82.5" and on the deck over trailers the width is 7'. Our gooseneck flat deck trailers will have two 7000lb tandem dual axles, three 7000lb axles or two 10000lb dual axles. Most of the gooseneck trailers are 7' wide and can be fitted with RV style pin or ball style pin.
* Products vary by dealer and may not be exactly as shown.