Change Location (currently S4A 2A2)
Grain Cleaner Rentals in Estevan, SK
Johnson Bros.
Distance:
3 km

ISM Asperator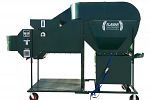 The ISM Separator is designed to separate various fractions of homogeneous material from each other. The Impeller forms an airflow pattern that separates various fractions while maintaining an aerodynamic shape. The closed circuit system significantly reduces the amount of dust and chaff outside the machine, as well s reducing power and air consumption.
Kwik Kleen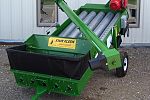 Kwik Kleen grain cleaners assist farmers with the problems incurred while drying and storing grain. By removing fine materials prior to drying or storage, air can flow through the commodity more evenly and efficiently.
* Products vary by dealer and may not be exactly as shown.