Change Location (currently S0K 2A0)
Grain Vac Rentals in Humboldt, SK
Horizon Fertilizer
Distance:
3 km

Grain Vac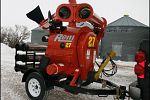 Load grain quickly and safely with a grain vac. These grain vacs typically come with 48' of hose, a floor sweep with long handles and have 16' of auger clearance.
Flaman Rentals rents Rem Grain Vacs. Flaman Grain Vacs are efficient and cost effective and compatible with a variety of grain bins. Clean out your bins faster and easier than ever before. For cost effective commodity or grain handling rent a Grain Vac from Flaman Rentals. Contact your nearest Flaman Rental dealer for Grain Vac availability.
Products vary by dealer and may not be exactly as shown.