Change Location (currently S0K 2A0)
Highspeed and Vertical Tillage Rentals in Humboldt, SK
Horizon Fertilizer
Distance:
3 km

High Speed Tiller 20'
High Speed Tiller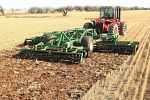 • Excellent seedbed preparation
• Increase organic matter in your soil
• Effective weed control
• Proven ability to mulch and breakdown trash residue, increasing microbial activity
• Crumbler Rollers (as pictured) are supplied standard. Sharks Tooth, Pipe & Coil Packer Rollers are also available
• 560mm discs are standard
• Models from 2.25m to 13m, 3PL Models (2.25-6m), Trailing Models (4.5-8.5m) & Multiflex Trailing Models (9-13m)
• Excellent Stubble Incorporation

he K-Line SPEEDTILLER® is a highly effective disc-tilling machine ideal for soil conditioning in the presence of high levels of crop residues. With a full soil disturbance, trash is cut and distributed evenly providing a protective barrier to retain moisture. The K-Line SPEEDTILLER® operates best at high speeds, giving a fuel efficient operation and allowing stubble residues to pass easily through tined seeders. A depth gauging roller is provided at the rear giving the desired crumbling effect on the soil profile and excellent seedbed preparation. The SPEEDTILLER® has become extremely popular in recent years. This is due to the high amounts of summer rain, coupled with higher yields. This has caused excessive levels of residue, needing to be chopped up & incorporated so your seeder can sow without choking & blockages. Along with our wet summers have come weeds such as fleabane & umbrella grass, which have proved hard to control. The SPEEDTILLER® has found its niche in killing these weeds without having to work to the depths of conventional ploughing systems. Farmers have also proven the benefits of bringing some tillage back in to their cropping systems; not only for residue & weed control, but also to level out paddocks that have developed wheel ruts over time. The SPEEDTILLER® is extremely heavy duty & has the ability to work the soil, & condition it into a seed bed (in most paddocks) in just one pass, compared to conventional systems taking anywhere up to three passes. Engineered for strength & durability, the specialised design of the SPEEDTILLER® produced by K-Line Agriculture is in a class of its own for superior soil management.
Products vary by dealer and may not be exactly as shown.