Change Location (currently S6V 6K1)
Horse and Stock Trailer Rentals in Prince Albert, SK
Flaman Sales and Rentals
Distance:
4 km

Stock Trailer 14ft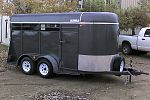 For those smaller tasks when you need to haul only three or four head of livestock at one time.
*Trailer pictured may not be exact trailer available for Rental
$65.00
/ Half Day
$100.00
/ Day
$500.00
/ Week
$1,500.00
/ Month
Our livestock rental trailers are either bumper hitch or gooseneck trailers. The bumper hitch models we carry are 10', 14' and 16'. Each of our trailers require electric brake controls and 7 pin electrical connection. Most of the livestock trailers we rent have a rubber pad on the floor to provide additional comfort for your horses, cattle, sheep, elk, moose, lamas, emu's or poultry. Our horse trailer rental units also have gates inside so you can separate your animals if necessary. Our gooseneck stock trailers are approximately 82" wide and 20' long with a center divider. A ball or RV pin connection can be installed as per customer request.
* Products vary by dealer and may not be exactly as shown.