Change Location (currently S4A 2A2)
Tractor Rentals in Estevan, SK
Johnson Bros.
Distance:
3 km

Tractor 140HP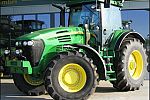 These tractors provide the power to pull big implements yet are nimble enough to handle tight loader work.
Tractor 230HP
Pull big implements and accomplish nearly any job around the farm with this tractor.
* Products vary by dealer and may not be exactly as shown.