Change Location (currently T0C 2J0)
Utility Trailer Rentals in Rimbey, AB
Action Auto
Distance:
6 km

2-Place Snowmobile Trailer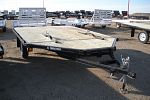 Hitting the trails for the weekend? Haul your sled with this snowmobile trailer. It comes with stake pockets and a slide out ramp.
$40.00
/ Half Day
$60.00
/ Day
$300.00
/ Week
$840.00
/ Month
Our Utility Trailer Rental units are light weight and versatile enough to be towed by an SUV. They are great for hauling debris to the dump, hauling a snow blower, moving a dog house or picking up building supplies. What ever small jobs you have, these trailers can handle it. Available with sides, tilt decks or ramps.
* Products vary by dealer and may not be exactly as shown.