Change Location (currently T5B 1G2)
Utility Trailer Rentals in Edmonton, AB
Flaman Sales and Rentals
Distance:
0 km

*Weekend discounts may be available
Call your local dealer for details.
2-Place Flatdeck Snowmobile Trailer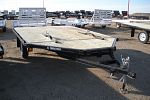 Hitting the trails for the weekend? Haul your sled with this snowmobile trailer. It comes with stake pockets and a slide out ramp.
$50
/ Half Day
$70
/ Day
$350
/ Week
$980
/ Month
$110
/ Weekend*
Utility Trailer 5ft x 10ft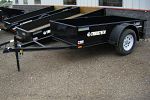 Great for hauling your quad on a weekend camping trip. Typically comes with a 3500 lb axle.
$50
/ Half Day
$65
/ Day
$325
/ Week
$910
/ Month
Our Utility Trailer Rental units are light weight and versatile enough to be towed by an SUV. They are great for hauling debris to the dump, hauling a snow blower, moving a dog house or picking up building supplies. What ever small jobs you have, these trailers can handle it. Available with sides, tilt decks or ramps.
Products vary by dealer and may not be exactly as shown.