Change Location (currently T0K 1M8)
Land Roller Rentals in Milk River, AB
LJB Fuels Ltd.
Distance:
1 km

Land Roller 50ft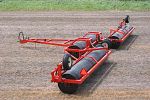 Land rollers efficiently press rocks into the ground and leave a smooth surface. This helps increase germination and promotes even maturity by ensuring every seed has good contact with the soil.
Mole Hill Destroyer
Mole hill destroyers levels rough pastures and hay fields, and spreads soil and fertilizer evenly. This prevents damage to equipment and speeds up haying.
* Products vary by dealer and may not be exactly as shown.