The Gov't of SK released tofay that . . .

The Saskatchewan Ministry of Agriculture is reminding producers to vaccinate their livestock following confirmation that anthrax has been found in cattle in the RM of Harris. Anthrax was confirmed by laboratory results on July 28, 2015, as the cause of death in one cow and is the suspected cause of death of two other cattle on the same farm. This is the second report of anthrax in Saskatchewan this year. Alberta reported a case in cattle in the Fort Vermillion area this week.
Posted in Livestock | Tagged with anthrax Saskatchewan cattle vaccination | More articles by Flaman Agriculture
Agriculture Minister Gerry Ritz and International Trade Minister Ed Fast have announced the Ukrainian market has opened for beef from cattle under 30 months of age and ready-to-eat meat.
In 2014 Ukraine lifted a ban on imports of other Canadian beef products imposed after Canada reported a case of bovine spongiform encephalopathy in 2003.
Ukraine's global imports of beef products in 2014 were $17.1 million
Posted in Livestock | Tagged with beef Canada Ukraine beef exports cattle | More articles by Flaman Agriculture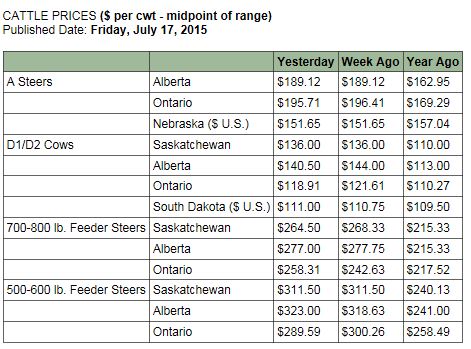 From http://www.agriculture.gov.sk.ca/MarketTrends
Posted in Livestock | Tagged with cattle beef cattle prices Saskatchewan | More articles by Flaman Agriculture