Posted by Mark Flaman
Jul 25, 2013
There are a lot of reasons why you should choose a conveyor over an auger or vice versa, but I'll make it a little easier for you to figure out exactly which product will best suit you.
One of the biggest factors in someone purchasing brand new for the first time will be the cost. Conveyors are quite a bit more expensive than augers, but tend to last two to three times longer overall than an auger. The flighting on an auger would have to be replaced before it has put through one million bushels, where we've seen the belting on a conveyor last three to four million bushels.
You can also get away with a shorter auger for the size of bin you're loading into, as the unloading angle is a lot higher on an auger, versus having the grain fall back down the conveyor belt once it reaches a certain angle. The motor on a conveyor is positioned higher up on top of its tube, to avoid the interaction with chaff, and requires less horsepower than an auger.
The last big thing that you may be concerned about is what kinds of commodities compliment the auger or conveyor. A conveyor will be more gentle and avoid cracking on pulse crops such as peas and lentils, but canola and other oil seeds are not recommended because the oil deteriorates the belt and gets gummed inside the conveyor. Augers, however, love oil seeds, as they almost lubricate the machine, leading to a much longer auger lifespan.
Now that you've got all your information, give us a call for some pricing or check out our selections of augers here and conveyors here.
This handy infographic can help you decide whether an auger or a conveyor is best suited for your operation.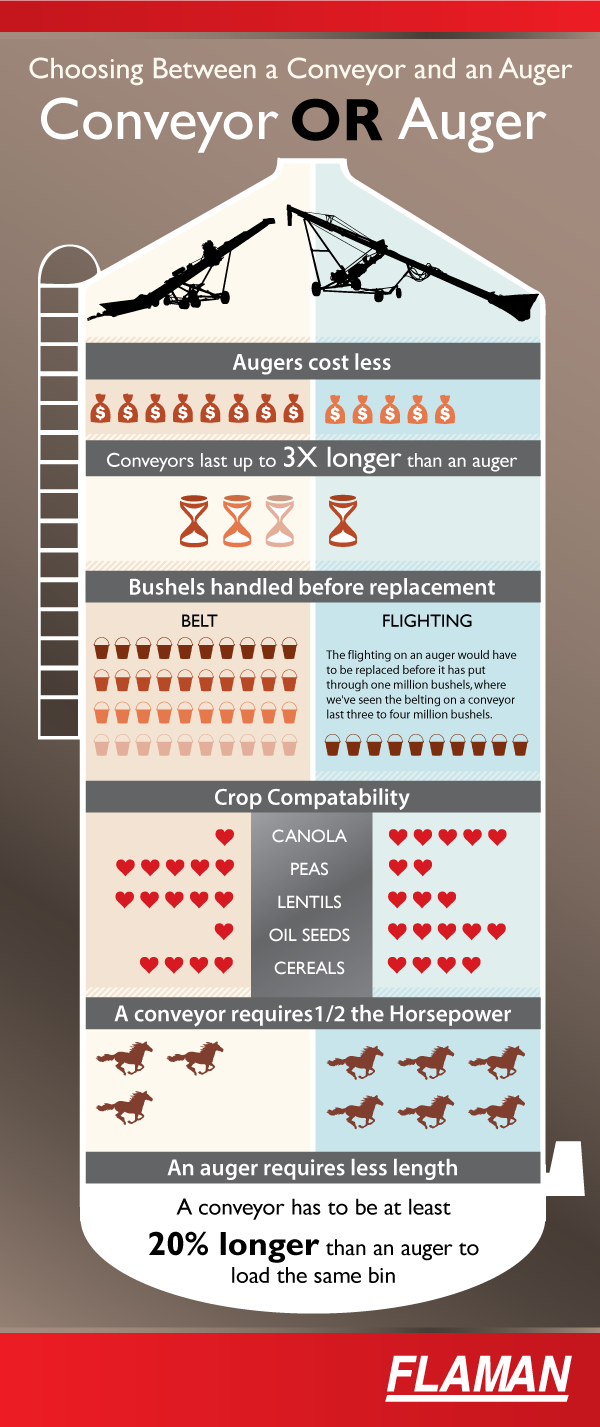 Posted in Product Information | Tagged with choosing auger conveyor agriculture bushels | More articles by Mark Flaman
I have been in the trailer industry for a long time: 3 years as a marketing consultant to the industry, 6 years as General Manager of a trailer manufacturer and 4 years running retail dealerships. Despite all this experience, I still get overwhelmed by the diversity of choice offered to a customer in today's market place.
Unlike the auto industry, there are hundreds of large trailer manufacturers and thousands of small players. The dealerships to buy from range from a small, one-man band to professional, fully staffed dealerships that emulate the auto dealership model.
So how does a customer choose what and where to buy?
Some of you reading this may not be close to a Flaman Trailer Dealership. (If you are in Western Canada you are never far, as there are ten locations.) Either way, when choosing a dealership to deal with, think about the following: How long has the dealership been in business? Do they carry brand name manufacturers? Do they offer service and parts? What are my product choices? Is there a range from good to best? Why does any of this matter?
How long has a dealership been in business? As a consumer you may think this does not matter anymore, as many old companies have been swept under the rug lately. Fair enough, but do consider this; a company that has been around for a while is doing something right. That something is always about the how the customer is treated.
Brand Names: For trailers, let's compare two brands: Trailtech and Blue Hill trailers. If you live in Western Canada, you know the quality of build that Trailtech represents and you know that brand will take care of its retailers and by default you, the customer. Who is Blue Hill? Well, they are in Texas. I honestly do not know much more. Would you buy a car you have never heard of? Then why buy a trailer that you have never heard of?
Service and Parts: Would you buy a car from a dealership that cannot perform a service check? Not a new car anyway. Not all trailer dealerships provide this commitment to their customers. I personally believe there is duty of care that a responsible dealer should be able to provide to its customer.
Product Range Choices: As a consumer you want to be able to choose the best fit for you. If you are a four times a year user, you will need a certain grade of trailer with the appropriate price for that use. If you are a construction company owner, you want a certain grade of trailer to take the work stress you will put on the trailer. The point is, when you come to the lot you want to be able to make these choices and buy what you need, not what a sales person pressures you to buy because that is what the dealership offers. At Flaman Trailers we believe in providing choice: good, better, best. You pick.
Does it always come down to price? Well I hope not – as a retailer the fight for the lowest price is a race to the bottom. You never win and never create a sustainable customer orientated business, unless you cut all services, amenities and after sale care. That is not the Flaman Trailer customer-focused business model. That said, at Flaman we do often have the lowest prices due to our buying power, and we often have the highest prices due to our product offering. Our sales team will consult you as to which grade (good, better, best) of trailer you need and then you pick.
I hope this has been helpful. It is difficult to choose sometimes in this congested marketplace.
Posted in Trailer Tips | Tagged with trailer brand name manufacturer service parts choosing a trailer Flaman | More articles by Steve Whittington