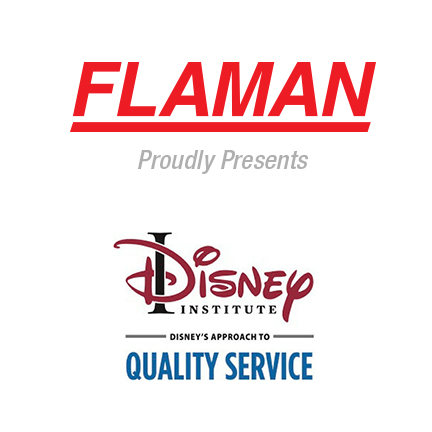 Flaman Welcomes Disney Institute to Saskatoon.
We aspire in the betterment of your staff, and our customers
In 2017 retail brands are scrambling to differentiate themselves. There is still some product exclusivity left but for the most part product X can be replaced by product Y. This then just leaves price and the experience. Customer Experience that is the key to making your customers loyal, giving them a reason to pick your organization over the one down the road. In fact if you are good enough the customer will talk you up and tell their friends if you need product X go see Retailer ABC. If you are really good the customer will become a promoter, a brand ambassador and is excited about doing business with you and receiving messages from you; the customer might even be delighted by any interaction with your retail brand. There is a company that creates this experience consistently; Disney.
We have been in a boom economy for a long time. It was good times. Business was good, in fact it was so good some might be honest enough to admit it was easy. It is not easy anymore. Combine a tightened economy with a customer that has more choice and the power to broadcast any mishap a brand makes via social media and review sites business has gone from being interesting at times to frightening. Customer Service Excellence has to be a top priority for every business. I personally lead the customer journey focus at Flaman Group of companies measuring all the touch points to rank for improvement. This is a journey we believe can never stop. This is where
Disney Institute
comes in and why Flaman Group of Companies has assisted to bring
Disney Institute
to Saskatchewan.
So what does bringing to Saskatchewan mean?
Well on March 9th
Disney Institute
will be hosting their full day interactive learning experience:
Disney's Approach to Quality Service
sponsored by ACC and Saskatoon Chamber of Commerce and co-sponsored by FLAMAN Group of Companies.
Who is Disney Institute?
Disney Institute
is the professional development and external training arm of The Walt Disney Company. The company showcases 'the business behind the magic' through seminars, workshops and presentations, as well as programs for professionals from many different industries, including healthcare, aerospace/aviation, government/military, food/beverage and retail.
What will the course provide?
The one-day event will help area professionals begin to examine how they can differentiate their service to become a provider of choice and understand the processes necessary to develop a culture that consistently delivers that exceptional service. This day of
Disney Institute
training uses business insights and time-tested examples from Disney parks and resorts worldwide to inspire individuals and organizations to enhance their own customer experience using Disney principles as their guide. Disney's Approach to Quality Service gives participants the chance to explore how customer experience insights and time-tested examples from Disney parks and resorts worldwide can provide relevant illustrations and engaging stories to help organizations deliver the type of long-term results they are capable of delivering.
So I have taken the course…
The course woke me up to what I needed to do, in fact the course was transformative to my thinking. The session itself was remarkable in how it brought the concepts to life which provided clarity and deep understanding. I personally came out of the course with a deep belief of what quality service really is and how every single team member at Flaman Group of Companies is so important to making our customers' experiences remarkable. After the course, I applied the thinking to Flaman Group of Companies to aid our culture shift towards the entire customer journey.
So why is Disney Institute coming to Saskatchewan important?
Beyond learning to create remarkable experiences for your customers, there are other things happening with
Disney Institute
coming to Saskatchewan. This course could be the start of movement in customer service excellence which will help define and differentiate how business is done in Saskatchewan. This is not pie in the sky thinking it could happen and imagine where the companies could rise to if they embark on this journey.
Steve Whittington

Walt Disney Company's
90 years of world-renowned
Customer Service Excellence
into your organization
March 9, 2017 at TCU Place
.
Disney Institute
, the training arm of the Walt Disney Company, is coming to
Saskatoon
with their full day interactive learning experience:
Focusing on the customer experience has become the single most important way for an organization to achieve success — often becoming its key differentiator and competitive advantage. You have the opportunity to learn
Disney's Approach to Quality Service.
One of the world's most recognized names in business solutions;
Disney Institute,
the professional development training arm of the Walt Disney Company, is coming to Saskatoon.
Saskatoon Testimonials:

"The course was transformative to our thinking. The session itself was remarkable in how it brought the concepts to life which provided clarity and deep understanding. I personally came out of the course with a deep belief of what quality service really is and how every single team member at Flaman Group of Companies is so important to making our customers' experiences remarkable."
~STEVE WHITTINGTON Vice President Marketing and Customer Experience FLAMAN - Group of Companies
"Treating Donors, Clients and Volunteers the Disney Way is an inspiration everyday since taking my very first Disney training in Regina. Bringing the Disney experience to your business or organization is so much fun!!"
~ CINDY FUCHS Vice President -
The Canadian Red Cross in Saskatchewan
Thank you
Event Sponsors, Hosts and Marketing Participants: The Greater Saskatoon Chamber of Commerce, FLAMAN Group of Companies, the Canadian Red Cross in Saskatchewan, and Saskatchewan Industrial and Mining Suppliers Association.
The Walt Disney Company's 90 years of Customer Service Excellence Best Practices March 9, 2017 at TCU Place Saskatoon is now
sold out
. To receive information on the next Disney learning experience and/or pre-reserve your seats; email
info@investinyou.today
As to Disney artwork/properties: © Disney
Posted in Local News | Tagged with Disney Institute Customer Service Seminar TCU Flaman Saskatoon | More articles by Steve Whittington
Posted by Flaman
Jan 28, 2015
As an Ag Sales Representative for Flaman, it seems natural to launch my blog with something I have grown up with. It's something I truly have a passion for, and hopefully something that will give some insight into your decision making process when buying a Meridian bin.
I started my young career working for Meridian Manufacturing- then known as Wheatland Bins - in the welding shop pushing a broom, then I moved to the wash bay, and eventually to powder coating and finishing a completed bin.
Following that, my crew and I ventured out on our own building corrugated bins across Alberta. Today when I discuss grain and fertilizer storage needs with prospective customers, I find I have a unique perspective both in smooth walled and corrugated bins as well as 8complete storage systems.
So what are the benefits of buying a Meridian Bin? Let's begin with the question of choosing a smooth skin over a corrugated line.
Let's face it, there are many corrugated bins to choose from; Twister, Westeel, Behlen, Gobal, the list goes on and on. The main line of thinking is that Meridian is the more expensive option, and choosing a corrugated line will save money. Although this may be true, the real savings with corrugated bins come when you get into much larger scale flat bottom bins. The small increase in price when moving to a Meridian can easily be offset when thinking about its benefits.
1) Customer Service – Ready to use upon delivery
2) Durability - All weather eco-friendly powder coat finish
3) Resale – heavy duty no compromise quality that can be moved
4) Value – inspected, exceeding industry standards
5) Peace of Mind – saving time and money
Now that I have you thinking about Meridian Bins specifically- here are a few things to consider when purchasing the right bin for you.
1) How much more storage you are hoping to gain?
Meridian carries a variety of sizes of smooth wall bins. From 6' diameter feed bins all the way to 18' diameter fertilizer and grain storage.
Typically for transportation purposes, a 16' diameter bin is used and can get you up to 6000 bushels of storage.
2) How long is your loading auger? This will determine your overall height of bin
If you're not in the market to buy a new auger with your bin purchase, you will want to make sure your current one is up to the task. Below is a simple chart.
3) What kind of product do you want to store?
If you are looking for an easy solution for grain storage only, the grain max series provides you with convenient no hang up storage. If you are wanting to have the option to store both fertilizer and grain, a multipurpose bin will suit your needs.
Liquid storage, as well as HD storage for cement or sand are also an option through the Meridian commercial division.
4) What options can I bundle with my new bin?
Flaman can provide you with all the necessary options to go along with your new grain bin. Aeration fans, rockets, as well as temperature and moisture cables are great additions to protect your investment and give you peace of mind.
Beyond these advantages comes further benefits and savings. Consider the money you can save by purchasing a fertilizer bin this year.
If you are able to buy your Fertilizer- let's take ammonia at *$570 in a low season in your new Meridian 1625 bin. Then in high season the price jumps to $670 per ton. You're saving $100 per ton, and are able to take as much as 165 tonnes. $16,500. In exactly one purchase you have paid almost paid for your bin.
Later during harvest, you have the ability to store excess grain, throw in an aeration tube, even carefully control and maintain temperature throughout the storage season. The complete system all taken care of by your local provider, Flaman.
*http://www.agr.gc.ca/eng/industry-markets-and-trade/statistics-and-market-information/by-product-sector/crops/crops-market-information-canadian-industry/market-outlook-report/canadian-farm-fuel-and-fertilizer-prices-and-expenses-july-2013/?id=1
Posted in Product Information | Tagged with Meridian bins Flaman ag sales customer service durability reasale | More articles by Flaman
Flaman Group of Companies is proud to announce that we have been named #49 on Saskatchewan's Top 100 Companies List for 2013.
This list is published annually in Saskatchewan Business Magazine and looks at a company's overall sales. The final rankings were revealed at a gala on September 4 and the full list is available in the September magazine edition. Saskatchewan Business Magazine is home to the original and official Top 100 Companies List for Saskatchewan. First published in 1984, the list remains the barometer of Saskatchewan's top performing businesses.
"The only reason we made the list is because of our customers," said Don Flaman, president. "Thank you to all our customers for supporting us."
The Top 100 List paints a positive picture for business in Saskatchewan. According to the magazine, revenues are up across the board and Saskatchewan is a "must be" destination for business, boasting major private firms along with the traditional co-ops or Crown corporations.
"Saskatchewan businesses have found their stride, a testament to the quality of owners and managers who have developed a unique skill set, learning to excel in a market best characterized by its sparse population and expansive landmass while roughly two thirds of its output is destined for a buyer outside our borders," writes Paul Martin in the September issue of Saskatchewan Business Magazine.
"This annual listing is as much a celebration of the past – of those who built an environment that attracts players from all corners of the planet – as it is a tribute to the new players who are helping to broaden and deepen our entrepreneurial pool."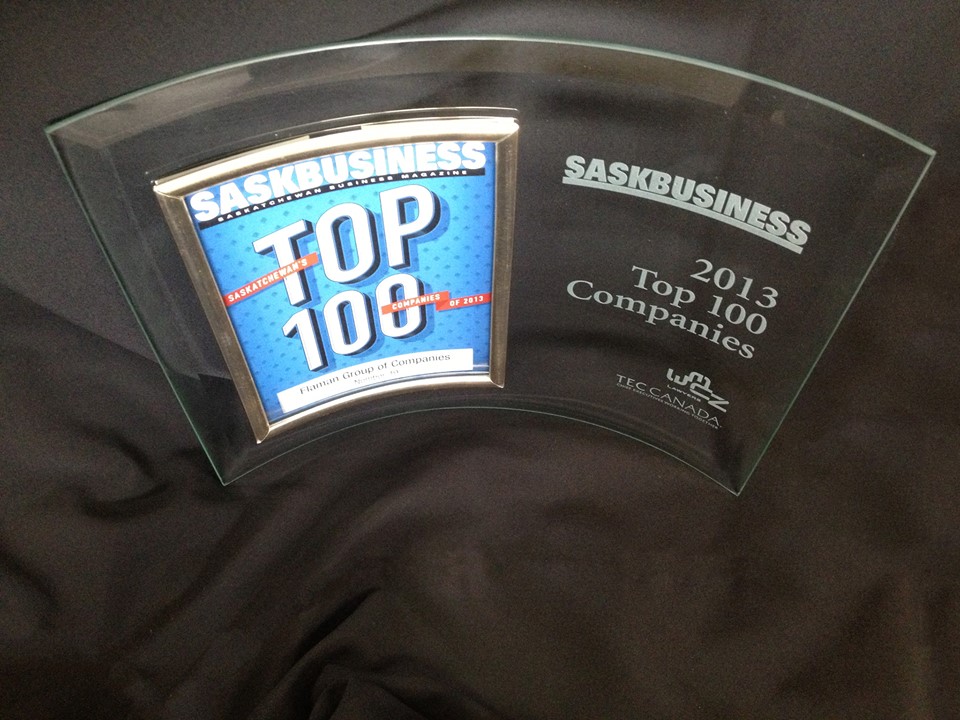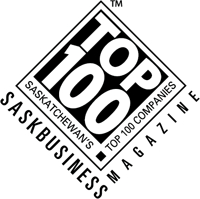 Posted in Division News | Tagged with Flaman top 100 companies customer service awards | More articles by Jennifer Thompson
For the third year in a row, Flaman Rentals in Saskatoon has been named a Consumer Choice Award Winner. This division of Flaman rents out enclosed and flat deck trailers, along with agricultural equipment like discs, land rollers or mowers.
I recently attended the Consumer Choice Award ceremony with our marketing VP Steve Whittington at the beautiful Delta Bessborough in Saskatoon. We got to sip champagne and rub elbows with a lot of great business owners in the city, and of course, celebrate our own success!
This award is special because the winners are picked by our customers. It means a lot to us that people recognize our efforts to offer great customer service. We were also very pleased to win a Consumer Choice Award three years in a row. This means our team is consistent taking care of our customers' needs. And we're proud of that!
What's great is that the Consumer Choice Award is becoming a trusted name in the Saskatoon area. Looking at the other winners gathered in the room that night, we knew we were in good company amongst other top businesses in Saskatoon.
A big "thank you!" is due to our rental team in Saskatoon for all their efforts and hard work every day and to our customers for continuing to choose Flaman Rentals.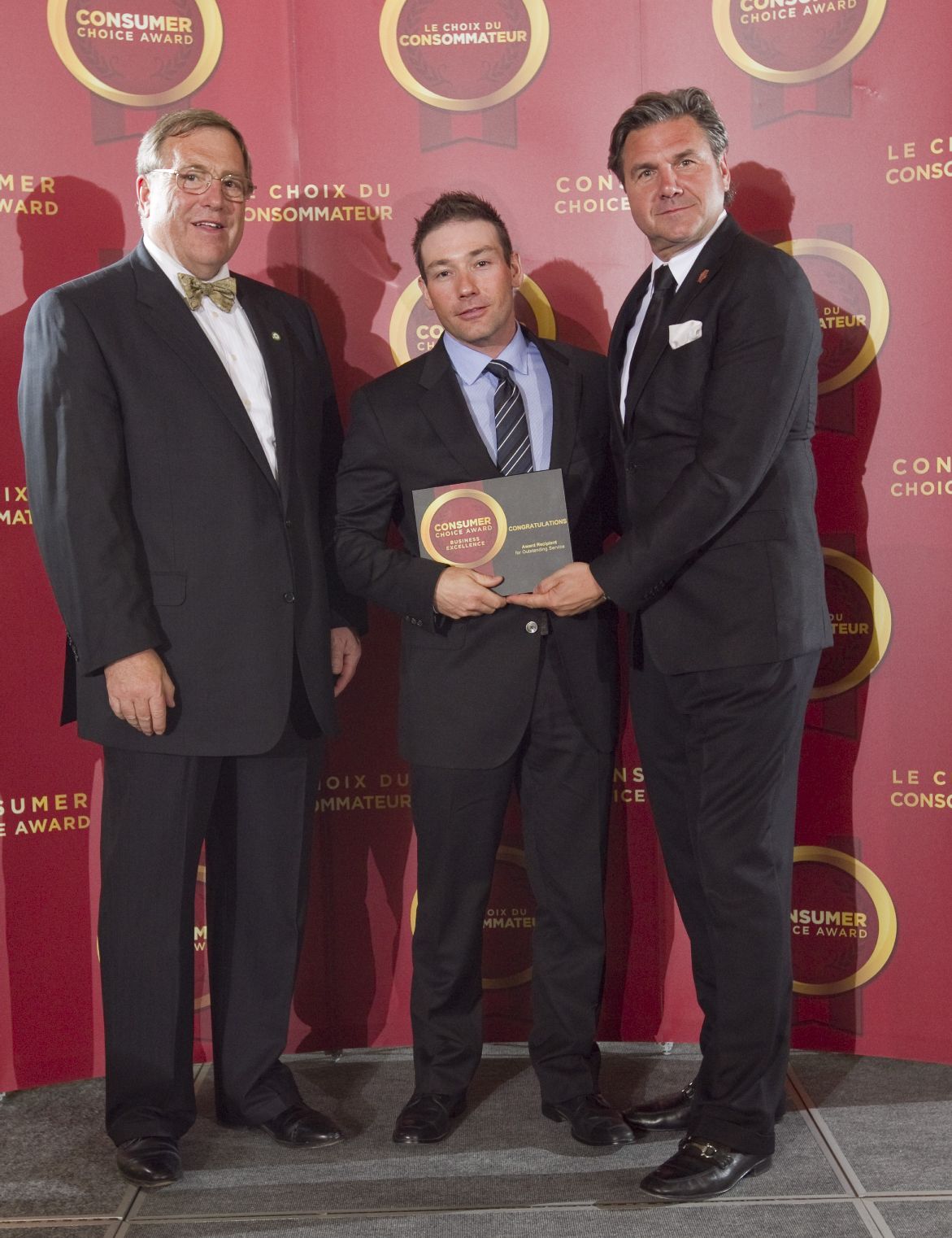 Steve Whittington (middle) receiving our award from Saskatoon Mayor Don Atchison and Consumer Choice Award President Marcel Sbrollini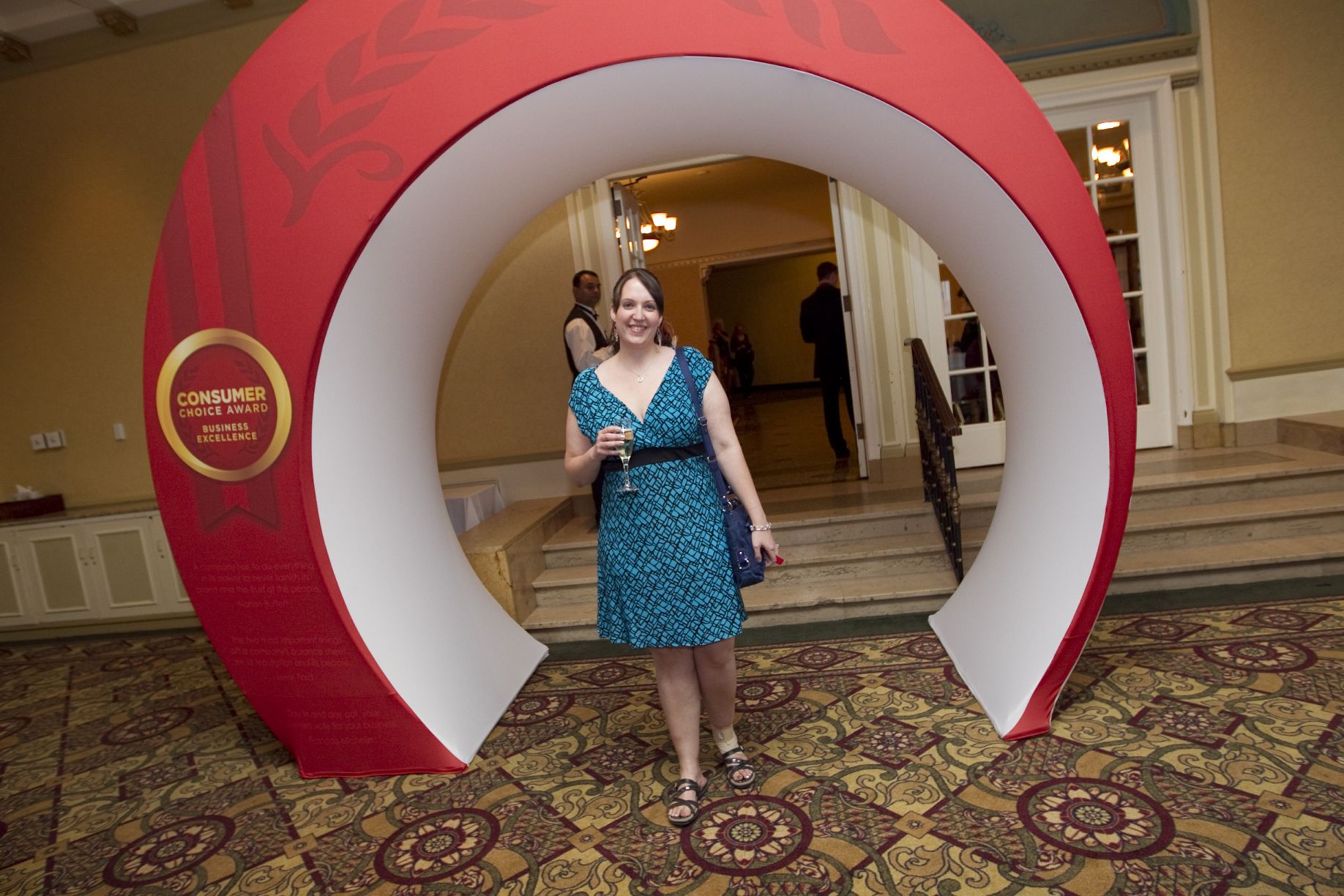 Jennifer Thompson arriving at the awards ceremony.
Posted in Division News | Tagged with Consumer Choice Award Flaman Rentals trailer rentals agricultural equipment rentals customer service Saskatoon | More articles by Jennifer Thompson
Good companies often win awards but what about their customers? Shouldn't they be recognized? Are they not part of the reason for the award? At Flaman Group of Companies this year we have won two awards: Consumer Choice Award and SABEX Marketing Award.
With both of these awards, it would be easy to position the employee efforts as the reason for the awards. Certainly the Consumer Choice Award is directly correlated to outstanding customer service by the staff and a marketing award is due the creative efforts of the marketing team.While both of these facts are true, there is more to each story.
Let's start with the Consumer Choice Award. Obviously customer service is an important factor, but so is customer convenience and variety of choice for product offerings. Customer Service is the number one value of Flaman Group of Companies (FGC) so we will take credit for that, but how did the other two factors, convenience and variety of choice evolve?
The other two evolved by listening to loyal, engaged customers – customers who asked for more from FGC: more hours of operation, more product choice. It is these award-winning customers who pushed us to be better and by meeting their needs we ended up serving more people, more effectively. Without these loyal customers we would not have won the Consumer Choice Award.
But how do customers influence marketing? Is not marketing self serving for a company, designed solely to convince customers to buy product? Advertising can be, but The Great Stuck in Muck Photo Contest and Sled'N Snap contest are both examples of customers coming to Flaman Group of Companies with an idea. FGC then took the idea and marketed it because we have the resources. Additionally, both contests rely on user generated content to make them come alive. So in the case of these marketing contests all FGC did was build the ball park,so to speak. It was our customers that showed up and played a great game that drew in the crowds, some of whom purchased our products.
In 2012 FGC won two awards. The staff worked hard and deserved to be recognized for their efforts, but our customers worked hard and should be recognized as well.
Posted in Division News | Tagged with marketing communications award customer service Consumer Choice Award SABEX Award | More articles by Steve Whittington