2016 Government of Saskatchewan Agriculture Scholarship Announced
Released on October 23, 2015
Today, Agriculture Minister Lyle Stewart announced the 2016 Saskatchewan Agriculture Student Scholarship.
"This year's scholarship theme,
Stewards in Sustainability
, is designed to get young people thinking about the relationship between agriculture and the environment," Stewart said. "With this scholarship, passionate youth will have the opportunity to pursue careers in the many professions that the industry has to offer."
Interested students can apply for the scholarship by submitting a creative, three minute video or well-researched 1,000 word essay based on topics surrounding agriculture and sustainability. These topics include technology's role in agricultural sustainability, sustainable production practices, youth's role in sustainability and environmental success stories.
"This scholarship is such a generous and amazing opportunity for students who are starting their agricultural education," winner of the 2015 Saskatchewan Agriculture Student Scholarship Morgan Heidecker said. "Simply completing the application myself -- which was in the form of a video -- made me realize how excited I am to pursue my future career in the agriculture industry! I'd definitely recommend that anyone who's interested in it apply!"
One winning scholarship of $4,000 and three runner-up scholarships of $2,000 will be awarded to students in Grade 12 and recent graduates entering agriculture-related post-secondary studies in 2016
.
The application deadline is March 1, 2016.
For more information on the Saskatchewan Agriculture Student Scholarship and to view last year's winners, visit
www.saskatchewan.ca/business/agriculture-natural-resources-and-industry/agribusiness-farmers-and-ranchers/thinkag/prepare-for-career/scholarships
.
-30-
For more information, contact:
Trelle Kolojay
Agriculture
Regina
Phone: 306-787-5155
Email:
trelle.kolojay@gov.sk.ca
Cell: 306-527-0521
Posted in Farm related news | Tagged with Government of Saskatchewan scholarship education | More articles by Flaman Agriculture
AgCanada is reporting that . . ..
Agriculture Minister Gerry Ritz says ad hoc programs are not the answer should producers require assistance.
"We don't need ad hoc (assistance), we've got a very comprehensive system of business risk management," said Gerry Ritz, speaking in Winnipeg last week. "There's four different pillars in that, and of course crop insurance is first and foremost the first line of defence."
AgriStability will also be able to assist producers, said Ritz, noting that the five-year incoming averaging period the program relies on is designed to stabilize farm returns in years where production or profit fall due to poor weather or other factors beyond producers' control.
Ritz noted that crop insurance has also been expanded to include pastureland and forages, both of which have been affected by a lack of rainfall in many areas of Western Canada.
The story goes on to speak about Tax Deferral For Cattle
Ranchers in certain regions will eligible to apply the Livestock Tax Deferral Provision, announced by Minister Ritz on July 23.
To defer income, the breeding herd must have been reduced by at least 15 per cent. If this is the case, 30 per cent of income from net sales can then be deferred. In cases where the herd declines by 30 per cent or more, 90 per cent of income from net sales can be deferred, according to Agriculture and Agri-food Canada.
Full story at http://www.agcanada.com/daily/look-to-crop-insurance-first-ritz
Posted in Farm related news | Tagged with producer assistance government programs crop insurance | More articles by Flaman Agriculture
Residents in southern and central Saskatchewan could face severe flooding this spring if unfavourable weather conditions continue.
According to a report from the Saskatchewan Watershed Authority, there is potential for above normal spring runoff throughout the southern part of the province, as well as the central area bounded by Kindersley, Saskatoon, Prince Albert and North Battleford and a large portion of the eastern agricultural area. This high runoff is linked to excessive rainfall last year and an above average snowpack.
"Above normal precipitation and/or rapid snow melt will increase the threat of high runoff and risk of flooding," states the report. "Even with average weather conditions between now and runoff, some localized flooding can be anticipated."
To help mitigate the potential damage from yet another year of flooding, the Saskatchewan Watershed Authority and the Ministry of Corrections, Public Safety and Policing have created a $22 million Emergency Flood Damage Reduction Program.
Through this program, communities, rural municipalities and farm and country residences can access funding and assistance to implement flood reduction or prevention measures. The program will cover 100 per cent of engineering costs to design flood protection works and cost share a variety of flood protection such as: construction of dykes or berms, pumping, sandbags, material to fill sandbags and equipment rental to fill sandbags.
In anticipation of the needs of many farmers and rural residents this spring, Flaman Sales went looking for products that could help prevent flooding and financial losses at farmyards and homes.
"Flooding is a big concern this year," says Dave Weightman, Director of Operations for the Flaman Group of Companies. "And being prepared is critical. You can't start planning for a flood when you see the water coming down the road. We're here to help our customers and offer them services that, unfortunately, could be in very high demand again this year."
This year Flaman has a sand bagger to purchase or rent, which easily fills 400 50-lb sandbags in only one hour. The company also carries items like tear-resistant sand bags and water pumps, which can be covered under the funding program.
"I think the Emergency Flood Damage Reduction Program is a great way to offer assistance. With every disaster there is a cost," says Weightman. "Many municipalities may have a flood plan, but a lot of individual people may not have access to those resources because of demand."
Please contact your local watershed authority to learn more about the Emergency Flood Damage Reduction Program and how to apply. You can also call their head office at (306) 694-3900 or visit www.swa.ca.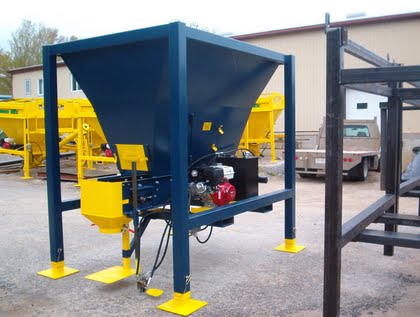 Posted in New Products | Tagged with Flaman flooding agriculture funding government pumps sand bags Saskatchewan | More articles by Jennifer Thompson