Fertilizer prices will likely decline in the short-term then grow in the long term. So 'yes,' buying
a big bin
now and filling it makes sense.
First of all, what proof of a price decline is there? The downtrend is highlighted by a recent potash sale to India by Belarus (one of the very few potash producers) at the lowest prices seen in over a decade; about a third less than last year's level as global supplies of the crop nutrient exceed demand.
About the deal - one of India's biggest fertilizer importers, Indian Potash Ltd. (IPL), will buy 700,000 tonnes of potash at $227 (U.S.) per tonne on a cost and freight (CFR) basis.
Belarus' contract price is likely to become the benchmark for other suppliers to India, such as Russia's Uralkali and North American trading group Canpotex Ltd., owned by Potash Corp, Mosaic, and Agrium.
For background see
this story
.
The underlying thing from this is, China usually sets the floor or lowest global price for potash with their purchasing, so given the bigger annual'ish China deal is still outstanding, prices will likely decline even further.
India and China, the world's biggest fertilizer consumers, usually sign contracts earlier in the year. This year, deals were delayed as high stocks held by farmers meant there was no rush to agree a deal.
India's deal is a rare instance of the country signing a potash supply contract with a major producer before China. For more information, see
this story
.
But then, on the upside, Belarus and Uralkali (the Russians)
are looking at working together again
on potash marketing , thus ending the price war that has driven down the price of potash. These two and Canpotex (PotashCorp, Agrium, and Mosaic) basically dominate the world potash market.
And, the major trend to drive fertilizer prices in the long term is that the world is adding about 1-million people per week to its population. We need to feed this additional million per week from the same amount of farmland – so, fertilizer demand will grow.
Now, currently,
crop prices are growing faster than fertilizer costs
, so things do make sense to buy now.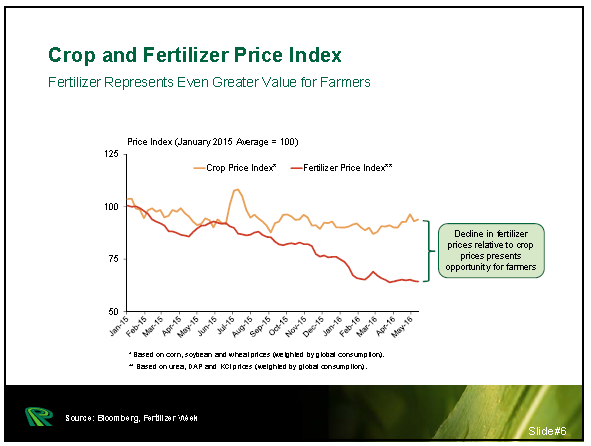 To take advantage of the temporarily low fertilizer prices, a
Meridian fertilizer bin
is your best choice.
Posted in Ag news | Tagged with fertilizer meridian bin fertilizer prices | More articles by Flaman Agriculture
Posted by Flaman
Jan 28, 2015
As an Ag Sales Representative for Flaman, it seems natural to launch my blog with something I have grown up with. It's something I truly have a passion for, and hopefully something that will give some insight into your decision making process when buying a Meridian bin.
I started my young career working for Meridian Manufacturing- then known as Wheatland Bins - in the welding shop pushing a broom, then I moved to the wash bay, and eventually to powder coating and finishing a completed bin.
Following that, my crew and I ventured out on our own building corrugated bins across Alberta. Today when I discuss grain and fertilizer storage needs with prospective customers, I find I have a unique perspective both in smooth walled and corrugated bins as well as 8complete storage systems.
So what are the benefits of buying a Meridian Bin? Let's begin with the question of choosing a smooth skin over a corrugated line.
Let's face it, there are many corrugated bins to choose from; Twister, Westeel, Behlen, Gobal, the list goes on and on. The main line of thinking is that Meridian is the more expensive option, and choosing a corrugated line will save money. Although this may be true, the real savings with corrugated bins come when you get into much larger scale flat bottom bins. The small increase in price when moving to a Meridian can easily be offset when thinking about its benefits.
1) Customer Service – Ready to use upon delivery
2) Durability - All weather eco-friendly powder coat finish
3) Resale – heavy duty no compromise quality that can be moved
4) Value – inspected, exceeding industry standards
5) Peace of Mind – saving time and money
Now that I have you thinking about Meridian Bins specifically- here are a few things to consider when purchasing the right bin for you.
1) How much more storage you are hoping to gain?
Meridian carries a variety of sizes of smooth wall bins. From 6' diameter feed bins all the way to 18' diameter fertilizer and grain storage.
Typically for transportation purposes, a 16' diameter bin is used and can get you up to 6000 bushels of storage.
2) How long is your loading auger? This will determine your overall height of bin
If you're not in the market to buy a new auger with your bin purchase, you will want to make sure your current one is up to the task. Below is a simple chart.
3) What kind of product do you want to store?
If you are looking for an easy solution for grain storage only, the grain max series provides you with convenient no hang up storage. If you are wanting to have the option to store both fertilizer and grain, a multipurpose bin will suit your needs.
Liquid storage, as well as HD storage for cement or sand are also an option through the Meridian commercial division.
4) What options can I bundle with my new bin?
Flaman can provide you with all the necessary options to go along with your new grain bin. Aeration fans, rockets, as well as temperature and moisture cables are great additions to protect your investment and give you peace of mind.
Beyond these advantages comes further benefits and savings. Consider the money you can save by purchasing a fertilizer bin this year.
If you are able to buy your Fertilizer- let's take ammonia at *$570 in a low season in your new Meridian 1625 bin. Then in high season the price jumps to $670 per ton. You're saving $100 per ton, and are able to take as much as 165 tonnes. $16,500. In exactly one purchase you have paid almost paid for your bin.
Later during harvest, you have the ability to store excess grain, throw in an aeration tube, even carefully control and maintain temperature throughout the storage season. The complete system all taken care of by your local provider, Flaman.
*http://www.agr.gc.ca/eng/industry-markets-and-trade/statistics-and-market-information/by-product-sector/crops/crops-market-information-canadian-industry/market-outlook-report/canadian-farm-fuel-and-fertilizer-prices-and-expenses-july-2013/?id=1
Posted in Product Information | Tagged with Meridian bins Flaman ag sales customer service durability reasale | More articles by Flaman