The new Trailtech MD270 MultiDeck Trailer is one of this season's hottest innovations. This is a must see unit for trailer users that have been thinking about another trailer for their fleet, or looking to replace/reduce trailers in their fleet. The trailer has a lowboy position, a highboy position and is a powered tilt in both positions. So this unit is really four units in one. The dovetail at the rear of the trailer with the tilting deck eliminates the need for ramps, combine this with the hydraulic cushion, loading equipment is truly a one person job.

Features on this unit include:
1. Self Contained Hydraulics
2. Patented MultiDeck
3. Load Securement: rub rails and stake pockets standard plus D-rings in the axle location.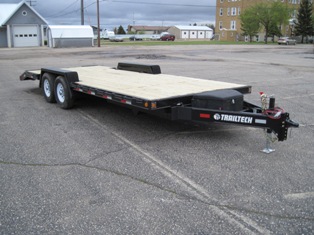 This unit rides on (2) 7000 lb Torfex (Rubber Torsion) axles with 16" tire providing a 16,100 lb GVWR. Contact your local rep for more details.
Available at all Flaman Trailer locations.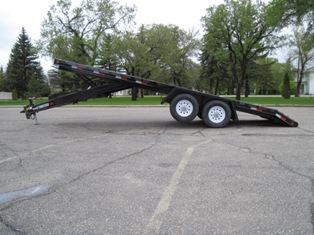 Posted in New Products | More articles by Steve Whittington