With having associations like NATM it kind of allows the collaboration of all the manufacturers so we can all get together to say "what are our big obstacles right now". Whether government regulations or whatever it may be we can all work together to figure out how we can come up with a resolution to those...
Listen to the rest of the podcast below.
Posted in Podcasts | Tagged with Trailer Talk Podcast Southland Trailers Ryan Sailer Steve Whittington Flatdeck trailers Royal Cargo XR Series Enclosed Trailers | More articles by Steve Whittington
The days are getting colder, Halloween has come and gone and this means Sled Trailer season has started!
Flaman Trailers is excited for the start of the season. Flaman Trailers has already been to the Alberta Snowmobile show and the Saskatchewan Snowmobile show.
We have more product choices for you than ever before. Starting with the economical offering of our steel framed Summit Series trailers to the all flat black Stealth trailer from NashCar Trailers, we truly have a trailer for every sled. Our open deck line has expanded as well. Aluminum tilt trailers with a five year warranty are always popular units. For the 2012 season Trailtech has produced a special edition open deck two place. It is an eye catcher with flat black paint, silver reflective tape, white LED lighting and series 7 aluminum rims.
However, the show stopper is the ultimate custom Stealth 40 foot long gooseneck. This trailer features mirrored interior walls, black hard top flooring, a kitchenette, a rocking stereo system with no less than 4 subs, air conditioning, a 40,000 BTU heater, insulated generator set...and the list goes on and on.
Last and most exciting is the new photo contest Sled'N Snap (www.slednsnap.com). Flaman Trailers partnered with the Alberta, Saskatchewan and Manitoba snowmobile associations to bring this exciting contest to the sledding community. The contest has it all: six categories to enter into, an entry prize of a two place aluminum tilt trailer per province, and the grand prize, use of a 28' tag Stealth trailer for a year.
So this winter season there is a lot going on at Flaman Trailers. Check back often to keep in the loop.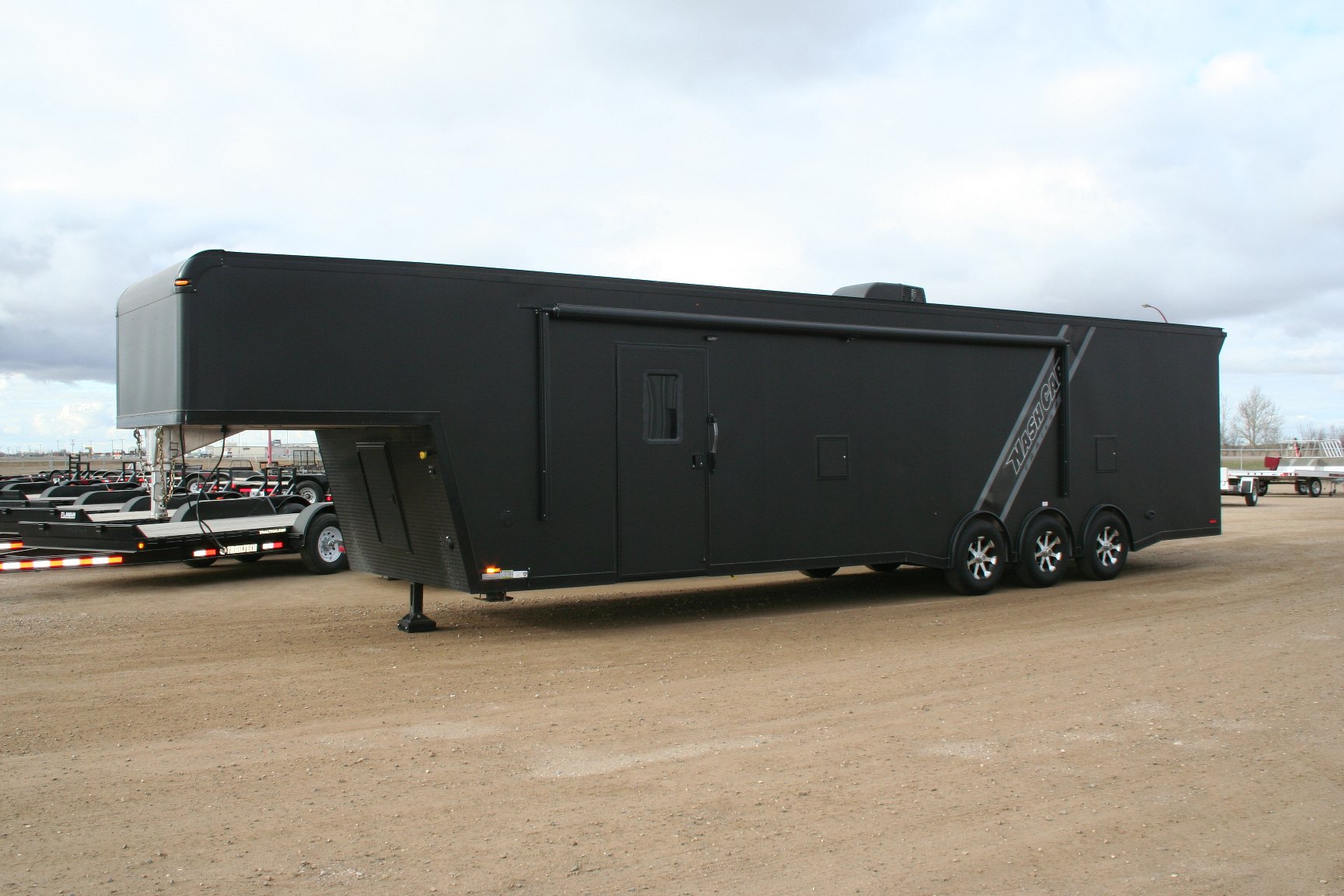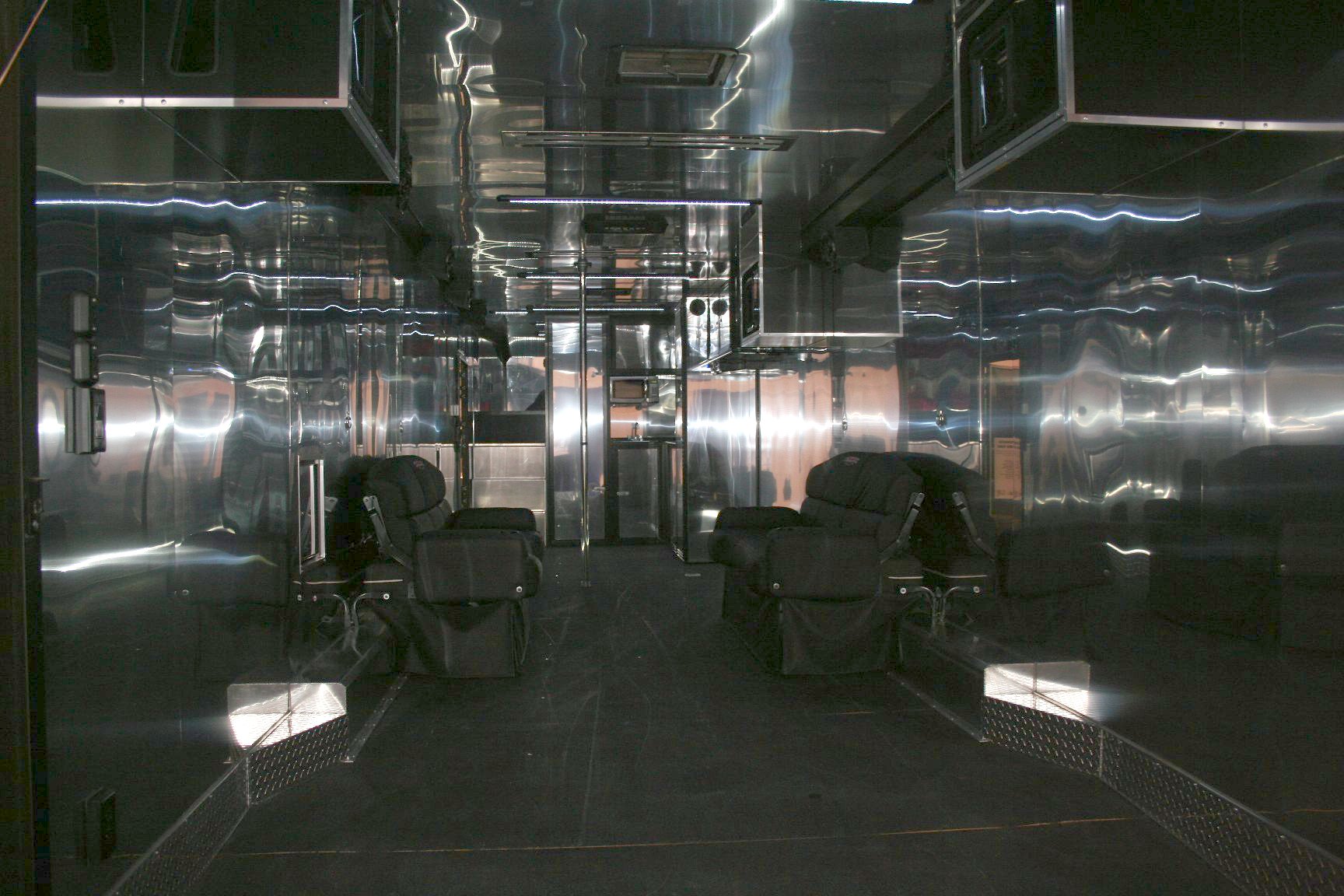 Posted in Product Information | Tagged with Snowmobile Trailers Flatdeck Trailers Aluminum Information | More articles by Steve Whittington
At Flaman Trailers, we're dedicated to customer service. So much so, that if you can't come to us, we'll come to you!
That was the motto behind one of our salesman's recent trip to Fort McMurray. Aaron Farrell, a trailer specialist at the north Edmonton store, loaded up a H370 flat deck trailer with a XR7 cargo trailer and an Aluma 638 utility trailer and headed up north To Fort McMurray on June 3 and 4.
This is the first time Flaman Trailers has gone on the road. Not long ago Aaron was looking through his customer list and noticed that many of them were form Fort McMurray. Talking with his customers, they expressed some difficulty in getting trailers up there. Many of them made the drive down to Edmonton.
"I thought: why not go up there? I had nothing to lose," Aaron says.
He set up shop at the Fountain Tire in the MacKenzie industrial area, displaying the trailers on government land right in front of the store so everyone could see them as they drove by. Although Aaron says he had a bit of bad weather on the first day, the set up worked. He even sold the utility trailer on the spot.
"Lots of people were pulling over on the side of the road," he says. "Many recognized the ad we had put in the paper. I talked to about 24 people over the 2 days I was there. It was great!"
Feeling confident, the second day he was there Aaron pulled his trailer over to a mall parking lot and set up for a few hours, where he also got a lot of traffic. He says he got a lot of interest from the oil field in equipment haulers and flat decks, but also a lot of interest in cargo trailers.
Aaron says he would "absolutely" like to take Flaman Trailers on the road again, and plans to go back to Fort McMurray.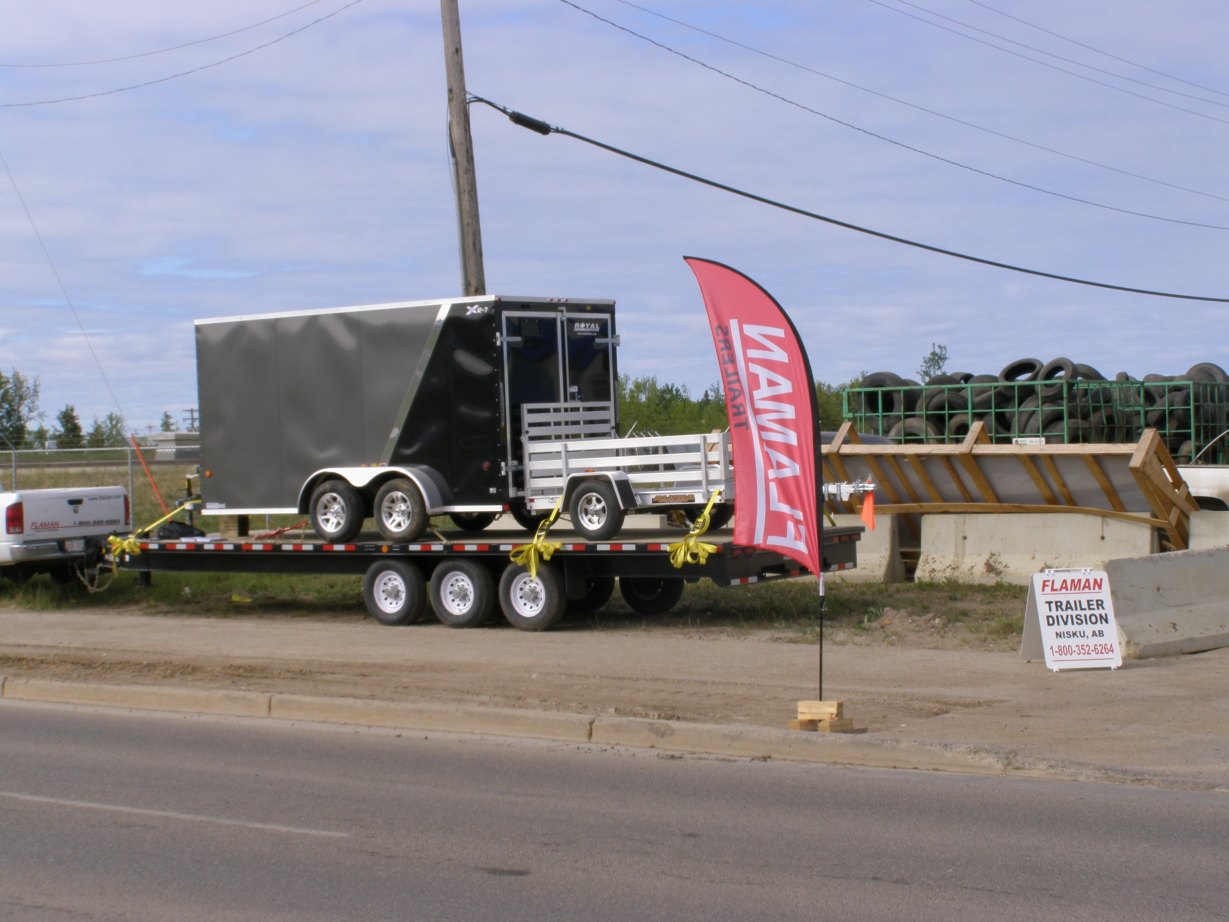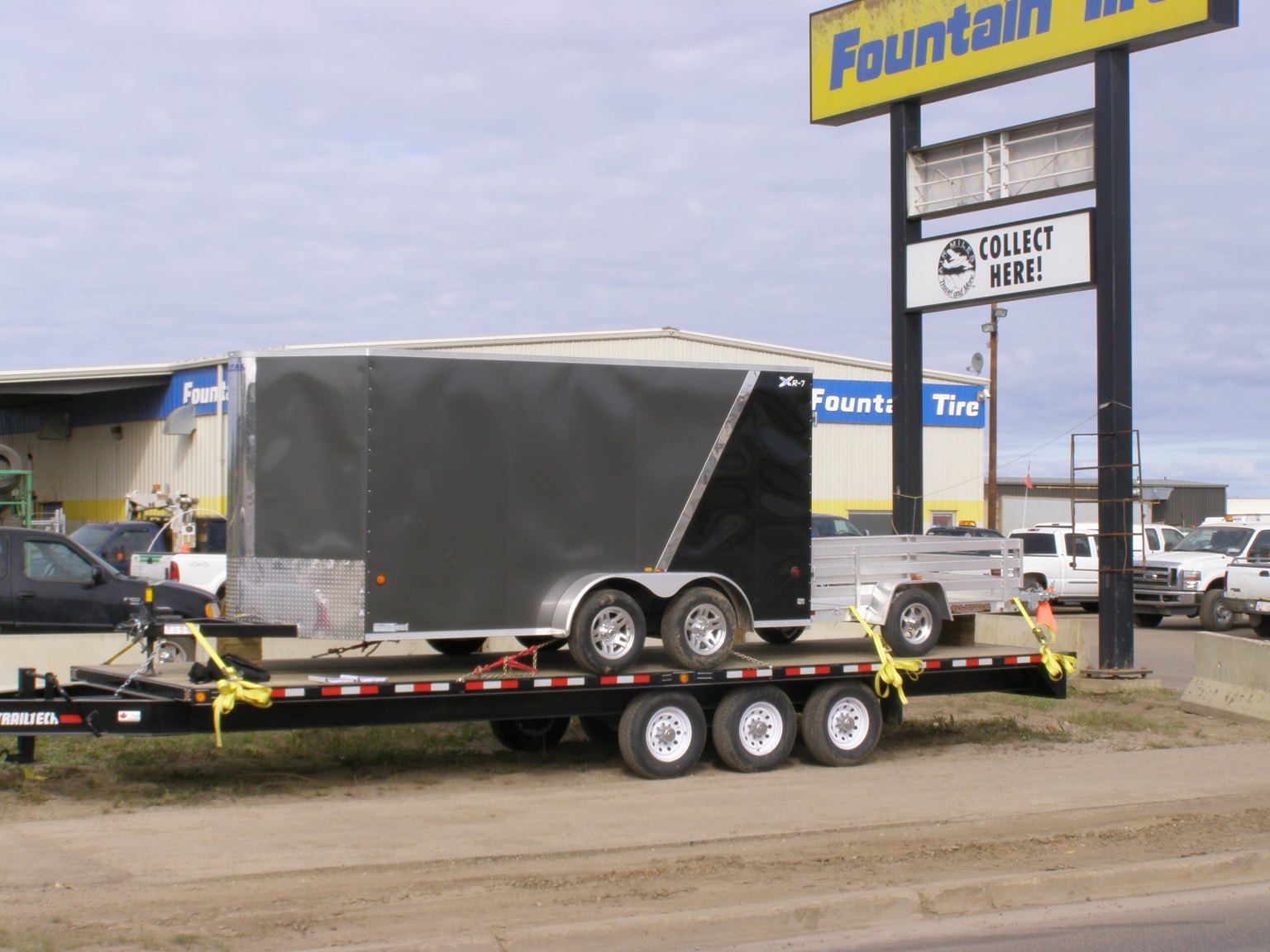 Posted in Division News | Tagged with Cargo Trailers Utility Trailers Flatdeck Trailers | More articles by Jennifer Thompson