Good companies often win awards but what about their customers? Shouldn't they be recognized? Are they not part of the reason for the award? At Flaman Group of Companies this year we have won two awards: Consumer Choice Award and SABEX Marketing Award.
With both of these awards, it would be easy to position the employee efforts as the reason for the awards. Certainly the Consumer Choice Award is directly correlated to outstanding customer service by the staff and a marketing award is due the creative efforts of the marketing team.While both of these facts are true, there is more to each story.
Let's start with the Consumer Choice Award. Obviously customer service is an important factor, but so is customer convenience and variety of choice for product offerings. Customer Service is the number one value of Flaman Group of Companies (FGC) so we will take credit for that, but how did the other two factors, convenience and variety of choice evolve?
The other two evolved by listening to loyal, engaged customers – customers who asked for more from FGC: more hours of operation, more product choice. It is these award-winning customers who pushed us to be better and by meeting their needs we ended up serving more people, more effectively. Without these loyal customers we would not have won the Consumer Choice Award.
But how do customers influence marketing? Is not marketing self serving for a company, designed solely to convince customers to buy product? Advertising can be, but The Great Stuck in Muck Photo Contest and Sled'N Snap contest are both examples of customers coming to Flaman Group of Companies with an idea. FGC then took the idea and marketed it because we have the resources. Additionally, both contests rely on user generated content to make them come alive. So in the case of these marketing contests all FGC did was build the ball park,so to speak. It was our customers that showed up and played a great game that drew in the crowds, some of whom purchased our products.
In 2012 FGC won two awards. The staff worked hard and deserved to be recognized for their efforts, but our customers worked hard and should be recognized as well.
Posted in Division News | Tagged with marketing communications award customer service Consumer Choice Award SABEX Award | More articles by Steve Whittington
On May 17, I had the honour of attending the Saskatoon Awards for Business Excellence (SABEX) ceremony. Flaman was named a finalist in the Marketing award category.
This was a very exciting nomination for us. The SABEX awards honour businesses in Saskatoon and area in a variety of categories, such as Marketing, Customer Service, New Business and Business of the Year. Winners are selected from the finalists by a group of their peers. It meant a lot to us that we were recognized for our efforts by business leaders in our community.
This was the first time Flaman was named a finalist for a SABEX award.The ceremony was held at Prairieland Park, which had been decorated in a glamorous 1950s theme. After a delicious supper, the awards began, and I have to say I sat on the edge of my seat until our category was announced. We were up against three other great local businesses, so I was pretty nervous. When they announced the winner of the Marketing award was Flaman Group of Companies, I couldn't have been happier! Our tables clapped and cheered as Steve Whittington, our VP of Marketing, accepted our award.
This award means so much to us. As a member of the marketing team, I know firsthand how much work goes into our marketing programs. We handle marketing for multiple stores, in many diverse divisions like fitness, trailers, grain cleaning and ag. Along with traditional advertising and marketing, I feel that Flaman is leading the way with things like our websites and online community building.
The goal of our marketing department is to give our customers what they want and create content that is engaging and interesting. To me this is exemplified in our "Great Stuck in the Muck" photo contest. This contest was created as a way for farmers to share photos and stories about getting stuck, which is a universal problem for anyone working outside. This contest quickly grew to be much more than just a photo site. It's now known as "Facebook for Farmers" across Western Canada. This site was a way we could give back to our customers and I think it worked. The website regularly gets thousands of visitors each month and many more when voting is happening.
I am so proud of our team! Along with those from our Saskatoon office, we have a strong team of marketers and web designers from all our locations. It truly was an honour to be named a finalist and of course we are so thrilled to be recognized as a leader in the business community. Thank you to the Saskatoon Chamber of Commerce and all those in the company that contribute to our success.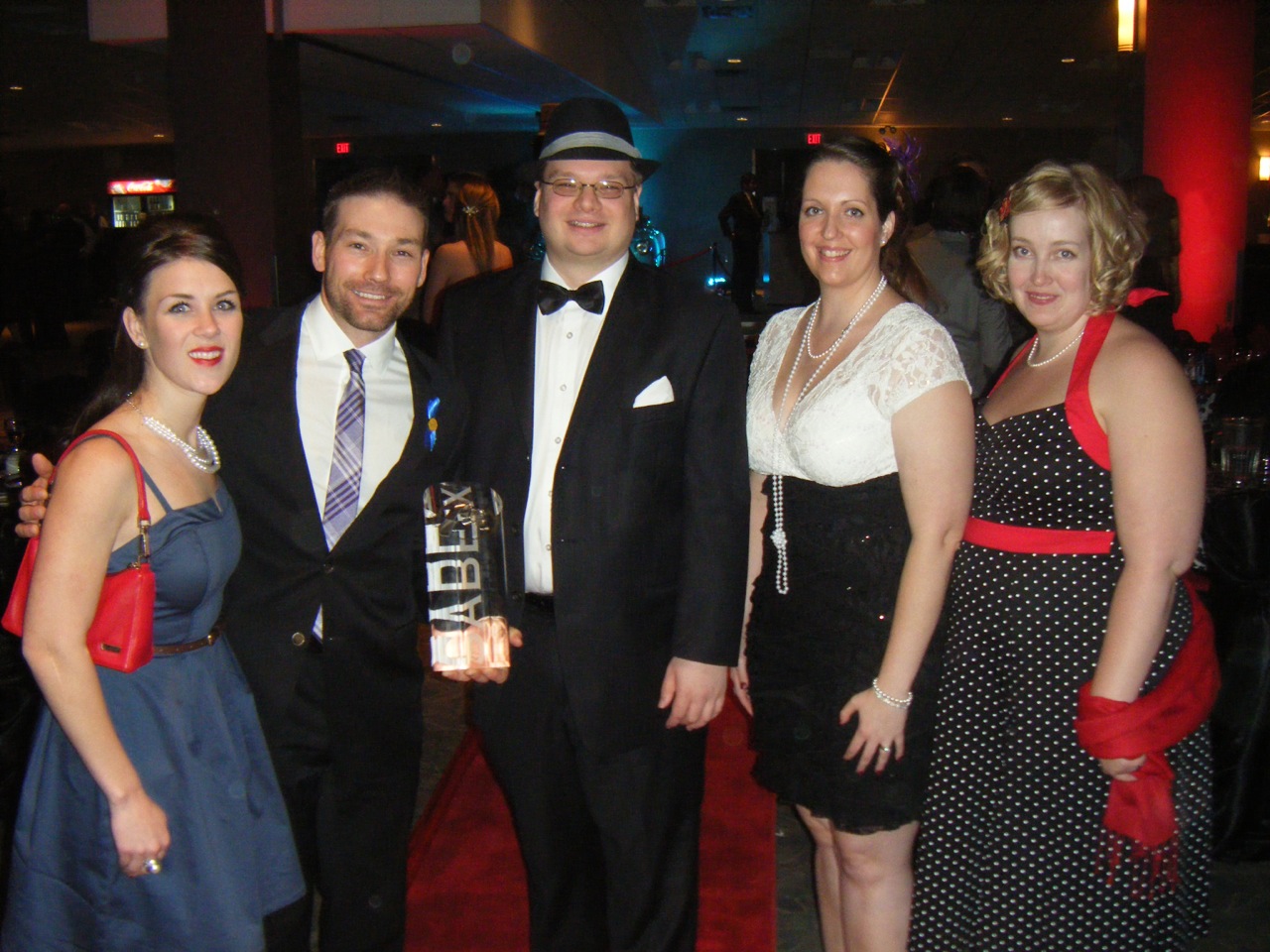 Posted in Division News | Tagged with marketing awards business Saskatoon Sabex | More articles by Jennifer Thompson