Posted by Flaman
Jul 07, 2011
Three successful open houses/contractor appreciation days! The weather was perfect, well maybe too perfect as a lot of the contractors we not able to make the contractor appreciation barbeques as they were taking advantage of the nice weather and were trying to get caught up on the projects that have been delayed by rain.
We would like to thank everyone who came out to Swan River, Moosomin and Yorkton to help us celebrate and take in all of our displays. $1,433.00 was raised for The Children's Wish Foundation and again we would like to thank Hilti for covering all of our expenses so that all the cash donated will go to the foundation to help grant a child their wish.
The lucky winner of our grand prize of an 11' Progression Trampoline was Jeff Bimji from Yellow Grass, SK. We wish Jeff and his family many hours of fun on the trampoline.
A special thank you to all the reps that were able to attend: Hilti, Multi-Quip, Bobcat, Ditch Witch, Top Con and Makita.
If you weren't able to make the open house in your area you can still stop by anytime and see what we have to offer for sale or rent.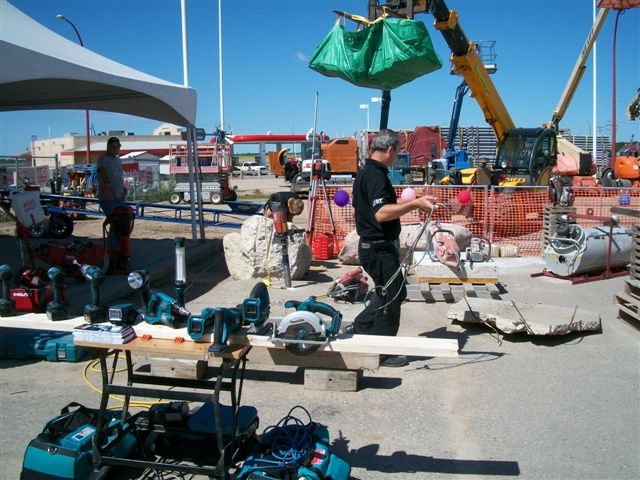 Hands on displays at Yorkton's Open House
Posted in Local News | Tagged with Yorkton Moosomin Swan River Rentals Hilti Multi-Quip Bobcat Ditch Witch Top Con Makita Progression Trampoline | More articles by Flaman
Posted by Flaman
Jun 14, 2011
You're invited …
Three Flaman locations, three rental's open houses.
June 21 – Swan River, MB
June 28 – Moosomin, SK
July 5 – Yorkton, SK
If you are in the Moosomin area you have to check out the "Wall of Wow". Imagine a total of over 30 flat-deck trailers lined up side by side and stacked 3 – 4 high. If you are in the market for a flat deck trailer this is the place to go.
Contractor specials. Book your rentals the day of the open house and receive:
10% off – rentals between $1,000 - $2,499
20% off – rentals between $2,500 - $4,999
25% off – rentals over $5,000
Come check out the new Hilti TE 3000-AVR jack hammer. All the power of an air tool without the need for a compressor. The TE 3000-AVR delivers explosive breaking power without sacrificing mobility. It brings impressive hammering power to big concrete demolition jobs. The TE 3000-AVR is also a quick, easy way to break up asphalt for road building, repair work and pipe laying.
Hilti will also be doing demos with their DSH 900 hand-held gas saw. The Hilti diamond blade has lower friction which gives a higher cutting performance. It has high torque when needed with minimal hand-arm vibration. This saw is perfect for cutting curb stones, paving stones, sewer pipes and ducts, asphalt, metal and a whole lot more.
There will be hands-on demos of the ICS concrete chain saws. Come see for yourself how easy to use these concrete saws are.
Flaman's is the only rental store in the Yorkton area to have a ride-on power trowel. Be the first to rent our brand new Barikell 30" ride-on power trowel. This ride-on power trowel is extremely responsive; features synchronized steering and is a labour saver wherever used instead of walk-behind trowels.
Come meet our suppliers and participate in Hilti, Bobcat, Ditch Witch and Multi Quip demos. Enter your name for a Progression 11" trampoline and for our many other great door prizes and stay for the barbeque lunch.
All proceeds from the barbeque lunch go to The Children's Wish Foundation.
Posted in Division News | Tagged with rentals Yorkton Moosomin Swan River contractor specials open house wall of wow | More articles by Flaman