Posted by Mark Flaman
Aug 15, 2013
The reasons for purchasing a grain bagger are obvious. If you're still hung up on the decision, I'll try and make it a little easier for you.
There has been quite a large shift over the past few years with farmers not being able to store all of the grain they yield in bins due to a really great harvest, so we're stuck with this problem. We need more storage, the grain bins are full, and the bin crews can't get out to the yard or it is impossible to even acquire more bins. The simple solution? Chuck the commodity in a giant plastic bag where it is not affected by weather or moisture changes, right in the same field it was harvested from. With the cost of grain bags dropping (0.6c / bushel) it's becoming much more mainstream, and I think we can expect to see more and more bags in the field as time goes on.
There are a couple more main reasons for bagging. If you've got combines in different fields during a great year for harvest such as 2013, chances are you're going to be running trucks full time and putting wear on them just to keep up with the combines and getting the commodity into the bins. With a grain bagger, you can just drive over to the bagger in the same field with the grain cart or combine, unload into the bagger, and it'll sit there until you either have bin storage available to dry the grain, or until you'd like to haul it to the terminal. Remember that these grain bags don't fluctuate in moisture content, whatever you put in will come out the same way.
If bin storage space is an issue, we see a lot of our customers using grain rings with tarps, but they let in moisture and whatever grain is sitting on the ground is sure to spoil at some point. You can keep the grain in a bag for even two years, and be able to pull it out and haul it away.
All in all, the way we're farming changes every year, and bagging grain is something that is becoming extremely common. We carry the Flaman Pro Grain Bagger at all of our mainline locations, and the bags to go with them as well. Need the extractor to take the grain out? We sell those too, both new and refurbished. For more information and specifications of the Flaman Pro Grain Bagger, please visit www.Flaman.com.
Posted in Product Information | Tagged with grain bagger grain bags bag bagger flaman flaman pro grain bagger agriculture grain storage alternative bin storage | More articles by Mark Flaman
Residents in southern and central Saskatchewan could face severe flooding this spring if unfavourable weather conditions continue.
According to a report from the Saskatchewan Watershed Authority, there is potential for above normal spring runoff throughout the southern part of the province, as well as the central area bounded by Kindersley, Saskatoon, Prince Albert and North Battleford and a large portion of the eastern agricultural area. This high runoff is linked to excessive rainfall last year and an above average snowpack.
"Above normal precipitation and/or rapid snow melt will increase the threat of high runoff and risk of flooding," states the report. "Even with average weather conditions between now and runoff, some localized flooding can be anticipated."
To help mitigate the potential damage from yet another year of flooding, the Saskatchewan Watershed Authority and the Ministry of Corrections, Public Safety and Policing have created a $22 million Emergency Flood Damage Reduction Program.
Through this program, communities, rural municipalities and farm and country residences can access funding and assistance to implement flood reduction or prevention measures. The program will cover 100 per cent of engineering costs to design flood protection works and cost share a variety of flood protection such as: construction of dykes or berms, pumping, sandbags, material to fill sandbags and equipment rental to fill sandbags.
In anticipation of the needs of many farmers and rural residents this spring, Flaman Sales went looking for products that could help prevent flooding and financial losses at farmyards and homes.
"Flooding is a big concern this year," says Dave Weightman, Director of Operations for the Flaman Group of Companies. "And being prepared is critical. You can't start planning for a flood when you see the water coming down the road. We're here to help our customers and offer them services that, unfortunately, could be in very high demand again this year."
This year Flaman has a sand bagger to purchase or rent, which easily fills 400 50-lb sandbags in only one hour. The company also carries items like tear-resistant sand bags and water pumps, which can be covered under the funding program.
"I think the Emergency Flood Damage Reduction Program is a great way to offer assistance. With every disaster there is a cost," says Weightman. "Many municipalities may have a flood plan, but a lot of individual people may not have access to those resources because of demand."
Please contact your local watershed authority to learn more about the Emergency Flood Damage Reduction Program and how to apply. You can also call their head office at (306) 694-3900 or visit www.swa.ca.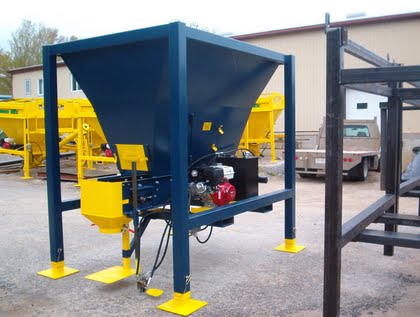 Posted in New Products | Tagged with Flaman flooding agriculture funding government pumps sand bags Saskatchewan | More articles by Jennifer Thompson