Manitoba winter fertilizing ban back on
Posted
Nov. 19th, 2015
Ag Canada
Snow's arrival throughout Manitoba means no more extensions for the province's farmers to apply winter fertilizer or manure.
The province said Thursday its
second extension
, which was to run until the end of the day, has been rescinded, and the winter nutrient application ban is in place effective immediately, given "recent snowfall accumulations."
The winter nutrient application ban continues until midnight, April 10, 2016 — unless soils can support an earlier date next spring — and applies to all forms of nutrients, including livestock manure and inorganic fertilizer.
The province set up the ban in 2008 to prevent nutrients from being applied when the ground is frozen, to reduce nutrient loading in waterways through field runoff.
Posted in Farm related news | Tagged with Manitoba fertilizer ban winter | More articles by Flaman Agriculture
Posted by Flaman
Jul 17, 2012
As the new territory rental manager I had the chance to personally hand deliver a $10,000 donation cheque on behalf of the Frank Flaman Foundation to Ike Friesen of Morden, MB. Ike is one of Flaman's all-time longest rental dealers, and has been part of the Flaman team for over 10 years now. He is also chairman for SHARE (Sharing Hope and Agriculture Resources of the Earth).
The SHARE project already has 425 acres of farmland planted this year with all proceeds donated to the Canadian Foodgrains Bank. Community growing projects are a unique way for people to contribute grain and other agricultural commodities to help people who are hungry around the world.

A typical project involves a group of people working together to farm a common plot of land. After harvest, the production is donated through the Canadian Foodgrains Bank for overseas food ais and agricultural development projects.
Flaman's donation will be used towards crop input costs. Frank Flaman likes to donate money that's going to go right to the people. I was honoured to present this cheque to SHARE as it made me feel part of something that is a good cause and helping to fight hunger in our world.
For more information on the Canadian Foodgrains Bank please visit
www.foodgrainsbank.ca/growing_projects.aspx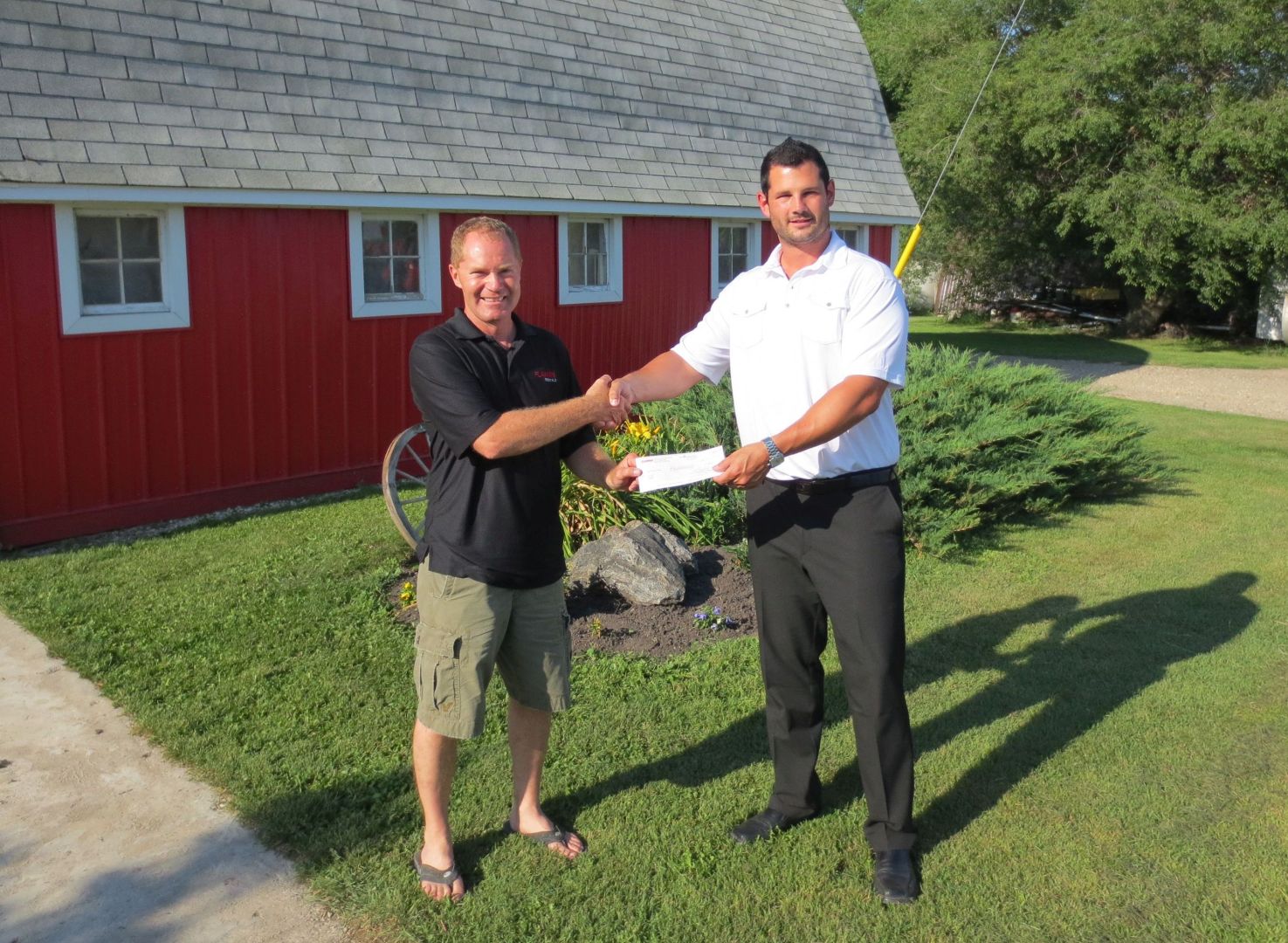 Ike Friesen and Parrish Kondra
Posted in Division News | Tagged with rentals donation SHARE food bank Flaman Foundation charity | More articles by Flaman