You can anticipate grain spoilage as a farmer, but you can never be sure when it's going to pop up. Or where you'll be when it does.
And what happens if your grain starts to spoil or heat up and you're nowhere near home, but thousands of kilometers away on a family vacation? That's what happened to Blake Bergen of 3B Acres in Drake, SK in the fall of 2019 when his Florida vacation was interrupted by news that a canola bin was heating up.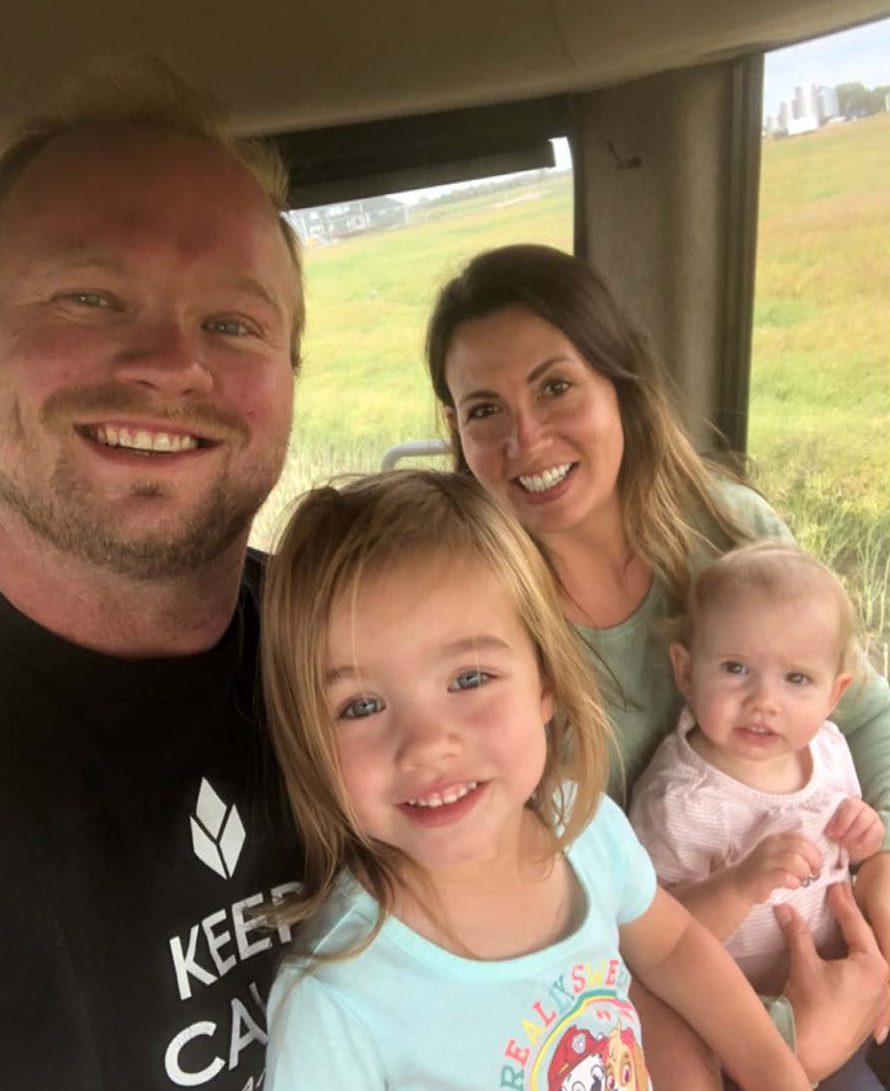 He was getting alerts from his
Bin-Sense Live
wireless grain monitoring system, an award-winning monitoring system that gives you instant access to your stored grain at any time and from anywhere.
With
this system
, farmers no longer have to be in the same physical location as their hopper or flat bottom bins to monitor them. They can get valuable information about the grain's quality and stay connected with up-to-date text alerts sent to phone or email.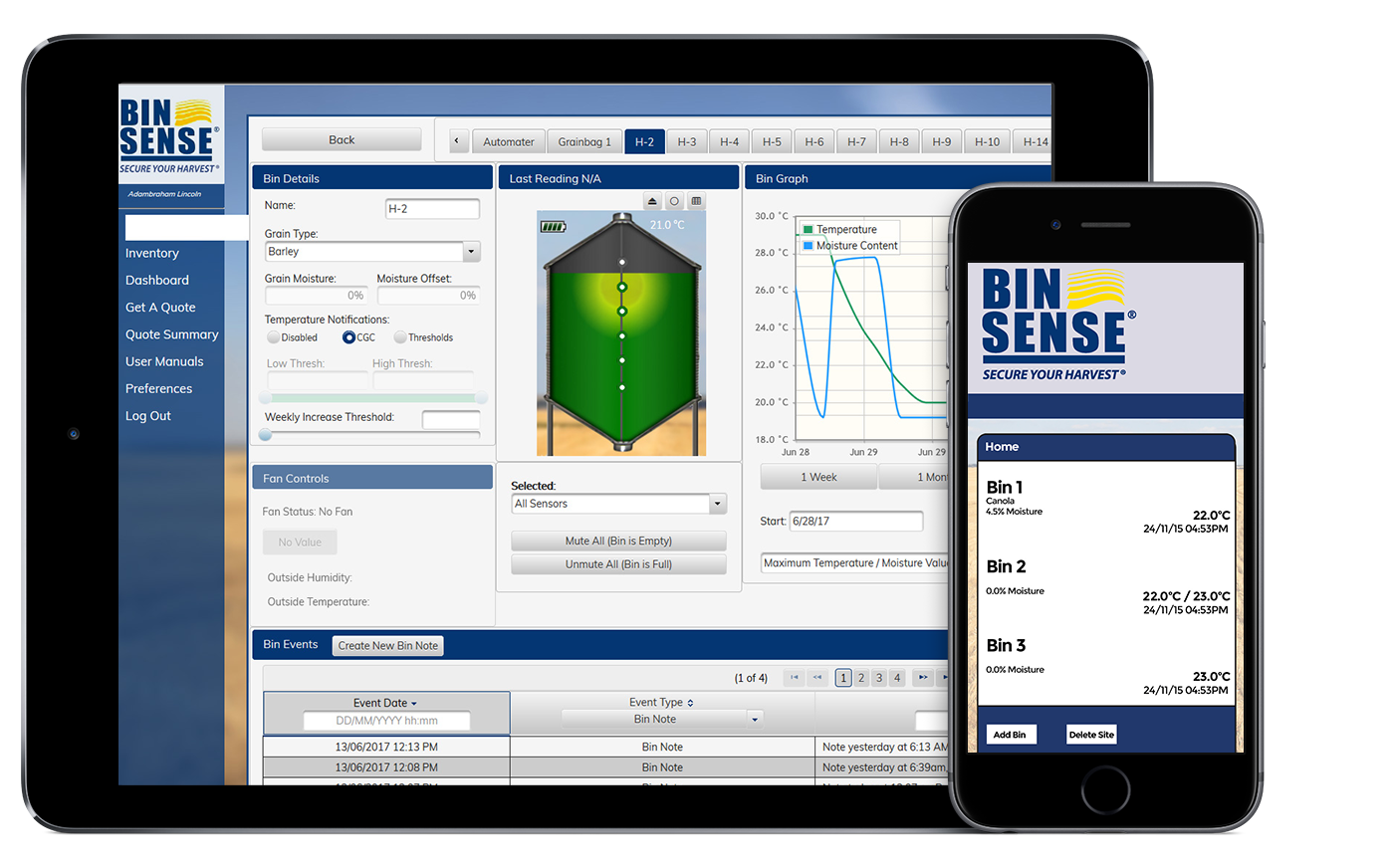 Those alerts warned Bergen about the situation in his bin, when he otherwise may never have known.
"That bin was not top-of-mind among riskier bins, said Bergen. "We thought we had that one well looked-after so it surprised us when we got the alert."
Surprised, but not surprised. There were many factors that had led Bergen and his father to install
Bin-Sense Live
. They had witnessed a dry spring, which led to late crops in July. They also had questions about the storability of straight-cut canola. "We knew we were going to get some stagey canola coming in," said Bergen. "It wasn't going to necessarily be swathed at exactly the right time. There was potential for green seeds."
The Bergens took the proactive approach through grain drying and monitoring. "We thought the odds of having something happen, just the way the crops were looking, were pretty good. We knew if we had a train-wreck, we'd buy a system so it wouldn't happen again, so why not buy the system before the train-wreck and then it pays for itself?"
In summer 2019, Flaman installed a Live system. Moreover, among their 200,000 bu of monitored grain storage, they also have 42,000 bu worth of hopper bins connected to supplemental heat air drying with temperature and moisture cables monitored by Bin-Sense Live. But it was later that fall when Bin-Sense Live's communicating technology became critical.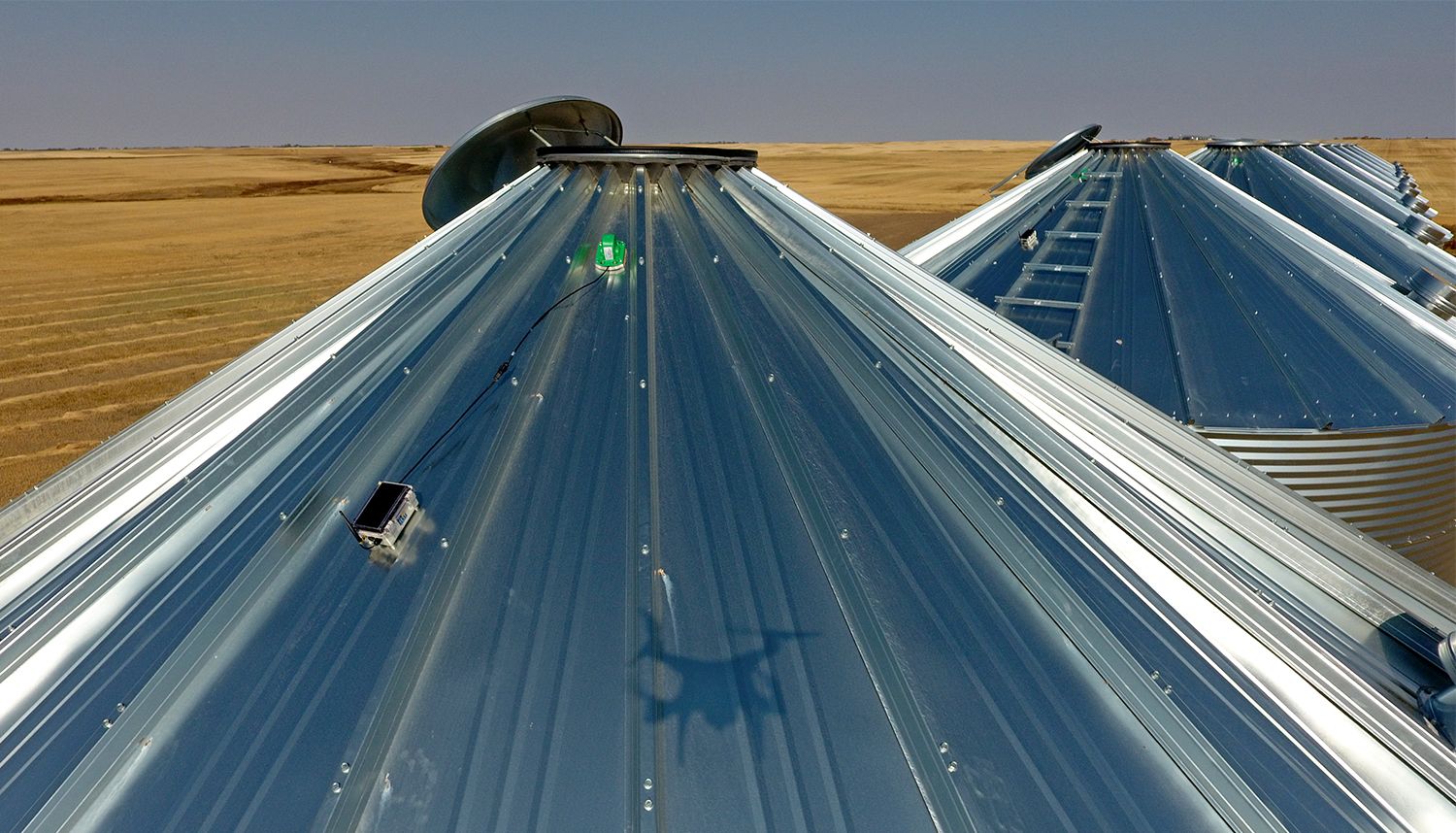 An example of Bin-Sense installed on a bin
"We were going on a two-week vacation to Florida with our extended family," said Bergen. "On day 1 after landing, we got a chirp on our phone that a bin of canola that had increased in temperature. We decided to watch it for two or three days and could see a constant climb of 1 to 1.5 degrees every day. We phoned home and asked some friends to take a semi-load out of the bin. They took it to the elevator and we saved that bin of canola."
Even though heat rose in the smallest of bins, the save justified the cost of monitoring the entire yard. "There are lots of misconceptions out there about spoilage and the size of bin," said Bergen. "I look at grain monitoring as a solid return on investment," noting that he paid upwards of $17,000 for the system. Saving 5,000 bu of canola, Bergen estimates Bin-Sense Live paid for itself twofold.
He doesn't spend much time reconsidering the choice between Bin-Sense Live and systems where you check grain on foot. "You can hem and haw about the investment when you have the capability to check your bins manually, but you still have to make a point of doing it. We have 30 bins on the system so it's more than a three-minute job. It's a lot of plugging in and downloading. It's nice to just bring everything up on your phone or your computer and read the colour-coded heatmaps. It's quick to interpret and see what's going on."
So how to thank colleagues who have rescued valuable crops? Blake Bergen squared up, returning from Florida bearing gifts of fine imported bottles. Add the cost to the grain monitoring bill, and he still came out ahead.
Call your
local Flaman dealership
today to find out more about how Bin-Sense can make sense for your farm.
Posted in Product Information | Tagged with grain monitoring grain bins Bin Sense grain temperature | More articles by Jennifer Thompson
As harvest begins to start in many parts of Western Canada, Flaman is here to provide the tools and equipment you need to get your crop off quickly and safely. Along with our wide variety of Harvest Helpers to aid you in your work, we've collected some important and useful safety tips for harvest time. We want to make sure all our customers return safely from the field and have the resources to support their employees and family members on the farm.

This post will look at 4 main types of safety:
Grain bin entrapment
Fire safety and prevention
Machinery and power lines
COVID-19 safety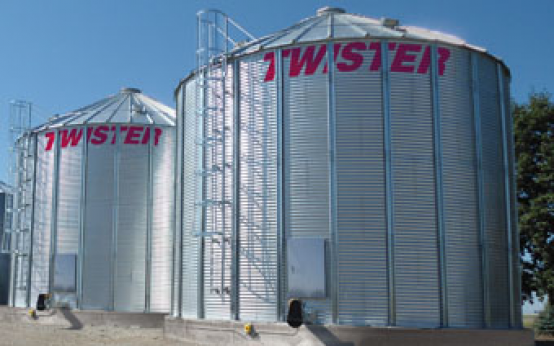 Grain Bin Entrapment
Tough grain is one of the leading causes for producers to enter a bin. Many studies have shown that entering a bin to break up spoiled grain while operating unloading equipment is the leading cause of grain entrapment. A person could become completely covered within 20 seconds. Across Canada, there's an average of six fatalities every year from grain entrapment or engulfment.

If you need to enter a bin to asses grain, there is a Grain Bin Assessment chart from the Canadian Agricultural Safety Association you can use to assess if it's safe to enter the bin.

This fact sheet from the Canadian Centre for Health and Safety in Agriculture also has some helpful information about how grain entrapment occurs, as well as preventative and safety measures.

And finally, if you wish to create a Confined Space Management Program for your farm, this quick start guide from Ag Safe Alberta is a useful tool. Along with grain bins, confined spaces also include sumps, wells, feed bins, attics and even some equipment.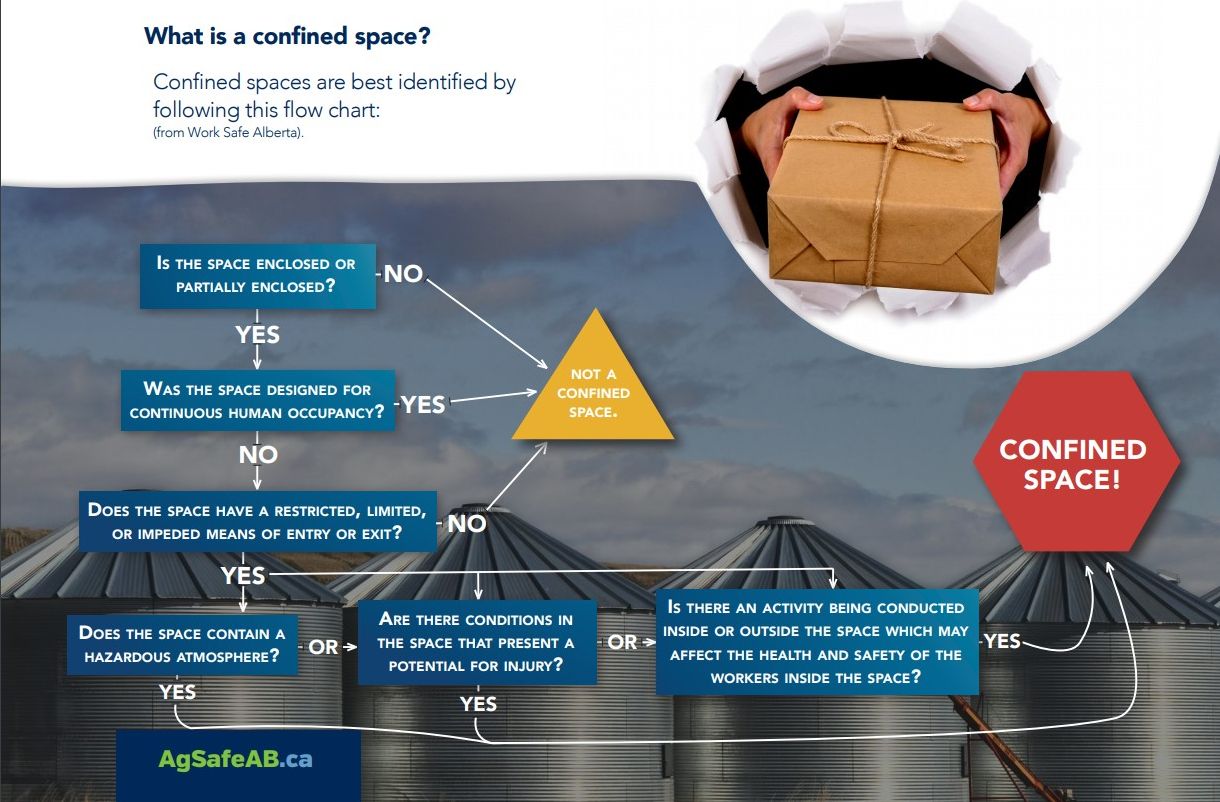 Fire Safety and Prevention
Fires in the field can happen all too suddenly when working with dry, flammable material and hot mufflers and electrical wiring. There are some simple pre-cautionary measures you can take to help avoid the risk of injury or loss of equipment due to fire.
Have working fire extinguishers mounted on equipment, ideally one in the cab and one accessible from the ground. Alberta Agriculture recommends a 10 pound dry chemical, multi-purpose ABC extinguisher and a 2.5 gallon pressurized water extinguisher on combines.

Remove crop residue, dust, debris, dirt and excess lubricant around all heat sources regularly. Check for a buildup of combustible crop residue around engines and exhaust systems, concealed drive belts and pulleys that can overheat due to friction.

Be careful when using low clearance vehicles in fields, as exhaust pipes and catalytic converters can ignite dry grass or stubble.

Check exposed wiring and fuel/hydraulic lines for damage, wear and deterioration.

Allow engines to cool before refueling.
And for added safety, Flaman carries a variety of firefighting pump and tank units, such as the Enduraplas Fire Ranger or the BE Fire Cart, to allow you to quickly put out any fires in the field while harvesting.



Machinery and Power Lines
Electrical safety is another important area to be aware of when working with large machinery on a farm. More than 40% of agricultural workers in Canada have reported direct hits or near misses with power lines. In 2019, there were 326 farm safety incidents reported to Sask Power. The most common causes of electrocutions on the farm are portable grain augers, large combines, high clearance sprayers and other tall equipment that can come into contact with overhead power lines.

There are two types of electrical injury that can occur:
Electric shock, when electric current passes through the body causing injury or death.

Arc flashes: a blast of energy caused by an electric arc, which can produce sounds waves, extreme heat, shrapnel and more, This can lead to lung injuries, ruptured ear drums, burns, blindness or death.
This guide "Electrical Safety on Saskatchewan Farms" from Sask Power talks about potential risks and hazards and offers safety tips, guides and checklists to make sure you and your workers come home safe. Or you can print out this Farm Safety Checklist to make sure everyone knows how to avoid overhead lines and what to do if an accident occurs.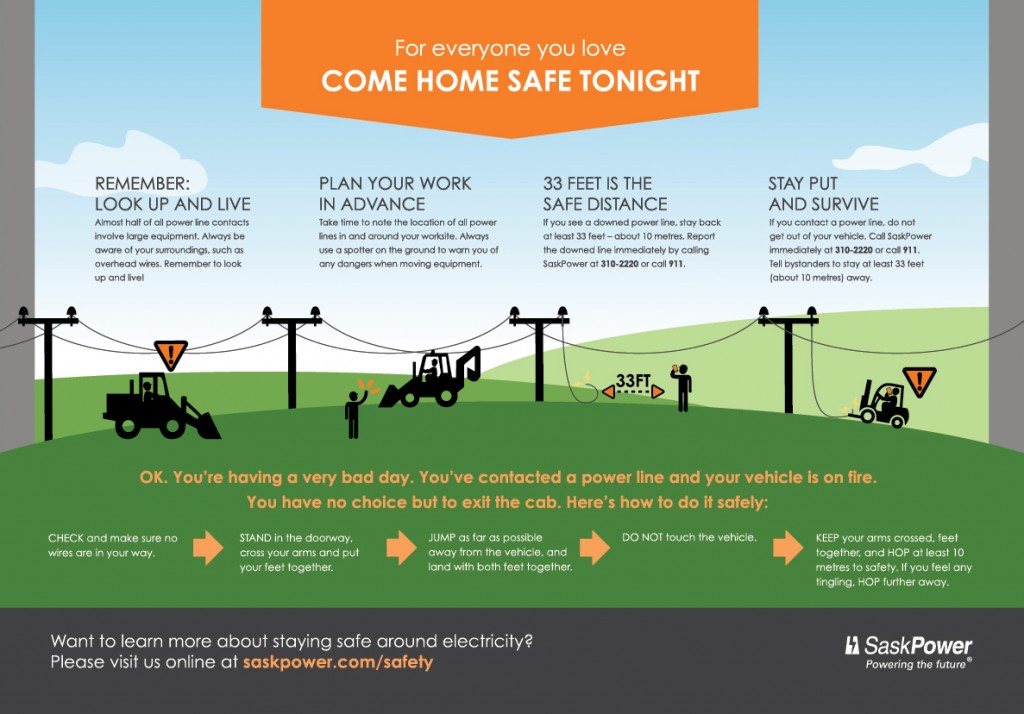 COVID-19 Safety
This year, farming operations will have the added tasks of protecting workers and their family from COVID-19. As an essential service, we recognize that farmers must continue to work to grow our food and feed our country.

Along with the general pre-cautions such as hand washing, physical distancing, cleaning of work attire and wearing gloves, this fact sheet from the Canadian Centre for Occupation Health and Safety offers many safety tips specifically for the agricultural industry in areas such as:
Transportation
Sanitation
Group Living and Residence Recommendations
Team and Site Management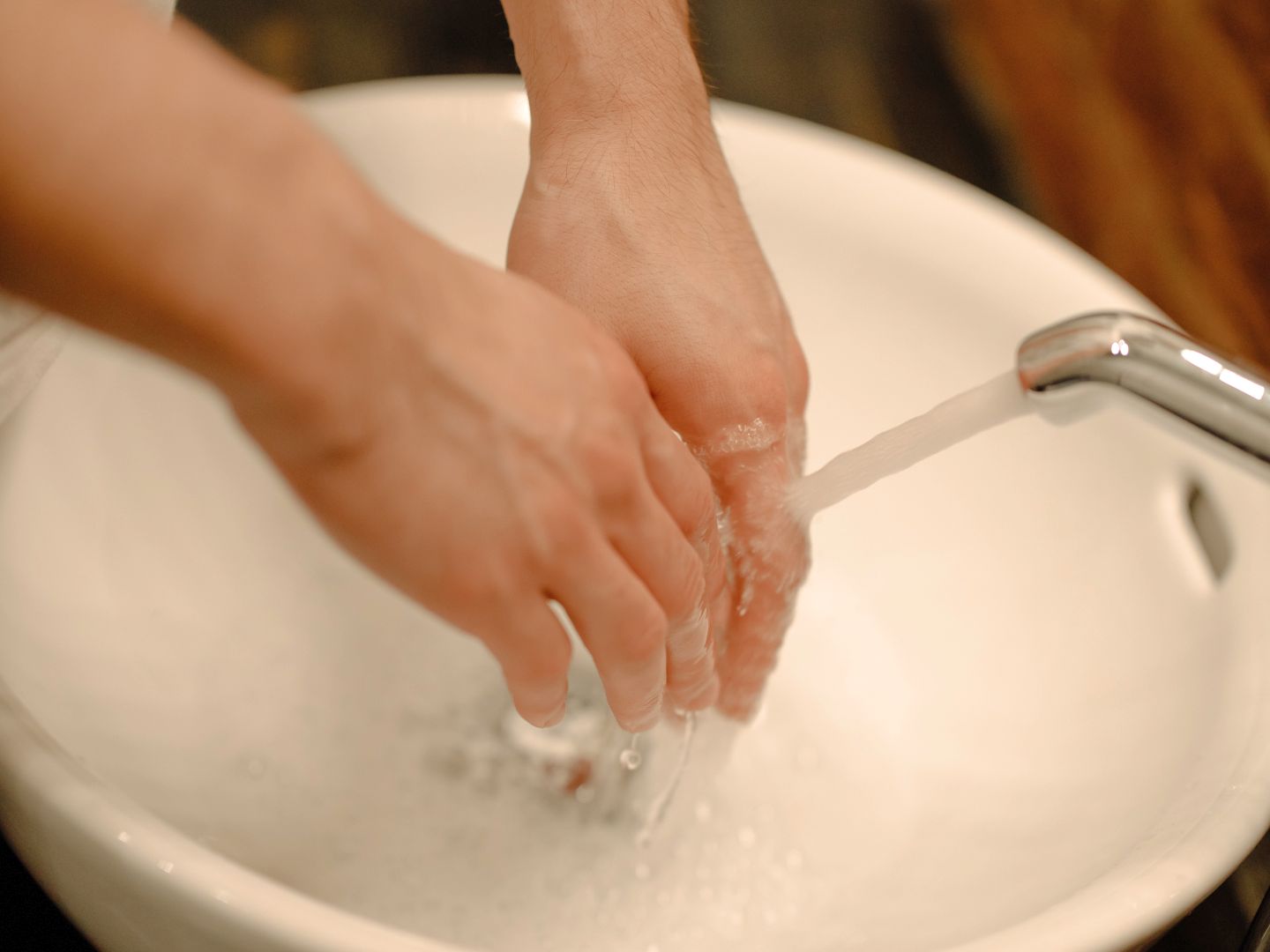 For those interested in creating an overall safety plan for their operation, this workbook from Ag Safe Alberta lays out the steps to create your own Farm Safe Plan.

Posted in Ag news | Tagged with harvest safety farming grain bins electrical safety | More articles by Jennifer Thompson
Harvest 2017 was a tough year for many Saskatchewan farmers.
Doug Jones of Whitby Farms was one of Saskatchewan's first to wrap up harvest 2017. He says it's thanks to a prototype loaner combine -- one of two sent for field testing in Western Canada -- on top of the two he runs every other year. And a family team that works together year round.
The Flaman Agriculture team caught up with Doug while he had a few fleeting moments of free time on his hands. We talked about what effect
this years' terrible drought conditions
had on his farm, agriculture technology that matters for harvest 2017, and his advice for young farmers facing a tough climate for growth. All before he left for the field to help one of his neighbours finish their harvest.
What does Whitby Farms do?
Whitby Farms manages around 11 acres of land and grows a variety of grain, cereal, and bean crops; raises cattle and trains quarter horses; offers grain hauling services; and much more in the country surrounding the Great Sandhills at Lucky Lake, about 150 kilometres south of Saskatoon, Saskatchewan.
The family-owned Whitby Farms stays busy all year round. While Doug's brother does seeding, his nephew sprays, his son-in-law manages cattle, and his daughter trains quarter horses. They have one hired man who's been with them for 10 years. After a decade of service you could say their hired man has become as close as family. In case you're wondering, Doug refers to himself as "the gopher" of the operation.
We asked, "Who runs the combine at harvest?"
Doug jokingly replied, "That's the easiest job in the world! [With the automations these days,] mowing your lawn is way more complicated."
He likes that today's combines automatically update as conditions change, so you don't have to manually reset when something goes wrong. He thinks of driving a combine as the perfect job for a multitasker.
Harvest 2017 wisdom from a 48-year farming career.
Doug's been farming since 1969. And he says, "I never changed my mind once."
He recalls taking the leap just before the start of one of the worst periods in farming history,
the farm crisis of the 1970s and 1980s
, when anyone who started farming "went broke". This was due to a combination of bad economy, dried up foreign markets, and high debt resulting in thousands losing their farms.
But Doug was stubborn about his dream to become a farmer and raise cattle. He says it's the only thing he's ever wanted to do.
How did drought conditions in Saskatchewan affect Whitby Farms for Harvest 2017?
The lack of rain and the heat did a number on his crops, along with
many other farmers around the prairies
. Doug says his crops are located in the lowest rainfall RM in the province of Saskatchewan. And they didn't get a lot of rain last year, which means soil moisture was low this year. He admits they've had better looking crops in previous years.
Their lentils performed the worst and canola would have been a disaster without support from an agrologist.
He says, "When I started out farming, [this years' canola harvest] would have been less than 10 bushels in the acre." They got 20 this year, but they're used to an average of 50.
Despite a lackluster harvest due to the low moisture and extreme heat drought conditions, Doug remains positive. He thinks the new varieties of canola are "amazing" and credits their performance to scientific advancements in the seed.
But there was an upside. Whitby Farms came out with perfect quality lentils and durum over a string of three consecutive years with salvage value. Doug improved the crops' success by implementing an irrigation system that uses water from nearby Lake Diefenbaker and a preventative spraying process.
He's not the only one that's happy with his yield given the dry conditions.
CBC News
reported that other Saskatchewan farmers were surprised at the quality of Harvest 2017.
The drought conditions affected the Whitby Farms livestock, too. Doug and his son-in-law had to dig one of the farm's springs out twice to get the water moving again. Their quick thinking likely saved the cattle and horses from heat stroke, unlike
another unfortunate case that killed 200 cattle
.
How do you stick with it during tough times like Saskatchewan Harvest 2017?
Doug declares, "Young farmers aren't used to the tough years!"
Since the farm crisis, Doug has noticed that the cycle has a way of repeating itself. He cautions many farmers face a similar fate without proper planning.
"Work as hard as you can! It's going to stay dry. You'll hardly see a field that hasn't been affected by drought."
He adds, "[We farmers] are at the whim of markets and weather. [Have a plan in place] if your wage is cut in half."
Doug reminds young farmers to hope for the best and prepare for the worst, so you'll always stay ahead. The young farmers who have a lot of faith and prepare for hard times in advance can give themselves stability in tough years.
Doug's final words of wisdom for Saskatchewan Harvest 2017:
"If you focus on it and stick with it through tough times, you'll make it out alright. You have to bear down. Take risks and buy some land."
Doug Jones is a long-time customer of Flaman Agriculture in Saskatchewan, most recently purchasing a set of
new grain bins
and
monitoring
and a
longer auger
to reach taller grain bins.
Like learning about hard-working people, community roots, and new ag solutions? Subscribe to the Flaman Agriculture blog
HERE
. You'll be the first to hear about the latest insights from the team!
Posted in Farm related news | Tagged with Saskatchewan Harvest 2017 grain bins wheatheart auger grain monitoring | More articles by Amy Rederburg