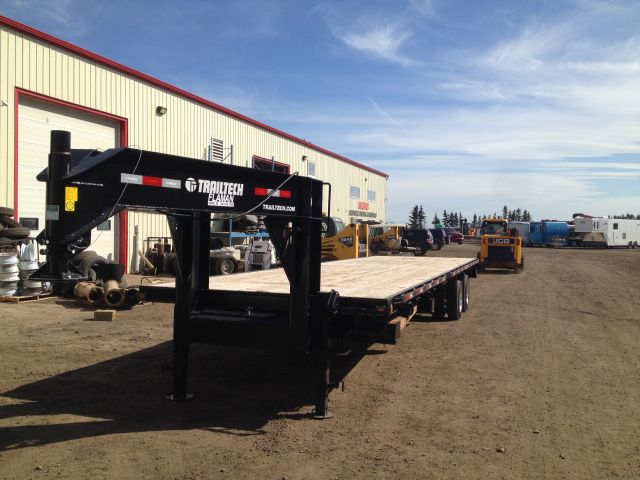 It was a Friday. I was at our Nisku location and I was leaving the dealership walking through the lot headed home for the weekend. I walked past a Trailtech TD 210 that had a few modified options on it. I looked the trailer over as I always do when walk past any unit in our yard. As I walked along the length of the unit from taillights to hitch I noted the features, fit and finish, quality of build, overall appearance, etc, etc, etc…when I reached the hitch I saw this trailer had just gone through our pre-delivery inspection process (as the sticker slapped on the front of the gooseneck indicated). I then stopped and looked back down the length of the trailer.

"This is a damn fine trailer" I thought to myself. So I took a closer look at the welds and the convenience features on the unit (some installed by us). I started to really critic the unit looking at the decking for cracks and other imperfections; I looked under the frame at the paint coverage; I followed the wiring harness (note I wrote wiring harness not strand wiring) along the frame paying attention to how it was secured and protected. Everything on this trailer was perfect. No matter how hard I looked I could not find any problems with the trailer. Quite honestly, this is not an exception to the rule, it is the rule: Trailtech product has outstanding consistent quality.

Call me bias (Trailtech is Canadian built, and a brand FGC has a longstanding history with) but I believe the quality that goes into to trailers built in Canada, for Canadian conditions is underappreciated. To address this I decided to give you reasons as a Canadian consumer why you should buy a Canadian built Trailtech.

1) Quality of Build. As in many products there are a good, better and best for light industrial trailers. At Flaman Group of Companies we sell products that fit into all three categories in order to meet the various needs of various customers. These categories are differentiated by features and quality which ultimately means different pricing. Trailtech as a brand offers a good, better and best models for each category. Where I believe they really shine (and customers have been voting this way with their dollars) is in the best category. The Premier and Industrial series generally have no equal in the market place. If you need a reliable trailer as a tool for your business, to me it makes sense to invest in a Trailtech that will always do what you need and last the test of time.

2) Canadian weather and road conditions. They are awful, both our roads and our weather and many trailer brands are built for the warm flat highways of the southern states as opposed to the gravel and pitted frozen highways of the Canadian north. For these conditions you need paint that can absorb some of the mechanical impact of road rocks at -40 and a RV plug that will not shatter when you fight to plug it into your tow vehicle. Trailtech based in Gravelburg SK lives in and understands these conditions. A Trailtech trailer is made to deal with this weather without fuss.

3) Warranty: We sell thousands of Trailtech products every year. They get horribly abused by some customers (another story) and yet we rarely hear of any issues. That said no company is perfect. The product is built by people and people make mistakes (as we all do). What defines a product and company is what they do when that happens. It has been my experience that between Trailtech and Flaman when a mistake happens that affects the customer, the Trailtech and Flaman people always make it right.

Lastly Americans market buy American all the time to support American companies and American workers. Let me be shameless and proudly yell the same thing: Buy Canadian! Yes I am a hypocrite as we sell many American brands across many of our divisions( including the Trailer Division). Being a leader in retail we need to provide the leading products in their appropriate categories in order to provide the best customer experience to our customers. That said, there are Canadian products that we sell that are the best in their categories (Trailtech is one of them)…Buy Canadian and support Canadians.

So if you are in the market for your first trailer or are adding one to your fleet. Think about Canadian quality. Quality comes with a cost but I believe it is worth it.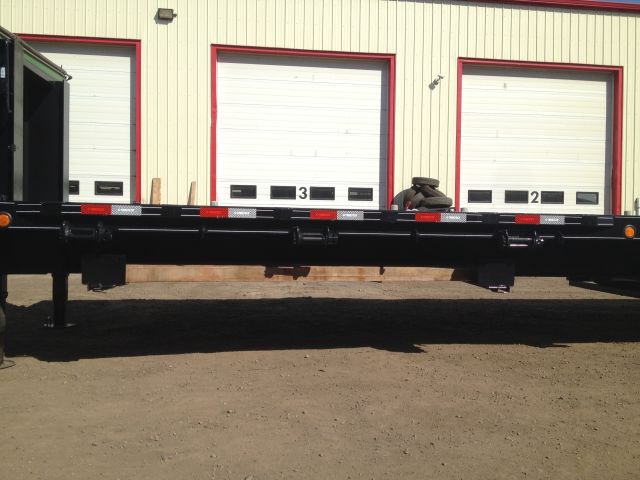 Posted in Product Information | Tagged with Trailtech Flatdeck Canadian built Trailers dump trailers ag transport | More articles by Steve Whittington
In this episode of Trailer Talk we hear from Ryan Miller at Trailtech, one of our long time partner manufactures. Ryan gives us a sneak peak at his ideas about the future of the trailer industry.
Posted in Podcasts | Tagged with Trailer Talk Podcast Trailtech | More articles by Steve Whittington
Posted by Mark Flaman
Jul 03, 2013
So imagine this. You've got a weekend warrior that you run at the track, and you need a lowboy trailer to throw your high horsepower car on top of. You've subsequently purchased a garden shed that measures eight feet by twelve, and you need a highboy to haul it up to the lake so that you don't have to worry about fitting it in between the fender wells. You need something that can tilt in either configuration so that you don't have to mess around with heavy ramps. Well fortunately for those of you who need this kind of versatility, we have an option that you may want to look further into.
In 2012, we started carrying the Multideck built by Trailtech in Gravelbourg SK, and saw that the optional towing configurations of this trailer are the closest thing to endless we've seen yet. You can order them with a stationary deck on the front in case you've got a skid steer and you need a place to store a bucket that doesn't move. It features a four way lift system that not only elevates from a lowboy up to a highboy and back down, but also a two-way tilt feature to get the back of the deck on the ground for ease of loading. The trailer uses an electric / hydraulic pump to actuate the lift systems, and has an optional fast-charge kit so that you can plug the trailer right into the truck to charge it.
Like the idea, but concerned about the weight on the hitch? No problem. We offer the Multideck in a gooseneck option as well. Some models come with hinged dovetails. It would be nice to one day see a charge kit built in so that you could simply plug it into a 110V receptacle, but I don't think it'll be too far down the road, as we're starting to see manufacturers implement this technology into trailers that feature electric components. Either way, you're sure to be hassled by your friends to use it on a constant basis.
Posted in Trailer Tips | Tagged with trailtech multideck lowboy highboy configurable | More articles by Mark Flaman