The 2011 Lightning line by Southland Trailer Corp has been redesigned away from a V-nose back to the traditional flat front.
Economy without Comprise
Sure it's a tag line, but really what else should I write, because the line is the proper description for the Lightning trailer. Sometimes you do not want a trailer with all the bells and whistles - you might be a customer that is only going to use a trailer several times a year, or maybe you have just started a business and cash is tight. Either way with the new Lightning line, Flaman Trailers has the trailer for you.
The new Lightning line has an all tubing main frame. The interior is lined with plywood not luan and the units ride on robust spring axles. Sure the aluminum skin is mechanically fastened with screws and the the lights are incandescent as opposed to LED lighting, but these are standard specifications for this class of trailer. The rear taillights are rubber mounted and most LED lights are fix mounted. I personally still debate whether a rubber mounted LED which can absorb travel shock will last longer than a fixed mounted LED with has to take the full jarring impact of the road.
As mentioned above, the unit is a flat front in the traditional style of enclosed trailers and conforms to the standard box sizes. You, our customer, have been asking for an entry level priced unit and through consultation with our partner manufacturer this line up is it.
Canadian made, Canadian value, Flaman Trailer services what we sell. Come to our locations and see the new Lightning trailers starting at $2,995.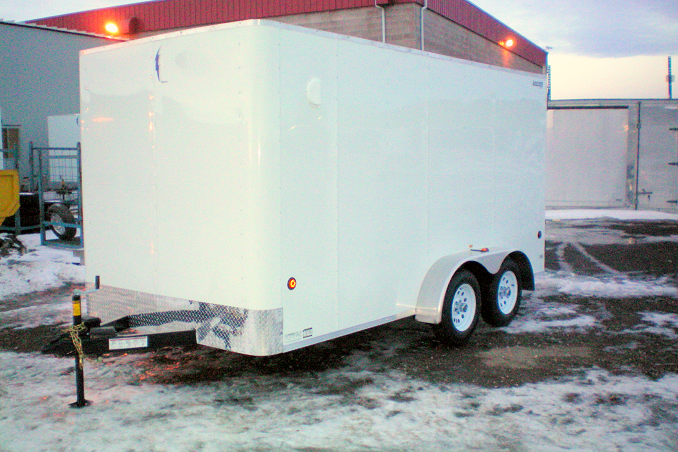 Posted in Product Information | Tagged with Southland Snowmobile Trailers Cargo Trailers | More articles by Steve Whittington