With everybody
forecasting a great crop
, are you prepared to harvest it?
Are the combine(s) fast enough? Are there enough trucks ready to move the grain to a bin or bagging area? Maybe the ground is wet, so is a
grain cart
ready to move the grain off the field towards a truck,
bin
, or bagging area? Is the
bagger
ready with enough
bags
? Are the
transfers
,
augers
or
conveyors
able to quickly unload the grain and move it, which allows for the combine to keep moving without having to wait for unloading?
And once it's off, if you didn't catch the fusarium with spraying, well it's not too late. You can use (1) a
gravity table
to separate the lighter infected kernels – the current best option for farmers, (2) a
colour sorter
/separator to pull then visually infected kernels – maybe not as good as a gravity table, or (3) a
BoMill
which is best used by end-users such as food processing facilities."
Flaman Grain Cleaning
and handling has all you need to get the crop into the bank.
Posted in Crop reports | Tagged with crop report auger conveyor grain handling | More articles by Flaman Agriculture
Posted by Mark Flaman
Jul 25, 2013
There are a lot of reasons why you should choose a conveyor over an auger or vice versa, but I'll make it a little easier for you to figure out exactly which product will best suit you.
One of the biggest factors in someone purchasing brand new for the first time will be the cost. Conveyors are quite a bit more expensive than augers, but tend to last two to three times longer overall than an auger. The flighting on an auger would have to be replaced before it has put through one million bushels, where we've seen the belting on a conveyor last three to four million bushels.
You can also get away with a shorter auger for the size of bin you're loading into, as the unloading angle is a lot higher on an auger, versus having the grain fall back down the conveyor belt once it reaches a certain angle. The motor on a conveyor is positioned higher up on top of its tube, to avoid the interaction with chaff, and requires less horsepower than an auger.
The last big thing that you may be concerned about is what kinds of commodities compliment the auger or conveyor. A conveyor will be more gentle and avoid cracking on pulse crops such as peas and lentils, but canola and other oil seeds are not recommended because the oil deteriorates the belt and gets gummed inside the conveyor. Augers, however, love oil seeds, as they almost lubricate the machine, leading to a much longer auger lifespan.
Now that you've got all your information, give us a call for some pricing or check out our selections of augers here and conveyors here.
This handy infographic can help you decide whether an auger or a conveyor is best suited for your operation.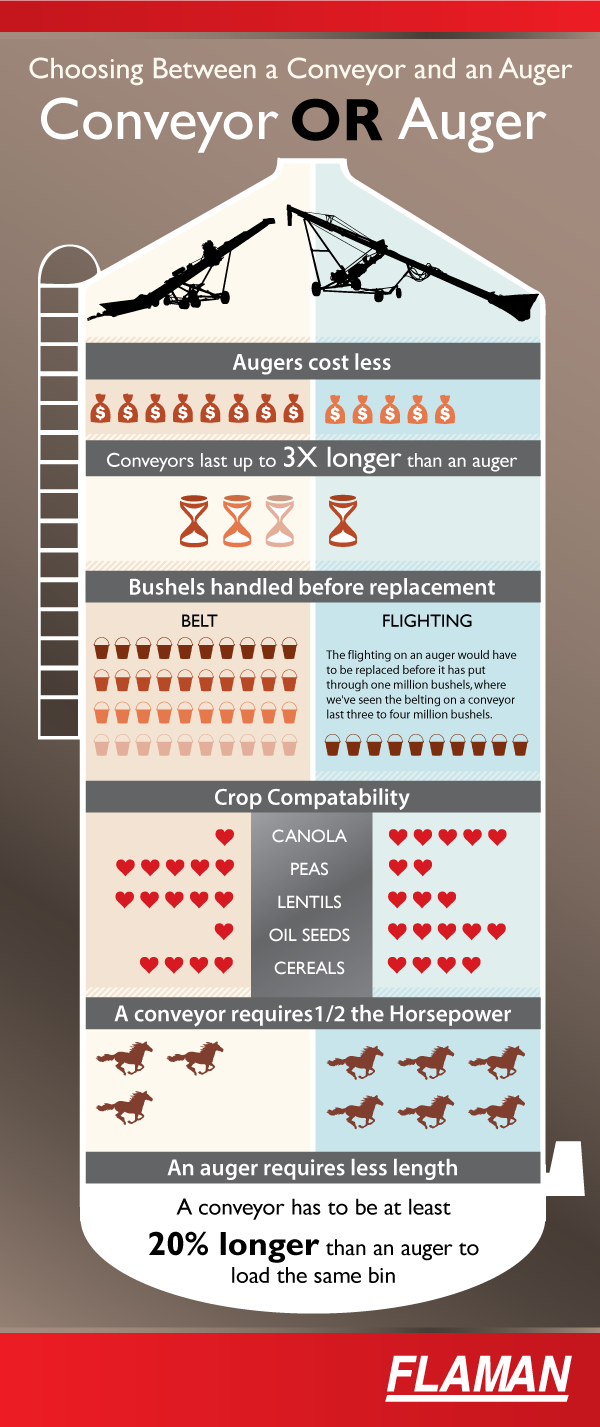 Posted in Product Information | Tagged with choosing auger conveyor agriculture bushels | More articles by Mark Flaman