Saskatchewan Water Security Agency Releases Fall Conditions Report
Dec. 10 - 2015
[Full report is
here
]
[Note: As snowfall can dramatically impact runoff, the report is not a runoff forecast but rather an early indication of what areas are more vulnerable to above or below normal runoff.]
Today, the Water Security Agency (WSA) released the 2015 Conditions at Freeze-up Report. The report summarizes the water supply conditions during the late fall and early winter period. This report helps provide a better understanding of the conditions on the ground in preparation for spring runoff in 2016.
The majority of the province has normal moisture conditions for this time of year; however, some areas in eastern Saskatchewan still have a higher than normal amount of moisture on the landscape going into winter.
The Pipestone, Qu'Appelle, Assiniboine, Red Deer, Torch, and Carrot River Basins all have above normal moisture conditions for this time of year. Some stream flows in the Qu'Appelle, Pipestone and Assiniboine Basins were at above normal levels at the end of October.
While spring and early summer precipitation was well below normal across much of the province, above normal late summer and fall precipitation resulted in near normal precipitation accumulations across most of Saskatchewan between April 1 and October 31, 2015.
On October 26, 2015, topsoil moisture conditions were generally described as adequate across the grainbelt with the exception of an area in the northeast and a few pockets in east central areas of the province where conditions are described as surplus. However, precipitation received during the first three weeks of November has resulted in additional areas with surplus soil moisture conditions.
Long range forecasts for this winter are suggesting below normal precipitation.
Overall, since 2010, the WSA's groundwater observation well network has shown an overall increase in groundwater levels throughout the province.
The initial Spring Runoff Outlook for 2016 will be issued in early February. For more information ,visit
www.wsask.ca
.
-30-
For more information, contact:
Patrick Boyle
Water Security Agency
Moose Jaw
Phone: 306-694-8914
Email:
Patrick.Boyle@wsask.ca
Cell: 306-631-6997
Posted in Farm related news | Tagged with water spring runoff Saskatchewan flooding draught | More articles by Flaman Agriculture
Posted by Mark Flaman
Jul 02, 2013
Well, we've had about as much rain as a person needs for the rest of the year. It seems like it's been raining across the province non-stop for the last two weeks of June. We've seen an exceptional amount of flooding this year across western Canada, mainly in High River & Calgary Alberta, but the immense rain stretched and blanketed over Saskatchewan for almost the whole of the last two weeks of the month. In Manitoba and Saskatchewan, most farmers are at least a couple of weeks behind due to the late thaw of the snow, but as it happened, the thaw occurred too fast and now we're left with all this water.
It's one thing when you see it on the news, but recently I've been seeing it a lot first hand in Saskatoon as well as the RM of Corman Park, where out Saskatoon store is located. There are farmers with children that have to get off the bus and throw on their rubber boots just to get down the lane way. There are also acreage owners here that have to leave a vehicle at the end of the driveway, and come back and forth to the house with an ATV. There have been evacuees flooding in from northern Saskatchewan, from places such as Cumberland House who are staying at soccer & events centers around this city. These folks will thankfully be able to return home on July 3rd.
But yet, nothing compares to the damage being done in Alberta. There have been fatalities due to the flooding, and there are going to be millions in damages by the time this is all said and done. The Calgary Zoo had to relocate most of their animals, and had a few scares with losing some to the flood. The Saddle dome and Stampede grounds are under water, and several neighborhoods had to evacuate and relocate to drier ground. As our nation's fourth largest city is crippled by these floods, we stand by them as they can use all the support we have to offer.
The weather forecast shows that this is about it for the rain we're about to receive, and brighter days are ahead. We had a great Canada Day July long weekend, and we're going to be hovering around the 25 degree mark for the next two weeks with the exception of a little rain this weekend.
Posted in Local News | Tagged with rain flood flooding saskatchewan flaman alberta calgary high river news | More articles by Mark Flaman
Residents in southern and central Saskatchewan could face severe flooding this spring if unfavourable weather conditions continue.
According to a report from the Saskatchewan Watershed Authority, there is potential for above normal spring runoff throughout the southern part of the province, as well as the central area bounded by Kindersley, Saskatoon, Prince Albert and North Battleford and a large portion of the eastern agricultural area. This high runoff is linked to excessive rainfall last year and an above average snowpack.
"Above normal precipitation and/or rapid snow melt will increase the threat of high runoff and risk of flooding," states the report. "Even with average weather conditions between now and runoff, some localized flooding can be anticipated."
To help mitigate the potential damage from yet another year of flooding, the Saskatchewan Watershed Authority and the Ministry of Corrections, Public Safety and Policing have created a $22 million Emergency Flood Damage Reduction Program.
Through this program, communities, rural municipalities and farm and country residences can access funding and assistance to implement flood reduction or prevention measures. The program will cover 100 per cent of engineering costs to design flood protection works and cost share a variety of flood protection such as: construction of dykes or berms, pumping, sandbags, material to fill sandbags and equipment rental to fill sandbags.
In anticipation of the needs of many farmers and rural residents this spring, Flaman Sales went looking for products that could help prevent flooding and financial losses at farmyards and homes.
"Flooding is a big concern this year," says Dave Weightman, Director of Operations for the Flaman Group of Companies. "And being prepared is critical. You can't start planning for a flood when you see the water coming down the road. We're here to help our customers and offer them services that, unfortunately, could be in very high demand again this year."
This year Flaman has a sand bagger to purchase or rent, which easily fills 400 50-lb sandbags in only one hour. The company also carries items like tear-resistant sand bags and water pumps, which can be covered under the funding program.
"I think the Emergency Flood Damage Reduction Program is a great way to offer assistance. With every disaster there is a cost," says Weightman. "Many municipalities may have a flood plan, but a lot of individual people may not have access to those resources because of demand."
Please contact your local watershed authority to learn more about the Emergency Flood Damage Reduction Program and how to apply. You can also call their head office at (306) 694-3900 or visit www.swa.ca.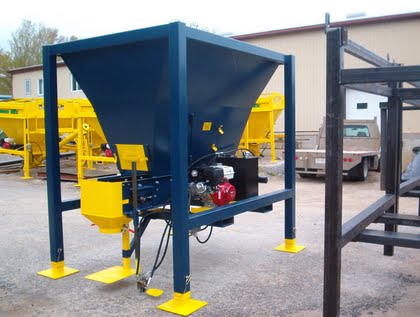 Posted in New Products | Tagged with Flaman flooding agriculture funding government pumps sand bags Saskatchewan | More articles by Jennifer Thompson