At Flaman Trailers, we're dedicated to customer service. So much so, that if you can't come to us, we'll come to you!
That was the motto behind one of our salesman's recent trip to Fort McMurray. Aaron Farrell, a trailer specialist at the north Edmonton store, loaded up a H370 flat deck trailer with a XR7 cargo trailer and an Aluma 638 utility trailer and headed up north To Fort McMurray on June 3 and 4.
This is the first time Flaman Trailers has gone on the road. Not long ago Aaron was looking through his customer list and noticed that many of them were form Fort McMurray. Talking with his customers, they expressed some difficulty in getting trailers up there. Many of them made the drive down to Edmonton.
"I thought: why not go up there? I had nothing to lose," Aaron says.
He set up shop at the Fountain Tire in the MacKenzie industrial area, displaying the trailers on government land right in front of the store so everyone could see them as they drove by. Although Aaron says he had a bit of bad weather on the first day, the set up worked. He even sold the utility trailer on the spot.
"Lots of people were pulling over on the side of the road," he says. "Many recognized the ad we had put in the paper. I talked to about 24 people over the 2 days I was there. It was great!"
Feeling confident, the second day he was there Aaron pulled his trailer over to a mall parking lot and set up for a few hours, where he also got a lot of traffic. He says he got a lot of interest from the oil field in equipment haulers and flat decks, but also a lot of interest in cargo trailers.
Aaron says he would "absolutely" like to take Flaman Trailers on the road again, and plans to go back to Fort McMurray.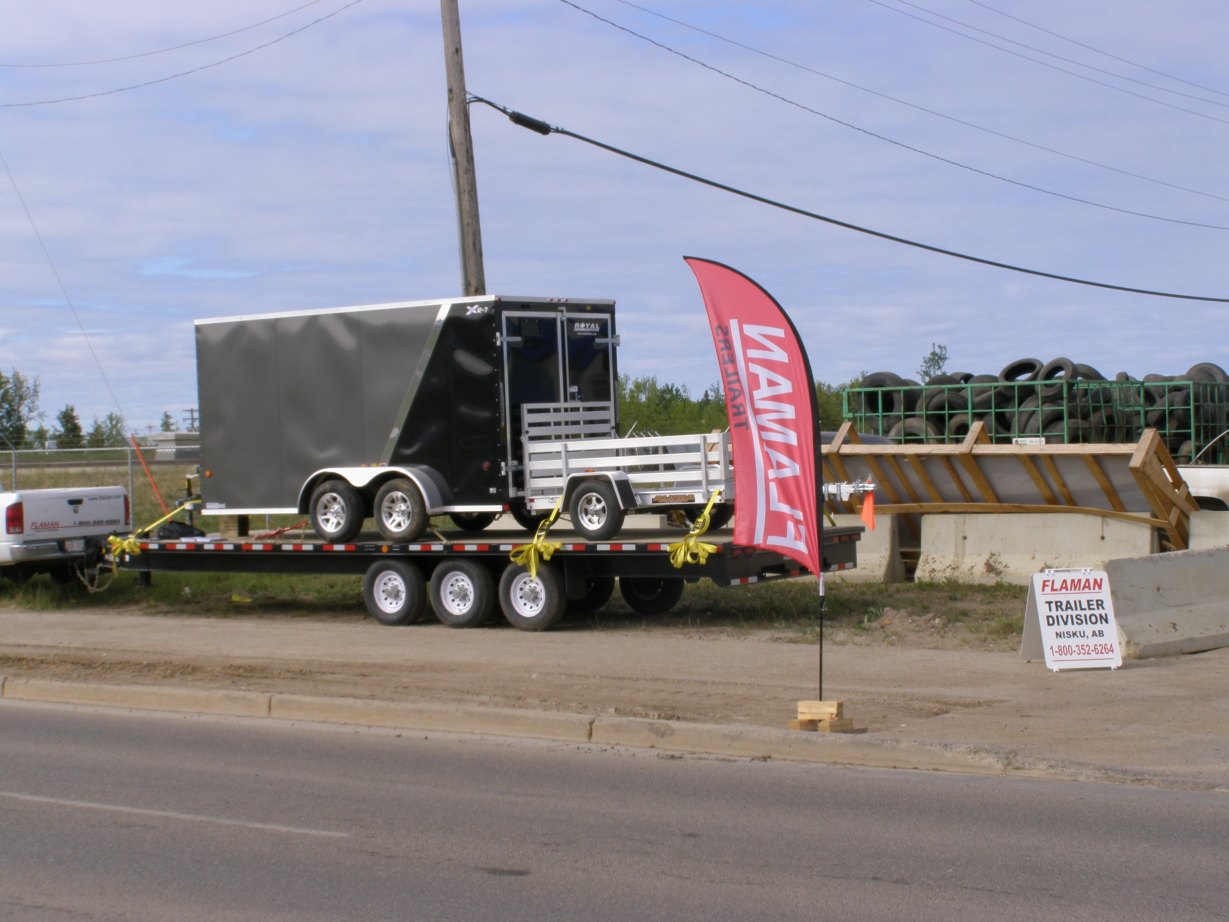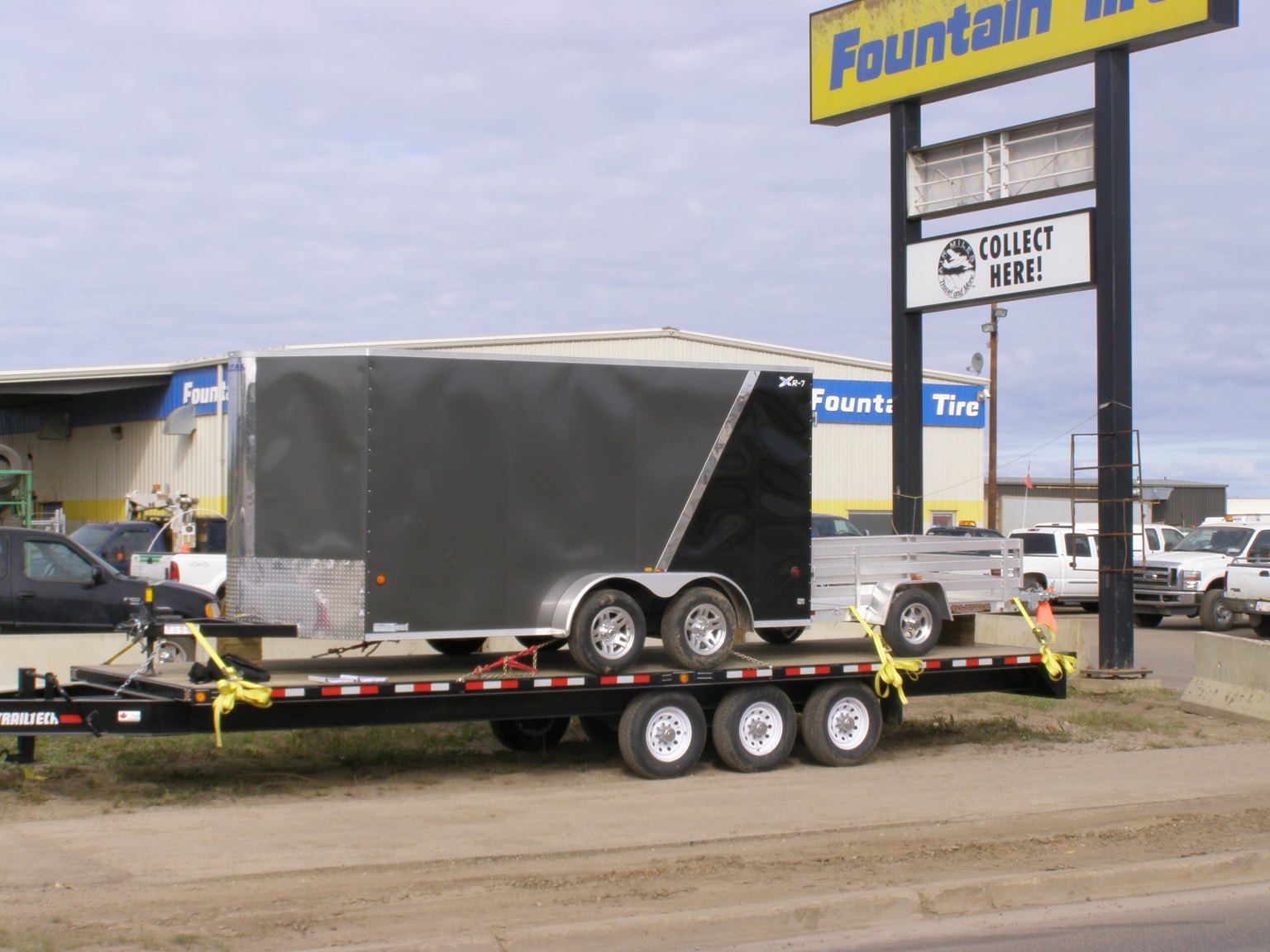 Posted in Division News | Tagged with Cargo Trailers Utility Trailers Flatdeck Trailers | More articles by Jennifer Thompson
The 2011 Lightning line by Southland Trailer Corp has been redesigned away from a V-nose back to the traditional flat front.
Economy without Comprise
Sure it's a tag line, but really what else should I write, because the line is the proper description for the Lightning trailer. Sometimes you do not want a trailer with all the bells and whistles - you might be a customer that is only going to use a trailer several times a year, or maybe you have just started a business and cash is tight. Either way with the new Lightning line, Flaman Trailers has the trailer for you.
The new Lightning line has an all tubing main frame. The interior is lined with plywood not luan and the units ride on robust spring axles. Sure the aluminum skin is mechanically fastened with screws and the the lights are incandescent as opposed to LED lighting, but these are standard specifications for this class of trailer. The rear taillights are rubber mounted and most LED lights are fix mounted. I personally still debate whether a rubber mounted LED which can absorb travel shock will last longer than a fixed mounted LED with has to take the full jarring impact of the road.
As mentioned above, the unit is a flat front in the traditional style of enclosed trailers and conforms to the standard box sizes. You, our customer, have been asking for an entry level priced unit and through consultation with our partner manufacturer this line up is it.
Canadian made, Canadian value, Flaman Trailer services what we sell. Come to our locations and see the new Lightning trailers starting at $2,995.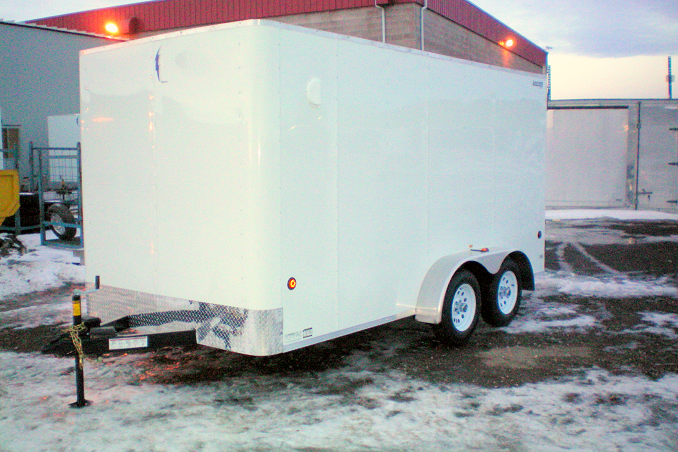 Posted in Product Information | Tagged with Southland Snowmobile Trailers Cargo Trailers | More articles by Steve Whittington